Palos Verdes Estates, DUI & Resisting Arrest, Dismissal
One night in 2001, our client decided to drive his car off the cliffs in Palos Verdes. He ingested a large amount of cocaine and alcohol and grabbed his car keys. As he entered Palos Verdes Estates, he was speeding. He wanted to get to the cliffs fast. The sooner, the better, he thought.
Summary: Palos Verdes Estates, DUI and resisting arrest (Penal Code § 148(a)(1) case dismissed on our motion to dismiss in Torrance courthouse.

Police officers miraculously noticed him speeding and gave chase. With sirens blaring and lights flashing, three police officers tailed our client, who refused to pull over. As our client reached the vacant lot that he intended to drive across to reach the cliff's edge, a police car cut him off, causing our client to skid to a stop.
Police then surrounded the car with guns drawn and wrestled our client to the ground. Our client allegedly punched two of the officers in the mouth during the arrest.
After being taken to the Palos Verdes Estates Police Department, he was arraigned in the Torrance Superior Court two days later (he did not post bail). The judge then released our client on his own recognizance (OR). He was charged with misdemeanor resisting arrest and DUI, his second DUI. The client had an extensive record for various drug related charges, as well as vandalism, trespassing, forgery and petty theft.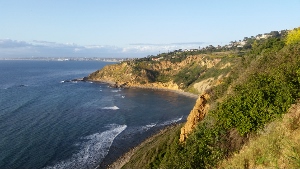 Cliffs Near Palos Verdes Estates


Once our client was released, he immediately moved to San Diego, where he lived for the next ten years, homeless. He failed to appear at his next court appearance in Torrance and a bench warrant was issued.
He was arrested several times in San Diego and told of the bench warrant for him in Torrance, but was never transported to Torrance. Our client also did not voluntarily come to Torrance to address the bench warrant.
Then in 2012, the client moved to Utah, where he received a steady job as a cook for the Mormon Church. Yet in a routine background check, the church notified him of the warrant from the Torrance Superior Court. The church told him he no longer could continue cooking for it unless he had the warrant set aside and it no longer showed on his background check.
The client thought the warrant from the Torrance Court would just drop off when he failed to show up after a while. As he found out, warrants do not expire. The reason is judges and law enforcement certainly do not want to reward someone who plays "hide and seek" long enough.
The client then called our office and asked what he should do. Greg Hill immediately spotted a speedy trial issue, or, in legal terms, the deprivation of one's due process right to a speedy trial under the Sixth Amendment to the U.S. Constitution. This is a right that California courts have upheld in several well-known decision such as
Serna v. Superior Court
(1985) 40 Cal.3d 239, 707 P.2d 793, 219 Cal. Rptr. 420 (applying only to misdemeanor cases) and
People v. Johnson
(1980) 26 Cal.3d 557, 571, quoting
In re Bergerow
(1901) 133 Cal. 49, 355.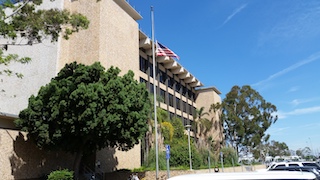 Torrance Courthouse
Greg then explained that the plan of attack would be to first recall the bench warrant and then file the "
Serna
" motion, named after the above
Serna v. Superior Court
case. Greg warned the client that the judge ruling on the motion may understand that the client fled the jurisdiction to avoid justice on the second-time DUI, but Greg said he would certainly file the motion anyways.
This is exactly what Greg then did and the Torrance judge hearing the motion granted our client's motion. The client was relieved and ecstatic because he feared the huge fines, county jail time and fees which he might have to pay for the second-time DUI, as well as attending the DUI class in California, and the one-year suspension of his driver's license. This was all avoided with the case being dismissed, which pleased our client.
For more information about what to do if stopped for DUI, having one's arrest record sealed and destroyed and the common plea bargain terms for a first-time DUI, click on the following articles:
Watch our video about DUI by clicking here.
Contact us.