Norwalk Court, Restitution Hearing, Claim for $122K, Award 0
The following summary relates to an earlier summary entitled, "Bellflower, Felony DUI with Five People Injured, 0.19% BAC." After that case was resolved, restitution was claimed by four of the five people injured.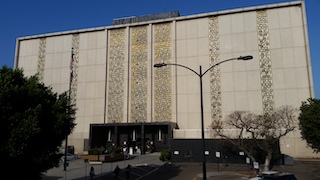 Norwalk Courthouse
One personal injury attorney represented all four claimants. She called Greg Hill & Associates about four months before the date set for the restitution hearing (the date had been set six months in advance because the prosecutor was advised that the injuries were significant). The personal injury attorney introduced herself and explained that she was interested in settling the restitution claim without a hearing.
Summary: In a restitution hearing in Norwalk Superior Court for four people allegedly injured in a car accident involving our client, allegedly DUI, the judge awards nothing to each claimant. Greg prepared a restitution brief, arguing that no restitution should be awarded and judge agrees.
Greg asked her a few questions and was told that our client's auto insurance carrier had paid the entire $100,000 policy limit to the four claimants ($27,000 to one, $39,000 to another, $26,000 to another and $8,000 to the last one). Greg asked counsel for the four claimants what each claimant's medical expenses were, what each lost in earnings and if there were any future medical expenses foreseen. Counsel for the claimants said she would mail Greg a packet with all documentation needed for Greg to review. She added that she would be seeking attorney fees for her time. Greg asked her to send him her timesheet.
With one week to go before the restitution hearing, Greg still had not received anything from the personal injury attorney. So Greg prepared a brief to the judge, advising that while he was aware claimants had an attorney four months earlier, he believed she may have abandoned a restitution request, as she had not forwarded any of the promised documents. Greg requested that the hearing be taken off calendar.
Greg filed the brief and two days later, and as if in response, claimants' counsel sent Greg Hill & Associates a brief asking for the full $100,000 already paid, plus an additional $33,000 in attorney fees and a further $17,000 in property damages that was already paid as well and about $25,000 in interest. In the brief, claimants' counsel stated that her clients were not subject to a set-off for the amounts already received by them from our client's insurance company.
Moreover, her brief stated that the amounts paid by the insurance company were entirely for pain and suffering and not for any economic damages at all.
Claimants' counsel attached a copy of the settlement agreement. It stated, however, that the settlement amount was for "all damages," including medical expenses, lost earnings, miscellaneous expenses and pain and suffering.
In response to this late brief, Greg served a subpoena to the offices of claimants' counsel, asking that her office produce records of all time spent by the attorney, all payments made on behalf of the clients (often, a doctor will bill a patient for $5,000, for example, but agree to accept $3,000 as full payment) and all attorney fees received by claimants' counsel.
At the restitution hearing, the judge received claimants' brief and ordered the hearing continued two weeks so he could review all the documents.
In the meantime, until the next hearing, in what can only be described as quite unusual, the district attorney's office in Norwalk filed their own restitution brief, repeating almost verbatim what Greg wrote in his brief about how a judge may only award actual expenses (not just bills) and how attorney fees, if recoverable, are strictly limited to "actual and reasonable" attorney fees. In determining the amount of fees to be awarded, the judge is supposed to consider: (1) the actual hours spent by the attorneys; (2) the hourly rate of compensation; (3) the risk borne by the attorneys; (4) the quality of the attorney's work. The "reasonable hourly attorney fee rate is that prevailing in the community for similar work." PLCM Group v. Dexler (2000) 22 Cal.4th 1084, 1095.
In addition, the prosecution explained that defendant is entitled to a set-off for insurance proceeds paid to claimants. A double recovery by the claimants is barred. People v. Bernal (2002) 101 Cal.App.4th 155, 165-168. When offsetting a defendant's restitution obligation by the amount of a civil settlement, however, the court must determine what portion of the settlement payment is directed to cover economic losses as it is only that portion that may be used. People v. Short (2008) 160 CalApp.4th 899, 903-905; People v. Jennings (2005) 128 Cal.App.4th 42, 53-58).
When the judge called the matter for the restitution hearing two weeks hence, it was clear that he had carefully read Greg's brief outlining what amounts are recoverable in restitution, as well as the prosecution's brief. The judge awarded claimants zero dollars in restitution and claimants' counsel nothing in attorney fees, emphasizing that her clients had already received full payment and they were not entitled to a double-recovery.
Our clients were very happy that they had retained Greg for this hotly contested restitution hearing with such an aggressive personal injury attorney. It was fortunate that Greg had written a thorough restitution brief that the prosecution then echoed in support with their own brief.
For more information about restitution issues, please click on the following articles:
Contact us.