Restitution – What Things Are Allowed in a Criminal Case?
Summary in 45 Words or Less: Actually incurred expenses as a result of the criminal conduct are recoverable, in general, as well as future lost earnings and attorney fees as restitution in a criminal case. Pain and suffering in general is not recoverable, although there are very limited exceptions.

Article 1, Section 28 of the California Constitution permits all persons who suffer losses because of criminal activity to seek and secure restitution from those convicted of crimes that cause the losses suffered. The person may then present evidence and arguments at a restitution hearing.
People v. Smith
(2011) 198 Cal.App.4th 415, 440.
Such losses first must be shown to be caused by the crime committed by defendant.
People v. Rivera
(1989) 212 Cal. App. 3d 1153, 1161. Then the amount must be proven by a preponderance of the evidence.
People v. Keichler
(2005) 129 Cal. App. 4th 1039, 1045.
Preponderance of the evidence is a mostly civil legal standard that is not often applied in criminal court rooms, so it is good to understand that it is not just "any evidence."
Preponderance of the evidence means something is "more likely true than not true." California Civil Jury Instructions (CACI), Jury Instruction Number 200. It "simply requires the trier of fact to believe that the existence of a fact is more probable than its nonexistence."
In re Angelica P.
(1981) 28 Cal. 3d 908, 918 [171 Cal. Rptr. 637, 623 P. 2d 198]. It means that the evidence on one side outweighs the evidence on the other side.
Glage v. Hawes Firearms Co.
(1990) 226 Cal. App. 3d 314, 326 [276 Cal. Rptr. 430];
People v. Miller
(1916) 171 Cal. 649, 652 [154 P. 468].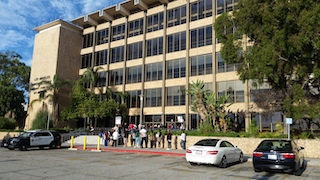 Torrance Courthouse
This standard must be applied by the judge when evaluating the request for restitution, which can be proven by sworn declarations.
People v. Cain
(2000) 82 Cal. 4th 81, 85. Once defendant is served with such declarations he can gather evidence by way of declarations or live testimony to rebut or challenge the victim's declaration. Defendant, thus, has the burden of proving inaccuracies in the victim's proof.
People v. Fulton
(2003) 109 Cal. App. 4th 876, 886. This rule extends to the recovery of attorney fees incurred in a civil case.
It is worth noting that because a restitution hearing is part of sentencing, the rules of evidence do not apply.
People v. Prosser
(2007) 157 Cal. App. 4th 682, 692. This can be quite a shock to some people, as hearsay often is considered by a judge.
So what can a victim actually recover? Generally speaking, the answer is economic, noneconomic, current and even future losses, if related to the crime. Specifically, these are:
1. Medical Expenses and Counseling.

Penal Code § 1202.4(f)(3)(B)-(C) allows the recovery of medical expenses and counseling. The role of the judge in approving medical and counseling expenses is just to verify that the victim has a "factual and rational basis for the amount." People v. Carbajal (1995) 10 Cal 4th 1114, 1125.

The judge is not supposed to evaluate which treatment is the most appropriate. For example, in People v. Keichler (2005) 129 Cal. App. 4th 1039, 1043 – 1046, two victims of an assault were Hmong, an ethnic sub group in Laos. The two victims sought restitution of $1,824.30 to cover the cost of a traditional Hmong spirit cleansing ceremony that involved the sacrifice of a pig, two cows and several chickens. The trial court ordered restitution as sought and the appellate court affirmed. Keichler, supra, at 1046. In other words, the court's role is quite limited, just as long as the victim signs a declaration under oath as to out of pocket expenses actually incurred. Id.

Victims are also entitled to recover future medical expenses. People v. Phelps (1996) 41 Cal. App. 4th 946, 951.

2. Lost Wages, Past and Future.

Victims of conduct that is a crime, of which defendant was convicted, may recover lost wages that were a result. Penal Code § 1202.4 (f) (3) (E). This can cover "time spent as a witness or in assisting the police or prosecution." People v. Ryan (1988) 203 Cal. App. 3d 189, 197. It can also be for the time attending court appearances. People v. Moore (2009) 177 Cal.App.4th 1229, 1231. Future lost earnings can also be recovered (People v. Millard (2009) 175 Cal.App.4th 7, 30), but this will necessarily require an accountant to calculate these and testify to his or her calculations in court.

3. Relocation Expenses.

Such expenses must be based on need, as verified by a mental health professional. Penal Code § 1202.4(f)(3)(l). People v. Mearns (2002) 97 Cal.App.4th 493, 501.

4. Identify Theft Costs.

Victims of identity theft may recover the costs of monitoring one's credit report and the costs to repair one's credit. Penal Code § 1202.4(f)(3)(L).

5. Attorney Fees.

Penal Code § 1202.4(f)(3)(H) allows recovery by victims of their "actual and reasonable" attorney fees. In determining the amount of fees to be awarded, the judge is supposed to consider: (1) the hours spent by the attorneys; (2) the hourly rate of compensation; (3) the risk borne by the attorneys; (4) the quality of the attorney's work. The "reasonable hourly attorney fee rate is that prevailing in the community for similar work." PLCM Group v. Dexler (2000) 22 Cal.4th 1084, 1095.

The court will also consider the risk the attorney bears in not recovering. The greater the risk, the more generous a court should be in awarding fees.

Please note that pain and suffering is not recoverable, except in very limited sex crime cases, i.e. Penal Code § 288; see Penal Code § 1202.4.
How is restitution paid? If to be paid in a series of payments over time, the judge can take into account the delay in payment, "especially in an inflationary era."
Graham v. Daimler Chrysler Corp.
(2004) 34 Cal.4th 553, 583.
Lastly, it merits mention that restitution is not reduced by payments the victim has received from his own insurance company.
People v. Birkett
(1999) 21 Cal.4th 226, 247, footnote 20.
After the judge orders a specific amount of restitution, the person suffering losses can submit an order for the judge to sign that orders defendant to pay this amount. The person can then request the judge sign an abstract of judgment against the defendant, which may then be filed with the county recorder. To be effective, it must be filed in each county where defendant has property. The order is enforceable as a civil judgment. Penal Code §§ 1202.4(m), 1214(b), 1214(d).
For more information about restitution in general, please click on the following articles:
Contact us.