What Is a Harvey Waiver and How Does It Affect Restitution?
The California Supreme Court in
People v. Harvey
(1979) 25 Cal. 3d 754, 758-59, held that facts supporting charges which are dismissed may not be used to impose sentencing consequences unless the parties waive this right. This is a common right waived at sentencing by defendants to take advantage of a plea bargain to a lesser charge.
In a Nutshell: A Harvey waiver is an agreement by defendant to waive any objection to restitution being calculated based on dismissed charges and charges that defendant was conviction for in a case with the intention by the prosecutor and court that the victim will receive restitution in full.

This principle includes restitution calculations and is codified at Penal Code § 1192.3(b). This section states, "if restitution is imposed which is attributable to a count dismissed pursuant to a plea bargain, . . . the court shall obtain a waiver pursuant to
People v. Harvey
,
supra
, as to the dismissed count."
What if the count dismissed was dismissed because defendant simply did not commit it? What if someone else, for example, shot someone? Can the court order defendant to pay such restitution if defendant did not cause the injury?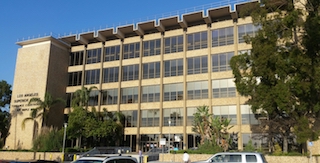 Torrance Courthouse
This interesting situation arose in the case of Donnie Weatherton. On Christmas Eve in 2011, Yasmin Jenkins was cleaning the apartment of the wheelchair-bound Weatherton, then age 62. Instead of paying Jenkins for her cleaning service, he allegedly shot her in the hand and then would not let her leave to get medical attention.
When police finally arrived, they found many weapons in Weatherton's apartment.
The case was filed in San Mateo County. After a preliminary examination, Weatherton was charged with assault with a deadly weapon with a firearm and personally inflicting great bodily injury (Penal Code §§ 245(a)(2)and 12022.7(a)), as well as false imprisonment of Jenkins by violence and by using a firearm (Penal Code §§ 236 and 12202.5(a)) and being a post-convicted felon in possession of a firearm (Penal Code § 29800(a)(1)), as Weatherton had a 1992 prior strike conviction for assault with a deadly weapon.
Weatherton then entered a plea to being a post-convicted felon in possession of a firearm on the day Jenkins was shot and the date several days later when police searched his apartment. The remaining counts were dismissed. The court then ordered Weatherton, pursuant to the plea bargain, to probation.
At sentencing, Weatherton acknowledged waiving his rights under
Harvey
and that he faced actual restitution per a
Harvey
waiver. The judge denied Jenkins right to speak at sentencing, commenting, "She is not the victim anymore. She is not the victim in this case. That case was dismissed. So she is not technically a victim."
At the restitution hearing three months later, the court heard evidence of Jenkin's hospital and surgical expenses that her insurer had paid for treatment of her gunshot injury. The total was $22,141.08. Weatherton's attorney, however objected to the amount, explaining that his client had always denied causing any injury to Jenkins.
The judge overruled the objection and awarded Jenkins $22,141.08 from Weatherton. Weatherton's attorney stated for the record in response that his client should be able to testify at the hearing to dispute causation.
Weatherton's attorney argued that under
People v. Baumann
(1985) 176 Cal. App. 3d 67, at 80, when a defendant denies having committed uncharged acts or dismissed charges, the prosecution has the burden of proving defendant's culpability by a preponderance of the evidence. The trial court was unpersuaded by
Baumann
.
Weatherton thus appealed to the First Appellate District, making similar arguments. The First Appellate District, addressing
Baumann
, distinguished it from a "belated attempt to resolve guilt." Instead, the First Appellate Court said
Baumann
is good law only insofar as it allows defendant to contest the amount sought as exceeding the replacement or repair cost.
Furthermore, the First Appellate District cited to
People v. Carbajal
(1995) 10 Cal. 4th 1114, 1121, which held that restitution need not be limited to the exact amount of the loss in which defendant is found culpable and there is no requirement that restitution reflect the amount of damages that might be recoverable in a civil action. In fact, the court can consider psychological harm to the victim under Penal Code § 1202.4. Put another way, "a victim's restitution right is to be broadly and liberally construed"
People v. Williams
(2010) 184 Cal. App. 4th 142,147. Section 1202.4, in fact, does not even require any proof.
As such, the restitution order was affirmed. Weatherton's appeal was denied.

The citation for the First Appellate District Court ruling discussed above is People v. Donnie Weatherton (1st App. Dist., 2015) 238 Cal.App.4th 676.

For more information about restitution, click on the following articles:
Contact us.