Norwalk Court, Reduction of Felony 11377(a) to Misdemeanor
In 1995, when our client was just 26 years old, was walking down Wilcox Street in Cudahy when a female police officer was patrolling the area near the corner of Wilcox and Clara Street. She pulled over her car, got out and upon searching him, found him in possession of a small bag of methamphetamine in his pocket.
Our client was then arrested for violation of Health & Safety Code §§ 11377(a) ("Possession of Methamphetamine") and 11550(a) ("Being Under the Influence of a Controlled Substance"). At the time, 11377(a) was a felony, but 11550(a) was a misdemeanor.
Our client started his case at the Downey Superior Court, but the case was later transferred to Norwalk, where his counsel negotiated a resolution for diversion in a program similar to Prop 36 (Penal Code § 1210.1, but was not provided for until the year 2000 under the Substance Abuse and Crime Prevention Act of 2000). Our client was placed on two years of probation with an obligation to attend a drug treatment program in lieu of jail, as Prop 36 can be.
However, our client decided the program was not for him and left for Colorado and failed to appear in court at a progress hearing.

Consequently, the judge revoked diversion, and entered the convictions, sentencing our client to 90 days in Los Angeles County Jail and three years of formal probation. There was also a bench warrant for him, which he was picked up on two years later in 1998 when he was back in Los Angeles visiting friends. He was then remanded to 90 days in county jail, of which he served just short of 45 days.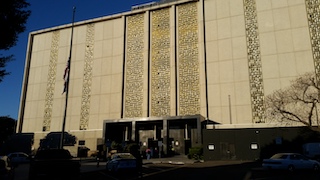 Norwalk Courthouse
Since that time, our client stayed drug-free and only had a few traffic violations. He became a commercial truck driver with a Class A license from 2003 to 2020. He had been living with his girlfriend for 20 years. The couple had no children.
In 2020, he became interested in a change of employment. However, with the felony conviction on his record, he was concerned that a background check would reveal this and he would not be allowed to accept new employment. He felt locked into his job with no options.
One day, he called Greg Hill & Associates and discussed his situation with Greg. Greg explained that his 11377(a) conviction was eligible for reduction under Proposition 47 (Penal Code § 1170.18) and Penal Code § 17(b)(3), however, a reduction under Prop 47 would not restore his gun rights, as is specified at § 1170.18(g).
The client then retained Greg Hill & Associates to reduce his Health and Safety Code § 11377(a) conviction to a misdemeanor under § 17(b)(3). Greg's office then prepared the motion, explaining the client's desire to find new employment but feeling hampered by having a felony conviction. The motion attached a copy of the client's Class A license for the judge to see. The motion also analyzed the underlying offense from 24 years ago under Penal Code § 17(b)(3) for the mitigating and aggravating factors that a judge is supposed to consider in deciding whether to reduce the offense to a misdemeanor.
Greg then filed the motion in the Norwalk courthouse and served the prosecutor with it.
The court then set a hearing date for the motion and Greg appeared. The judge, who was kind of new, first analyzed reduction of the offense under Prop 47 and seemed to regard the reduction request as barred. Greg recognized that the judge was using the wrong analysis and gently pointed out that under Penal Code § 17(b)(3), the judge is supposed to consider just the facts of the case and whether the conduct is more misdemeanor or felony in nature.
The judge realized his error and promptly granted the motion, which made our client extremely happy. His long-time girlfriend was very happy, too, as she had been earning the majority of the household income, and now our client could look for higher-paying jobs to help her.
For more information about reducing a felony to a misdemeanor, please click on the following articles: