Newport Beach Petty Theft Conviction Expunged 24 Years Later
In 1995, our client was 19 years old. He had come to the U.S. with his family from Israel at age 12 and now had graduated high school here in the United States.

In Israel, one would begin working at such an age, but here in the United States, he did not have any family connections to summon for employment help. He turned to crime, finding that there was a thriving market in the downtown Los Angeles "garment industry" for fine ties to be sold with some of the custom suits that wealthy business purchased there.
Our client would enter a Nordstrom and pocked a few $100 ties that he would then sell for $75 each in the garment industry. Our client had been able to support himself doing this for several months, frequenting Nordstrom stores located in Los Angeles County and Orange County.
His luck ran out one day in the Nordstrom in South Coast Plaza, as he was spotted by the store's loss prevention officer as he walked out of the store with four neckties that he had not paid for before leaving the store. Our client was arrested and then served four days in jail before his arraignment (apparently, he was arrested on a Friday before a three-day weekend).
The case for petty theft (Penal Code § 484(a)) was filed in the Harbor Justice Center, also known as the Newport Beach Superior Court. Our client, who at that point had no criminal history, was represented by the Orange County Public Defenders' Office, who negotiated a plea bargain for our client wherein he was given credit for four days actual time served and placed on three years of informal probation with no obligations other than to obey all laws and remain out of the South Coast Plaza shopping mall.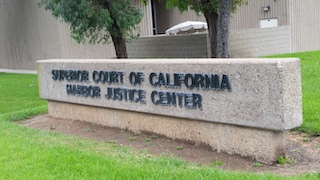 Newport Beach Courthouse
While on probation, our client picked up three more cases, including two felonies, but he was never found in violation of his probation.

Therefore, his probation ended after three years in 1998.
Eleven years after finishing probation, our client founded (somewhat ironically) a bail bonds company. In this new company, he oversaw marketing, advertising, payroll, risk management and employed four employees. However, due to his criminal history, he was barred by the State of California from becoming licensed as an unrestricted bail agent. He therefore had to have other employees with no criminal history act as unrestricted bail licensee.
This arrangement was awkward and meant he had to carry more employees than optimal because of the restrictions on what he could do.
In 2020, however, he learned about expungement and contacted Greg Hill & Associates. He called up our office and spoke with Greg Hill about his prior conviction for petty theft and all the ramifications of this conviction, as well as his two felonies and one other misdemeanor, also in Orange County.
Greg listened to the client and then explained how Prop 47 would apply to reduce his two felony convictions (even though the client actually was sentenced to sixteen months in state prison and served eight months of the sentence) to have each reduced to a misdemeanor and then each conviction would be eligible for expungement. Greg also explained that the client's misdemeanor conviction for petty theft out of the Newport Beach courthouse would be eligible for expungement, too.
The client then retained Greg Hill & Associates to prepare a petition for dismissal under Penal Code § 1203.4 ("expungement") for the client's petty theft conviction from the Newport Beach Courthouse.
Our office prepared the judicial council form FL-180 and supplemented it with a short points and authorities, explaining the client's eligibility for relief under 1203.4, as well as a declaration from the client explaining the reasons why he sought such relief. Greg Hill then filed and served the petition in the Newport Beach Courthouse.
About four weeks later, our office was advised by letter that the matter was taken under submission in chambers by the assigned judge and granted. Our client was very happy, as he was now one step closer to obtaining his unrestricted bail license to assume full duties at his bail bond company.

For more information about expungement, please click on the following articles: