Don't Forget About Restitution If Seeking Expungement
Brief Synopsis: Unpaid restitution to the victim of a crime is a valid reason for a judge to deny a petition for dismissal (expungement) even if defendant turned her life around and otherwise paid all court fines and fees.

Leola Allen pleaded guilty in 1993, 1997 and 2000, each time to committing felony welfare fraud. In 2000, she also pleaded guilty to committing felony perjury. At sentencing in each case, all in San Diego County Superior Court, the judge ordered Allen to pay direct victim restitution and various fines and fees.
In the 1993 case, she was placed on five years of formal probation and ordered to pay victim restitution of $10,994. Her probation then expired in 2000 without her paying victim restitution in full. She still owed $4,374 in 2018.
In the 1997 case, she was also placed on five years of formal probation and ordered to pay victim restitution, but it does not state how much. She was also ordered to pay $507 in court-appointed attorney fees and unspecified investigatory and report-preparation fees. In 2018, she still owed victim restitution of $4,626.64, attorney fees of $507, felony supervision costs of $167 and fines totaling $408.
In the 2000 case, she was sentenced to three years in state prison and ordered to pay victim restitution of $2,821. As a result of her 2000 case as well, the judge revoked Allen's 1997 probation and sentenced her to two years in state prison. In 2018, she had paid off all victim restitution, but still owed $400 in court fines.
In 2018, Allen, age 59, filed petitions under Penal Code §§ 1203.4 (as to the 1993 case) and 1203.42 (as to the 1997 and 2000 cases) seeking "discretionary expungement" on the basis she had been "rehabilitated." She also sought to stay, dismiss, or delete her court-ordered fines and fees because she asserted that she was unable to pay them.
She provided a declaration stating that she had remained sober for the last 17 years, obtained employment until her 100% SSI Disability assessment (due to mental illness) prevented her from working further, pursued a GED and enrolled in a college community course. She also said she regularly attended church. She explained that she desired expungement because one of her sons is serving a sentence of life in prison and because she had three felony convictions, she was denied visitation rights.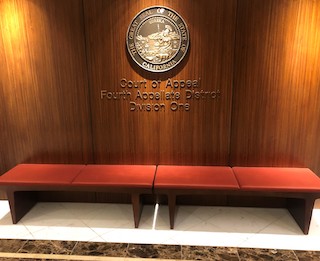 Fourth Appellate District Court of Appeal Division 1 San Diego
The prosecution opposed the expungement requests because Allen still owed about $9,000 in direct victim restitution, but the prosecution did not oppose her request to be excused from paying the court fines and fees.
The trial court judge, Jay M. Bloom, denied Allen's petitions based on her outstanding victim restitution obligations.

Ms. Allen then appealed to the Fourth Appellate District, arguing that under People v. Duenas (2019) 30 Cal.App.5th 1157, the trial court's denial of her expungement petitions on the basis of her outstanding victim restitution obligations violated her due process or equal protection rights because she was financially unable to pay the victim restitution. In other words, her counsel argued, Allen was "being discriminated against because she can't pay."
The Fourth Appellate District denied Allen's appeal on two grounds in People v. Leola Allen (2019 DJDAR 9963).
First, it distinguished Duenas from the case at issue by noting that Duenas involved a ruling on revenue-generating assessments and a punitive restitution fine, whereas Allen's case involved voter-mandated direct victim restitution intended to make the victim whole.
Second, the Fourth Appellate District agreed with other courts that rejected Duenas' due process analysis.
Alternatively, Allen also argued in her appeal to the Fourth Appellate District that the trial court erroneously concluded that her outstanding victim restitution obligations deprived the court of the authority to grant discretionary expungement.
The appellate court's opinion is extremely well-written and loaded with good insights into the expungement process. It commented that although the relief afforded by Penal Code § 1203.4 and § 1203.42 "is sometimes referred to as 'expungement of the conviction,' the statutes "do not, strictly speaking, 'expunge' the conviction, nor render the conviction 'a legal nullity'" People v. Guillen (2013) 218 Cal.App.4th 975, 996. For example, convictions "expunged" under these statutes may still be used against the defendant in subsequent prosecutions and professional licensure proceedings, and may disqualify the defendant from possessing firearms or holding public office. Penal Code § 1203.4(a)(1)-(3); Guillen, at 996.

However, since the statutes provide "a palpable benefit, such that the conviction may be treated as if it were not a conviction for most purposes" (Guillen, at 996), courts refer colloquially to the relief afforded by them as "expungement."
Regarding restitution owed by Allen, the appellate court noted that "a victim's right to restitution is, therefore, a constitutional one; it cannot be bargained away or limited, nor can the prosecution waive the victim's right to receive restitution." People v. Gross (2015) 238 Cal.App.4th 1313, 1318.

Here, payment of restitution was a condition of probation and Allen did not successfully complete payment of restitution or court fines in any of the cases. People v. Covington (2000) 82 Cal.App.4th 1263, at 1269-1270.
The citation for the Second Appellate District Court ruling discussed above is People v. Leola Allen (2d App. Dist., 2019) 41 Cal.App.5th 312.

For more information about expungement, please click on the following articles:
Contact us.