Motion to Vacate Conviction (PC § 1473.7), Airport Court
In 1996, when our client was just 20 years old, he accumulated seven convictions rather quickly. The last one, in U.S. District Court, landed him in federal prison for several years.
His first one, however, was not serious. It was for merely "unlawful use of a driver's license," Vehicle Code § 14601.1(a), a misdemeanor. Such a conviction is usually just for driving on a suspended license that was not renewed. In this case, the client was convicted of this at the Santa Monica annex courthouse (which no longer exists) on Purdue Avenue, off Santa Monica Boulevard. Some readers may remember this courthouse.
It is certainly not a crime of moral turpitude, but our client was facing deportation back to Iran, so he asked to try to vacate every one of his convictions. He had to try to clear up his record entirely, or at least as much of it as he could. He was desperate.

Our client had immigrated to the United States with his parents when he was just ten years old. He quickly learned the language and graduated from a local high school that will remain anonymous to protect our client's identity.

He then attended a local community college, but dropped out after less than a year. At age 20, he picked up the first of several convictions, which later included possession of a controlled substance and later, sales of a controlled substance.

However, after being released from federal prison, he started a business and grew it exponentially. He had over ten employees and was married, with a young daughter. He then spoke to his immigration attorney about becoming a U.S. citizen, which he suspected would be difficult with his convictions.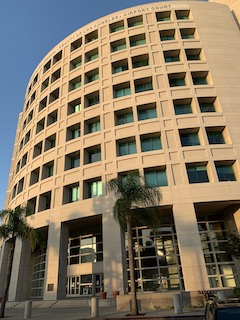 Airport Court
The immigration attorney asked him about his convictions and recommended he speak with Greg Hill. The client called up Greg and explained his situation. He commented that if he were deported back to Iran, he might be tortured, but Greg was not sure if this was just speculation or hyperbole to make a point. Greg explained how the federal standard regarding a valid plea of guilty or no contest may be considered invalid if defendant was not advised of the immigration consequences of such a plea. Greg explained that this legal standard was best known for being stated in Padilla v. Kentucky, a U.S. Supreme Court case, but that California had gone even further in establishing what defendant must understand if that person faces adverse immigration consequences from a plea.

Greg asked the client if he understood he would be possibly deported, denied re-entry or denied naturalization as a consequence of his plea when he entered the plea. The client said no, it was never discussed with him. Besides, he was a lawful permanent resident at the time, so even if had been discussed, he would have regarded it as irrelevant to him.
Greg Hill & Associates then prepared the motion to vacate a conviction for the client. The motion discussed Assembly Bill 2837, signed into law effective January 1, 2019, which modified Penal Code § 1473.7 to remove the requirement of establishing ineffective assistance of counsel (IAC) and the requirement that petitioner face a pending removal proceeding. However, in our client's case, the motion could meet the "old standard" because our client was not warned by his then-defense counsel, who will remain anonymous, of the adverse immigration consequences of his plea before he entered it and now, he has lost his permanent resident status, which means he faced removal and deportation back to his birth country, Iran.
Our office then demonstrated the client's extensive ties to the United States by discussing the client's well-developed business and his family ties. None of his immediate family remained in Iran. Our office included photographs of the client with his family here in the United States.
Our office then filed and served the motion at the Airport Courthouse, which is where the former Santa Monica Courthouse cases were being heard on matters such as this motion.
The Santa Monica City Attorney did not oppose the motion and the judge assigned to the case granted the motion, which made our client happy.
For more information about a motion to vacate a conviction under Penal Code § 1473.7, please click on the following articles: