Motion to Vacate 273.5 Plea from 6 Years Earlier, Torrance
In 2013, our client's fiancé contacted the police to report (falsely) that our client had punched her in the face and caused her a black eye. Our client was madly in love with her and would have never done anything like this, but she had surreptitiously given him Ambien and he had drank alcohol. He fell asleep and little did our client know, but his fiancé was having an affair with another man.
Our client was then arrested and arraigned on three counts of violating Penal Code § 273.5(a), Penal Code § 243(E)(1), and Penal Code § 242.
In 2014, he entered a plea bargain to a violation of Penal Code § 273.5(a). When he entered the plea, no one advised him that his Second Amendment Right to Bear Arms would be suspended for ten years under California law or for life under federal law.

Had he known that I would lose this Constitutional right, he would not have entered into this plea bargain and instead, he would have asked for trial or an alternative resolution that did not immediately and permanently take away this fundamental right.
He was then placed on summary probation for three years, contingent upon his paying fines totaling $720, attending 52 batterers program classes, paying the City of Torrance booking fee and staying away from the alleged victim, his fiancé. Count 2, the alleged violation of § 243(E)(1), was dismissed, as well as Count 3, the alleged violation of § 242.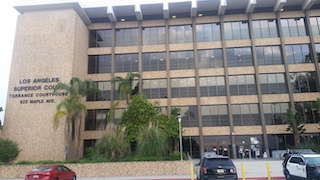 Torrance Courthouse
About a year after our client entered the plea, his fiancé admitted to him that the police report was fabricated. She told him that on the evening when the domestic violence allegedly took place, she put Ambien in his drink to make him fall asleep. She did so to make it easy for her to leave with another man, with whom she was having an affair, she admitted to our client. She told our client that her black eye was not caused by him, but by the other man that evening.

Our client contacted his attorney about this and was told "you can clean it up later," which our client believed. Our client's attorney did not tell him that there was a six-month limit for asking to withdraw a plea.

At the time, our client did not want to destabilize his fiancé's life. She had two teenage kids about to graduate from high school and she was busy helping them. Our client was also attending batterers classes and Alcoholics Anonymous meetings according to the plea bargain. Our client wanted to get through probation with no problems and let his fiancé help her kids without facing possible perjury charges or dealing with filing a false police report.

In 2015, however, the man with whom our fiancé was cheating with murdered her. That man then turned the gun on himself. The Los Angeles Times and the Daily Breeze covered the event. At the time, our client was still on probation.
After the loss of his fiancé, our client went into a deep depression. In 2020, however, he emerged from this funk, perhaps due to the economic crisis caused by Covid-19, as well as the recent racial unrest that has caused looting and vandalism near his home along the border with Venice and Washington Boulevard, which had been a "beehive" of police activity, especially after the recent events involving George Floyd in Minneapolis.

Our client was (and is) employed in the restaurant software business that requires traveling into economically depressed areas for work where he has always considered carrying a firearm for his own safety. Now, he had an urgent need to carry a firearm for his own safety.
Our client therefore attempted to buy a firearm by filling out a Personal Firearm Eligibility Checklist first through the California DOJ website. He was advised that he is ineligible due to his 273.5 conviction.
He therefore came to Greg Hill & Associates and spoke with Greg about withdrawing his plea. Greg explained that six months was the time limit, generally, within which to seek withdrawal of a plea, but that in unusual cases, a judge might allow withdrawal of a plea even beyond six months. This case certainly seemed like such an exceptional case, with unusual facts.
The alternative was that our client would need to seek a governor's pardon to restore his gun rights.
The client agreed to retain Greg Hill & Associates to prepare and file the motion to withdraw the plea, knowing it was a long shot. Greg Hill & Associates then prepared, filed and served the motion on the Torrance City Prosecutor's office. The motion argued that the judge should allow our client to withdraw his plea because it was not entered knowingly and intelligently. It was entered by mistake because no one told him that his fundamental right to own a firearm would be taken away for life. Moreover, it was based on false information. The motion also did state that the conviction affected his personal safety, his ability to perform his job and his employment future.
At the hearing on the motion, the judge indicated she was inclined to deny the motion simply based on six years having passed, but the Torrance City Prosecutor did allow our client to withdraw his plea and instead plead to a violation of Penal Code § 243(e)(1), a lower form of domestic violence, as a misdemeanor, which could make it easier for our client to obtain a pardon, which he would still need to have to restore his Second Amendment rights.
It was a tough case in many ways, but our client was happy with the outcome under the circumstances.
For more information about motions to withdraw a plea or vacate a conviction, please click on the following articles: