Misdemeanor Hit & Run on I-5, Santa Clarita, Dismissed
Our client, age 61, was driving northbound on the I-5 Freeway past the Santa Clarita and Valencia areas. He had passed Magic Mountain and was heading up the Grapevine.
Traffic was light, so he decided to engage the cruise control in his new Volvo. He had just purchased the car after having a Saab for over ten years. He was unfamiliar with the knobs and while fiddling with setting the cruise control, he negligently allowed his car to drift into the lane to his right, bumping into another car very slightly. He immediately then corrected and moved back into his own lane.
He motioned with his hand to the other driver, a woman, to pull over alongside the freeway so he could provide her his information. He had eye contact with her and even moved over to the right lane and slowed down, hoping that she would get the hint and likewise pull over and slow down.

However, the other driver just kept driving at the same speed and seemed unconcerned. She continued on out of sight, so our client continued driving northward as well. After all, what use would there be to pull over if he did not have someone else to provide his insurance and identification to?
About twenty miles later, he looked into his rearview mirror and saw a fast-approaching CHP vehicle with its lights flashing. Our client pulled over to the far right lane and the CHP officer pulled behind our client, eventually using his public address (PA) system to order our client to pull over, which he immediately did.
The CHP officer advised our client that another driver reported a hit and run involving our client. Our client was dumbfounded. He had no criminal history. He explained what had happened to the CHP officer, who was sympathetic and merely cited our client for a violation of Vehicle Code § 20002(a)(1). Our client signed a promise to appear in the Santa Clarita Superior Court in about six weeks.
Once the client returned home, he called Greg Hill & Associate and discussed what had happened. The client was extremely anxious about having a misdemeanor conviction because he was a state-licensed insurance broker and out of work. At his age, having a suspended license was significant.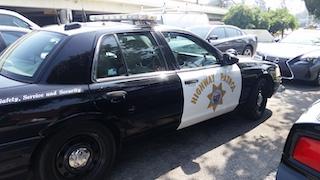 CHP Car
Greg explained what the penalties are for hit and run as a misdemeanor and that a civil compromise is no longer available, at least in the Fourth Appellate District due to a recent ruling there by the Fourth Appellate District Court. Greg then explained that Santa Clarita was in the Second Appellate District, but that Greg had seen judges in the Second Appellate District follow the Fourth Appellate District ruling. This was a recent change in the law that was not good.
However, Greg said an office hearing might be an alternative and Greg explained what an office hearing was. Greg then said that he would request an office hearing from the Santa Clarita District Attorney's office, but such a request certainly could be declined. To help make the request more meritorious, Greg suggested that the client enroll in and complete an online safe driving course and send him a photocopy of his insurance broker's license. Greg also asked the client to see if he could get confirmation from his insurance company that the property damage to the other car had been paid for by our client's insurance company.
The client retained Greg Hill & Associates and immediately found a DMV course online called the "Mature Driver Improvement" class, which he took and received a certificate of completion. The client did this the same day as speaking with Greg. He also sent Greg a photocopy of his insurance broker's license.
Getting confirmation from his insurance company that the property damage was paid for the other car took some time, but eventually, the client also received this and gave it to Greg.
Greg then prepared a short letter to the Santa Clarita DA's office, requesting an office hearing.

The DA's office did not respond at all. The client called our office nearly every week asking if there was any response and whether this was bad news. Each week, Greg explained that no response was not necessarily a sign that he would be prosecuted and convicted.
On the day of the arraignment, Greg appeared on the client's behalf and discussed the case with the prosecutor in detail. Greg showed the prosecutor our client's completion of the Mature Driver Improvement course, his state license to work as an insurance broker and proof the other driver had her property damage repaired.
Quite surprisingly, the prosecutor then advised that she would dismiss the case. Greg thanked her and then advised the client of this truly lucky outcome. The client was ecstatic.

For more information about hit and run, please click on the following articles: