A Civil Compromise No Longer Applies in a Hit and Run?
For at least the last twenty years in California, if someone was charged with misdemeanor hit and run (a violation of California Vehicle Code § 20002(a)), a judge could dismiss a criminal case for hit and run if it found that there was both a civil and criminal case possible and defendant had compensated defendant for his or her damages (i.e. property damage) and the defendant was no longer interested in a criminal case.
A civil compromise is provided for at Penal Code §§ 1377 and 1378. It has been applied in other criminal contexts, too, by our office in cases such as in vandalism and graffiti, shoplifting, taking undersize lobsters, trespassing and furnishing alcohol to a minor. However, hit and run was one of the most common applications.
As of February 28, 2019, a judge may no longer apply a civil compromise to resolve a misdemeanor hit and run. People v. Lourdes Ortiz Dimacali (2019) 32 Cal.App.5th 822, a Fourth Appellate District Court of Appeal decision, put an end to this practice.
Brief Synopsis: In the case summarized below, the Fourth Appellate Disrict ruled that a civil compromise does not apply in a hit and run case. The Fourth Appellate District does not include Los Angeles County, so arguably a judge in Los Angeles County could still grant a civil compromise in a hit and run.

In Ms. Dimacali's case, she was involved in a car accident with M.T.'s car. While the factual background for the case does not state this, it can be inferred that M.T.'s car was parked and M.T. was not at the scene. Dimacali then failed to locate and notify M.T, or the police, about the collision and provide her identifying information to him or the police. M.T.'s car had $1,166.78 in property damage, which Dimacali reimbursed to M.T.
Before Dimacali paid M.T. for the property damage, M.T. contacted the police and a police report was prepared. Somehow (most likely through an insurance claim filed by M.T. and Dimacali), police identified Dimacali as the suspect and a criminal case for misdemeanor hit and run was filed in San Diego County Superior Court against Dimacali, who by this point had already paid M.T. for the property damage.
Dimacali therefore filed a motion to stay prosecution and for discharge and dismissal of the case under Penal Code §§ 1377 and 1378, based in part on a declaration from M.T. in which she stated she had incurred $1,166.78 in damage and Dimacali had reimbursed her that amount and M.T. did not want Dimacali prosecuted.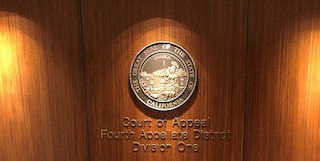 Court of Appeal Fourth Appellate District Division 1 San Diego
The San Diego District Attorney's office opposed the motion on three grounds. First, it argued that hit and run did not qualify for a civil compromise because the California Supreme Court in People v. Martinez (2017) 2 Cal.5th 1093 held that the act constituting a Vehicle Code § 20002(a) offense is fleeing the scene, not the collision. Second, the opposition argued that Dimacali did not have M.T. present in court to acknowledge satisfaction of her property damage (a declaration was arguably not sufficient). Third, the public interest was not vindicated by a civil compromise to let the judge exercise his or her discretion to dismiss the case.
The San Diego County judge dismissed the case, granting Dimacali's motion.
The People then appealed to the San Diego Superior Court appellate division and lost there, too.
The People then filed its appeal to the Fourth Appellate District Court of Appeal in San Diego. The appellate court seized upon the ruling in Martinez, supra, and found that since the essence of hit and run is fleeing the scene, there is not both a civil and criminal claim for this. The claim is only criminal in nature and consequently, there cannot be a civil compromise to dismiss the case.
In other words, the owner of the car struck by Dimacali was not "injured" by the act constituting the crime, leaving the scene after the collision. M.T. suffered financial harm by the collision, but the collision is not the crime. The crime is Dimacali leaving the scene without notifying the owner of the other car or the police and providing her identifying information. Therefore, a civil compromise, while for years a convenient way to dismiss a hit and run, is not really applicable to hit and run because there is no civil claim for Dimacali leaving the scene. The civil claim relates to the collision only.
We appreciate this ruling and understand its rationale, but fear this is the beginning of the end for civil compromises under California law. We think prosecutors will celebrate this ruling and seek to extrapolate it to apply to civil compromises used in other contexts where the crime, like hit and run, can be separated into distinct parts of conduct.

The citation for the Fourth Appellate District Court ruling discussed above is People v. Lourdes Ortiz Dimacali (4th App. Dist., 2019) 32 Cal.App.5th 822.

Contact us.