What Is Misdemeanor Hit & Run (Vehicle Code § 20002)?
A hit and run, generally, is defined as being involved in an accident with either another car, person or object (i.e. a sign, utility box, mailbox, or even a house) and then leaving without identifying yourself to hopefully resolve the damages caused.
Misdemeanor hit and run is distinguished from felony hit and run by a misdemeanor involving no injuries or death. Felony hit and run involves injuries or even death. Misdemeanor hit and run only involves property damage, often paid for by an insurance company.
The Reader's Digest Version: Misdemeanor hit and run focusses on the crime of knowingly leaving the location of an accident, not involving injuries, without providing one's identifying information to the owner of the property damages. Punishment can be up to six months in jail and a fine of $1,000, as well as payment of restitution for the damage caused.

It is important to understand that the crime is in leaving the scene without identifying oneself, even if that person did not even cause the property damage.
Misdemeanor hit and run is not a crime of moral turpitude, but felony hit and run is.
People v. Bautista
(1990) 217 Cal.App.3d 1, 7, 265 Cal.Rptr. 661.
Punishment for misdemeanor hit and run starts with making restitution to the owner of the damaged property. Under Vehicle Code § 20002, the judge can also sentence the client to jail for up to six months and court fine up to $1,000. Probation is commonly afforded if the client has no prior criminal history.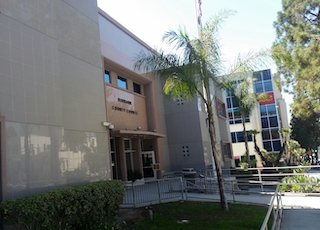 Burbank Courthouse
Our office has filed, under Penal Code §§ 1377 – 1379, motions for civil compromise in misdemeanor hit and run cases to seek a dismissal under Penal Code § 1385. Strictly speaking, a defendant may not seek relief under Penal Code § 1385. Therefore, this request is better characterized as "an invitation" to the trial court to dismiss the case in the interest of justice.
People v. Carmony
(2004) 33 Cal.4th 367, 375, 14 Cal.Rptr.3d 880.
However, before anyone files such a motion for civil compromise in a hit and run case, it is good to recognize that there are cases that say such a motion is improper in a hit and run.
People v. McWhinney
(1988) 206 Cal.App.3d Supp. 8, 12, 254 Cal.Rptr. 205.
Such a motion can be more difficult to file than it can seem. It is often tough getting in contact with the "victim" to make a payment for the property damage, or having the victim sign a declaration under penalty of perjury that they have been paid in full for their damage, either through defendant or an insurance company, and that the victim is no longer interested in continued prosecution of defendant.
Lastly, it should be noted that if a case is reduced from a felony to a misdemeanor, i.e. through the defendant filing a Penal Code § 17(b) motion that the judge grants, the case may be resolved by civil compromise only with the prosecutor's consent and only if the judge finds defendant had no felonious intent.
People v. Moulton
(1982) 131 Cal.App.3d Supp 10, 182 Cal.Rptr. 761,
People v. Strub
(1975) 49 Cal.App.3d Supp. 1, 122 Cal.Rptr. 374.
The defenses we have seen that apply to misdemeanor hit and run often break into two general areas. First, the client may not have even been aware that there was a collision with another car. The client may have thought he or she just hit a bump in the road. This then means that the client did not knowingly leave the scene without identifying himself or herself.
Second, the client may not be able to leave his or her name and address to the owner of the other car, as the other driver may leave or the accident may happen in a rough neighborhood or on a busy freeway. Alternatively, the client may run into a pole, utility box or mailbox and not know who to give his or her identifying information to before leaving.
For more information about hit & run issues, please click on the following articles:
Contact us.