What Is Felony Hit & Run (Vehicle Code § 20001)? Punishment?
Felony hit and run, a violation of Vehicle Code § 20001, being involved in a collision that causes injury or death and then leaving the scene without identifying oneself. Misdemeanor hit and run is more commonly associated with someone hitting a parked car, maybe another driver (and causing only property damage), a sign, a mailbox or even a house.
The Point of This Article: Felony hit and run requires that one driving a car leave the scene of an accident without identifying oneself and that the collision caused an injury or death. Defendant can be charged with this even if not at fault. Punishment can be up to three years in state prison before sentencing enhancements, plus restitution.
It is important to understand that defendant does not have to be at fault for the accident to be charged for hit and run. Even if the other party is at fault, but someone leaves without identifying himself, that can be a crime.
Felony hit and run is a crime of moral turpitude. People v. Bautista (1990) 217 Cal.App.3d 1, 7, 265 Cal.Rptr. 661.
Vehicle Code § 20001, known as felony hit and run, is actually a wobbler. It may be resolved as a misdemeanor, depending upon the facts of the case and defendant's prior history. If § 20001 is resolved as a misdemeanor, punishment can include up to a year in county jail and fines of a minimum of $1,000 to up to $10,000, plus restitution to the victim(s).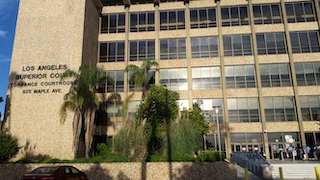 Torrance Courthouse
If resolved as a felony, punishment can include state prison from low term of sixteen months to high term of three years, plus fines of a minimum of $1,000 to a maximum of $10,000, plus payment of restitution to the victim or victims. If probation is granted despite permanent injuries to the victim(s), defendant will commonly serve at least 90 days in county jail.
If one flees the scene of an accident wherein one committed vehicular manslaughter, there is a five-year sentence enhancement. Vehicle Code § 20001(c). Under People v. Calhoun (2007) 40 Cal.4th 398, the California Supreme Court held that a defendant convicted of gross vehicular manslaughter as an accomplice is also subject to the 20001(c) enhancement.
It is important to note that a motion for a civil compromise is not available for a defendant in a felony hit and run matter. Such a motion is limited to application to misdemeanor matters (Penal Code §§ 1377 -1379; see Hoines v. Barney's Club, Inc. (1980) 28 Cal.3d 603, 613, 170 Cal.Rptr. 42), including misdemeanor hit and run.
If a case is reduced from a felony to a misdemeanor, for example through defendant filing a Penal Code § 17(b) motion that the judge grants, the case may be dismissed by civil compromise only with the prosecutor's consent and only if the judge finds that defendant had no felonious intent. People v. Moulton (1982) 131 Cal.App.3d Supp 10, 182 Cal.Rptr. 761 and People v. Strub (1975) 49 Cal.App.3d Supp. 1, 122 Cal.Rptr. 374.
A civil compromise can be found to have taken place if the insurance company for defendant, for example, paid for the property damage and medical expenses of the other party (and perhaps lost earnings and even pain and suffering) and the other party is not interested in prosecution of defendant. It is important to note, however, that a motion for civil compromise cannot be filed or granted if the case remains a felony.

The defenses to felony hit and run are rather intuitive. First, most importantly, one may be able to defend the charge by claiming he or she was not driving the car. This often applies if the victim or a witness only sees the license plate and then the police trace the license plate to the registered owner, who was not driving the car.
Second, there is the defense that the driver simply did not know there was any collision, so the driver did not have any intent to leave a scene without providing information.
For more information about hit & run issues, please click on the following articles:
Restitution Order for Defendant to Pay $425,655 in Medical Expenses to Victim of Hit and Run Is Improper Because Defendant Did Not Admit Causation
Contact us.