Metro Courthouse, DUI, 0.097% BAC, Plea to VC § 23109
In a Nutshell: Client arrested for DUI with a 0.09% BAC at the scene, but then his breath was measured at 0.080% at the East Los Angeles police station. Case resolved as an exhibition of speed (Vehicle Code § 23109), which was good for our client because he did not have to attend any DUI classes.

Our client, age 25, had gone to Santa Monica Brew Works on Colorado Boulevard in Santa Monica with friends. He had limited his alcohol intake because he knew he was tired from a long week at work.

After the location closed about 2:00 a.m., he decided to sleep a bit in his car before heading home to Corona because it was a long drive. He slept for about an hour and a half, but then decided to just head east on the 10 Freeway from Santa Monica toward Corona.

When he went through Downtown Los Angeles, he transitioned to the eastbound 60. Heading east, as well, was a CHP officer who was watching our client. As our client approached the Whittier Boulevard offramp, our client allegedly swerved over the lane lines to the right and then back over to the lane markers to the left. Since he was in the number one lane, according to the CHP officer, our client nearly scraped the left side of his Prius on the center divider wall.

The officer then activated his overhead blue and red lights to pull over our client at the Whittier Boulevard exit. Our client was cooperative and explained to the officer that he believes he may have dozed off momentarily. He also shared that he had consumed one glass of wine earlier in the evening and felt very tired from a long week at work.
At the scene, our client submitted to a breath test on the preliminary alcohol screening (PAS) device. His blood alcohol content (BAC) in his breath was measured at 0.097% and 0.093% and this caused him to be arrested.

The officer took our client to the East Los Angeles Police Station station just about 200 yards from the East Los Angeles Superior Court. There, he submitted to another breath test on the Datamaster machine and his breath BAC was measured at 0.081% and 0.080%. He was then held for several hours before being released.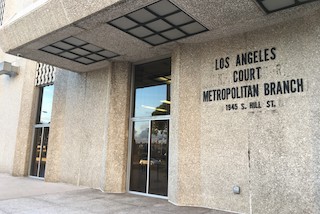 Metro Courthouse
The client was very anxious about the criminal case, as he had no prior criminal history.
He also lost the citation from the CHP that he signed, so when he called up Greg Hill & Associates, he was not able to confirm that his arraignment would be at the East Los Angeles Courthouse, but due to the location of the arrest, it seemed like the East Los Angeles Courthouse would be where the case would be filed.
The client explained the facts of the case to Greg and asked if he really would face a conviction for DUI, given his low BAC. Greg answered that he thought the case very much may be resolved for a "wet reckless," which meant the DUI charges would be dismissed and the client would enter a no contest plea to a violation of Vehicle Code § 23103, pursuant to Vehicle Code § 23103.5. Greg explained how such a plea is better than a DUI, although very similar in its terms most often, but the court would not report a conviction for DUI to the DMV so the DMV would not suspend his license due to a conviction for DUI.
Greg emphasized that the client could still face a suspension for DUI from the admin per se hearing at the DMV, but not a suspension for a DUI conviction, which meant he would not have to install an ignition interlock device. However, a conviction for a "wet reckless" would count as a DUI conviction if he were to receive a further DUI within ten years of the date of his arrest for the present matter.
Greg further mentioned that if the prosecutor was in an especially good mood, Greg may be able to resolve the case for an exhibition of speed or "speed ex" under Vehicle Code § 23109 even if the client was not speeding. Such a resolution would be even better than a DUI because the client would not have to attend any DUI classes as a result of the conviction, probation would likely be just two years (not three) and the fines would be lower. Best of all, a conviction for a "speed ex" would not count as a DUI at all if the client were to receive another DUI arrest within ten years of this arrest.
On the day of the arraignment, Greg Hill appeared at the East Los Angeles Superior Court only to find out that no case had been filed there. Greg called back to the office in Torrance on a hunch that the case actually may have been filed in the Metropolitan court and it was, so Greg drove from the East Los Angeles Courthouse to the Metro Courthouse, where the arraignment was held.
In discussing the case with the handling Los Angeles City Attorney assigned to the case, Greg requested a plea to a "speed ex," to which the prosecutor agreed.
The client was ecstatic with this resolution, as it was not a DUI and would not count as a DUI in the future. Moreover, the terms were two years of informal, or summary probation, a $250 fine (credit for $125 for one day in custody towards the $250), plus penalties and assessments, or about $800, and no classes or any other terms. This saved the client thousands of dollars. He was very pleased.
For more information about low BAC DUI issues, please click on the following articles:
Contact us.