Is Diversion Available for Veterans for a DUI? Yes
California Vehicle Code § 23640 states that diversion is not available for a person charged with DUI. Penal Code § 1001.80, however, authorizes a court to grant pretrial diversion "whenever" a qualified military veteran is charged with a misdemeanor offense, i.e. DUI. Which statute controls?
These conflicting statues came to a boiling point in the Metropolitan Courthouse case of Terence Hopkins in Los Angeles County.
Summary in 50 Words or Less: Military Diversion is available for an otherwise qualified active duty military member or veteran charged with DUI. The following case was followed by a change in the law under Senate Bill 725 signed in August, 2017, specifically allowing military diversion under Penal Code § 1001.80(l) to apply to DUI.

Mr. Hopkins, on August 21, 2015, was arrested on suspicion of DUI, both Vehicle Code § 23152(a) and § 23152(b), and later charged with both counts. Hopkins pled not guilty and moved for military diversion under Penal Code § 1001.80.
Hopkins provided documentation showing he had served in the United States Naval Reserves and was activated from October, 2007 to November, 2008. He completed a combat tour in Afghanistan and served as a military police officer at an internment facility that housed Al Queda and Tailban prisoners. Pamela Davis, a clinical social worker for the Department of Veteran Affairs, stated that Hopkins was exposed to significant trauma during his service and had service-connected PTSD.
In May 2015, about three months prior to his DUI and six years after leaving Afghanistan, he began mental health services at the VA.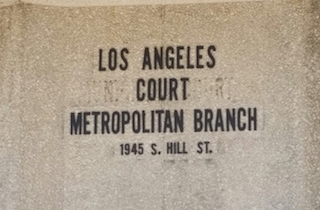 Metro Courthouse
Hopkins also provided two letters from Dr. Shapiro, a psychiatrist for the VA. Dr. Shapiro stated that Hopkins had a problem with binge alcohol addiction, which arose due to active PTSD, which he attributed to combat exposure.
The People opposed Hopkins' motion for diversion, arguing that Vehicle Code § 23640 controlled and prohibits diversion in any case involving DUI, citing
People v. Weatherill
(1999) 215 Cal.App.3d 1569.
Hopkins replied that Penal Code § 1001.80, enacted in 2014, governed over § 23640 and
Weatherill
.
The trial court judge at the Metropolitan Court held that Hopkins was certainly qualified for diversion under section 1001.80, however, it noted that "repeals by implication" (a reference to 23640) are disfavored.
People v. Siko
(1988) 45 Cal.3d 820, 824. Moreover, Vehicle Code § 23640 specifically addressed DUI in the context of diversion, whereas § 1001.80 was more broad and not specific to DUI at all. The trial court then denied Hopkin's request for diversion.
Hopkins then filed a petition for writ of mandate with Appellate Division of the Los Angeles Superior Court, asking that it reverse the trial court. The Appellate Division, however, denied the petition, citing to Vehicle Code § 23640(a) and
Weatherill
.
Hopkins did not give up. He then filed a petition for writ of mandate to the Second Appellate District, asking it to order the Appellate Division to issue a writ of mandate to direct the trial court to vacate its ruling. The trial court's ruling was that Hopkins was ineligible for diversion.
The Second Appellate District took a more active approach to the issue of inconsistent statutes. It reminded the reader that the California Supreme Court had recently directed that a court must, "when reasonable, harmonize statutes, reconcile seeming inconsistencies in them and construe them to give force and effect to all of their provisions."
State Dept. of Public Health v. Superior Court
(2015) 60 Cal. 4th 940, 955-56 (
State Dept.
).
The appellate court then examined Penal Code § 1001.80, emphasizing in its analysis that the statute states it applies "whenever" there is a misdemeanor offense and defendant is qualified. The appellate court stated there was no ambiguity in the statute at all.
The appellate court then looked to the prosecution's opposition to Hopkins' petition, wherein the prosecution said that the judge had discretion to deny diversion to an otherwise eligible veteran. To this, the appellate court pounced, finding this was incorrect. Moreover, the appellate court cited to
State Dept.
again, saying "later enactments supersede earlier ones."
Id
., at 160.
Consequently, Hopkins' writ was granted and an order was issued directing the Appellate Division of the Los Angeles Superior Court to vacate its order denying Hopkins diversion and to enter a new order granting his original motion for diversion.
We think this ruling is good, but caution that the appellate division for the San Diego Superior Court recently ruled differently on the same issue, setting the stage for a California Supreme Court ruling to settle the discrepancy within the state.

The citation for the Second Appellate District Court ruling discussed above is Terence William Hopkins v. Superior Court (2d App. Dist., 2016) 2 Cal.App.5th 1275.

For more information about military veteran programs in general, please click on the following articles:
Diversion Programs in California for Armed Forces Veterans
Contact us.