What Is Violating V.C. § 23109(c), Exhibition of Speed?
If you are facing a DUI with a low blood alcohol content (BAC), it is not uncommon for the prosecution to offer to resolve the case with the defendant entering a plea bargain to an added charge of Vehicle Code § 23109(c), "Exhibition of Speed," or "Speed Ex."
The deal often sounds attractive, as it is not a DUI and the client will avoid having to take any alcohol awareness class, avoid the ignition interlock requirement from the DMV that otherwise would be triggered with a conviction for DUI, and not have a record for DUI. All of this saves the client money and time.
Summary in 60 Words or Less: A conviction for violating Vehicle Code § 23109(c), "Exhibition of Speed," is an attractive alternative to a DUI if one is originally arrested for DUI, as it avoids alcohol awareness classes, an ignition interlock device (IID) or a mandatory license suspension. A conviction for this offense, however, carries with it two points on one's license, which should be considered.
Alternatively, did you receive a ticket for engaging in an "Exhibition of Speed?" Are you confused about what exactly you did wrong? What is the punishment? What must the prosecutor prove anyways?
But what exactly is such a charge? Subsection (c) of Vehicle Code section 23109 defines an exhibition of speed as "accelerating or driving a vehicle at a dangerous speed, in order to show off for or make an impression on other people."

In other words, there must be at least one other person who was available to witness the acceleration or demonstration of speed. What we have recently seen is juveniles being cited for this offense when they are alone, in a "tricked out" car, driving laps in an industrial area late at night. There is no traffic. No one is standing on the side of the street cheering them on. There may be another juvenile also driving laps, but the other driver is often a minute or so behind for safety, so he or she cannot observe the client's speeding or acceleration.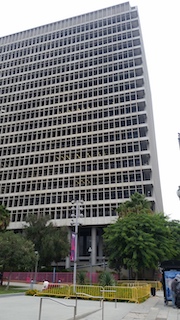 Clara Shortridge Foltz CCB Courthouse
However, a police officer might be hiding along the side of the road, in a shadow from a tree, and stops our client. Such a factual scenario is defensible as described above.
However, what is a problem for defendant is a police officer observing a person "burning rubber" while others watch nearby, either in another car at a stop light, or standing on the roadside. It could also be a person performing a drag race on a motorcycle or performing a "wheelie" if the motorcycle accelerates while doing so, as is common.
The exhibition must be willful and on public roads. "Willful" means the acceleration or show of speed must be intentional. The intent to show off is not necessary. All that is needed is to show that the car or motorcycle accelerated or sped along due to the intent to do so by defendant. Negligently speeding would not suffice. Similarly, if the car or motorcycle has a mechanical defect that caused sudden acceleration, this would be a defense.
Public roads mean a highway or a road. Consequently, doing so in a private parking lot is not a crime.
An exhibition of speed can be charged as a misdemeanor or an infraction. The punishment does not include any restriction or suspension of one's driving privileges. If charged as an infraction, the punishment is just a fine, however the DMV will penalize your license with two points for a violation of 23109(c), which could increase your insurance rates or if you already have points on your license, it could result in suspension of your license.
If charged as a misdemeanor, the person faces up to 90 days in county jail and /or a fine of up to $500, plus penalties and assessments (about $2,700 total). As the conviction is worth two points on one's license, so it is not something that one can avoid with traffic school.
For more information about common driving offenses, please click on the following articles:
Contact us.