Los Angeles, Client M.D., 0.11% BAC, Plea to Speeding
Our client, age 28, had been out with friends in Hollywood for a night of drinking and dinner. As he approached the 101 Freeway on ramp, he accelerated to forty miles per hour in a twenty-five mile per hour zone. A police officer allegedly observed this and stopped our client just prior to the on ramp.
Synopsis: Client, a medical doctor, arrested for DUI with 0.11% BAC, case resolved for exhibition of speed (Vehicle Code § 23109) and 30 AA meetings.
The client was asked to perform certain field sobriety tests, which our client allegedly failed. He also submitted to a preliminary alcohol screening (PAS) test, wherein he provided a breath sample that was measured with a blood alcohol content of 0.11%. He was promptly arrested.
At the police station, he provided a blood sample that was later tested and measured at a blood alcohol content of 0.10%.
The case against our client was filed in the Metropolitan Court with charges of violating Vehicle Code § 23152(a) (driving under the influence of alcohol, no BAC specified) and Vehicle Code § 23152(b) (driving with a BAC of .08% or higher). The client first retained an attorney who was a family friend.
The family friend attorney was unable to negotiate even a plea to reckless driving, which caused the client to fire the family friend attorney and retain Greg Hill & Associates. The client had spoken to several friends who told him that his case most likely would resolve as reckless driving, given it was his first DUI and his BAC was fairly low. Moreover, he was a medical doctor and was likely to take this brush with the law more seriously than others.
Greg first spoke with the client and his mother extensively about this case and how the case had been prosecuted so far.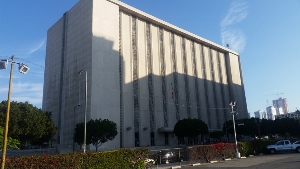 Metropolitan Superior Courthouse
Greg then appeared on the case and the LA City Attorney assigned to the case immediately improved the offer to a wet reckless (a violation of Vehicle Code § 23103 pursuant to 23103.5). Greg had a great deal of rapport with the particular City Attorney due to a prior jury trial he had with him in a DUI (not guilty verdict). Greg and the City Attorney had also worked on several other cases together. There was healthy level of professional, mutual respect.
Greg then received and reviewed the police report. He noticed two problems with the prosecutor's case. First, the PAS test was administered after just eleven minutes of observation of our client, a violation of the PAS manufacture guidelines. While this did not mean the test results were inadmissible, it did mean that the arresting officers were sloppy in their jobs. It also meant that the results could be less reliable and thus less accurate than had the officers followed manufacturer guidelines.
Making matters worse, the police did not secure a blood sample until more than three hours had passed after the client last drove. This meant that the statutory presumption set forth in Vehicle Code § 23152(b) that the client's BAC was the BAC while driving did not apply. In order for the prosecutor to present proof of our client's BAC when driving, the prosecution would need an expert witness to reverse extrapolate the blood alcohol level by adding to the measured level by an estimated amount based on the rate of ethanol absorption. To do this, the expert must make numerous assumptions about our client's health, kidney function, body fat, hematocrit (iron levels), breathing pattern and even liver function.
Greg then wrote a Defense Position Letter to the supervising City Attorney, explaining that such problems meant there was no reliable evidence of our client's blood alcohol content. The letter included copies of our client's medical school diploma, college transcripts and letters attesting to our client's good character.
The supervising City Attorney complained loudly that she received "so many letters like yours seeking special treatment," but then agreed to amend the complaint to allege an exhibition of speed (Vehicle Code § 23109) if the client agreed to attend 30 AA meetings.
Our client was happy to accept this plea bargain, as it avoided a host of consequences related to his medical license. He said he should have hired Greg Hill & Associates from the start, rather than the family friend attorney.
For more information about field sobriety tests and the punishment likely in a first-time DUI, click on the following articles:
Watch our video about DUI by clicking here.
Contact us.