Long Beach & Torrance, Failure to Register As Sex Offender
Our client was charged in Long Beach Superior Court in a felony complaint for violating Penal Code § 290(b), failing to register as a sex offender. The obligation to register under Penal Code § 290 arose out of a conviction he suffered for violating Penal Code § 288.4(b) (arranging a meeting with a minor for lewd purposes) in the Torrance Superior Court.
Synopsis: Long Beach and Torrance, sex offense probation violation, failure to register new address after moving, client sentenced to 90 days in Los Angeles County Jail (time served).

The conduct constituting the violation was moving and then failing to update his new residence with local law enforcement, who would then update the sex offender database, within the required five days after he moved (under Penal Code §§ 290(b) and 290.013(a)).
The probation violation case was filed in Torrance Superior Court, but he also faced a second and separate felony complaint in the Long Beach Superior Court for his failure to register (really update his residence). He was living in Long Beach at the time, so the second case was filed in Long Beach Superior Court.
The facts of the failure to update his address were fairly innocent. Our client was house sitting for a friend from his church while his friend went back to the Philippines for a few weeks. Our client was living at the friend's home, but did not add his friend's home address as his own address in the sex offender database. Our client's stay at the friend's home was temporary (three weeks), but the rules are clear and have no provision for temporary stays lasting longer than five days. Our client was, in other words, a bit too casual for local authorities.
It is a Los Angeles County rule that probation violation matters, when coupled with an independent case in another courthouse, "travel" to the other court for consolidation with the other case. Therefore, the probation violation from Torrance was transferred to Long Beach.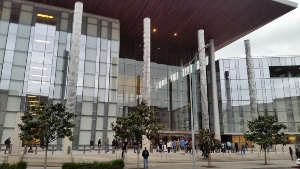 Governor George Deukmejian Courthouse
Long Beach Superior Courthouse


Greg Hill & Associates was retained early on by the client's family, as the client was held without bail (bail is discretionary in probation violation cases and when there is a sex offense at issue, perhaps no judge will permit bail). Greg Hill visited the client in jail the very same day, which happened to be a Sunday.
Greg then appeared in the Long Beach court and, knowing how harsh probation violation matters are handled in Long Beach, endeavored to have the two matters transferred to Torrance Superior Court for more humane treatment. After all, the offer for a plea bargain in the consolidated cases was two years in state prison if the cases stayed in Long Beach. This had to be avoided.
Greg Hill, over loud objections from the handling District Attorney in Long Beach, then did so by requesting that the Torrance court agree to accept the transfer of the cases, which the Torrance judge agreed to. The Long Beach judge did not insist upon "keeping" the cases.
Once the cases were transferred to Torrance, Greg Hill prepared a Sentencing Brief which included a lengthy collection of our client's certificates and letters from his friends to show the judge in Torrance that he was a "Good Guy" and deserving of leniency in punishment.
Greg Hill also prepared a Supplemental Sentencing Brief with additional information for the court in Torrance to consider. At sentencing, the Torrance judge sentenced our client to ninety days County Jail, which worked out to be "time served," as our client had been in jail for sixty days already (he was given good time credit for 30 more days) and he was immediately released.
Our client and his family were very appreciative of saving one year and nine months of prison time by moving the case to Torrance.
For more information about the issues in this case summary, click on the following articles:
Contact us.