Long Beach, Six Year Old Bench Warrant on Third Time DUI
Our client had a bench warrant that was six years old stemming from his failure to file anything with the court showing compliance with the terms of informal, or summary, probation after entering a "No Contest" plea to a third-time DUI. Judge view this type of violation as a serious problem, as it suggests the defendant has no regard or respect for the court system or any promise he or she made while in court.
Overview: Long Beach, probation violation and bench warrant six years old on third-time DUI, resolved for 30 days of county jail.

Our client had agreed to serve 180 days in county jail and complete the SB38 (18-month DUI program). He had served 37 days in two-day segments at the Pasadena City Jail under their private jail program, but then ran out of money as his job in construction slowed down.
On his own, he had changed from the eighteen-month SB38 program to a 30-month DUI program. He did not receive court approval for this modification of probation, but he completed the 30-month program. He had opted to enroll in and complete the 30-month DUI program in hopes of having the judge approve a modification of his probation to allow a 30-30 arrangement (30 days in county jail and 30 months of DUI classes), as he had already served 30 days in county jail. In other words, he was in fact trying to fulfill his obligations to the judge, but was doing so without following the proper way of modifying his obligations.
He came to us explaining the situation, as he could not renew his driver's license without having the bench warrant recalled.
Greg Hill explained that upon recalling the bench warrant, it was likely that the Long Beach judge handling his case would impose at least the original terms of probation (143 more days in county jail), plus some punishment for the six-year old bench warrant. 180 days in jail seemed like a certainty.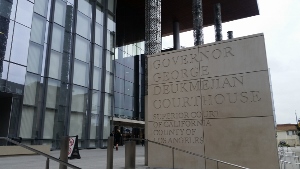 Governor George Deukmejian Courthouse
Long Beach Superior Courthouse

Greg also explained that he thought the judge would appreciate the 30 month program, but not allow the client to use it to, on his own, modify the terms of the plea bargain to a "30-30" plea bargain (30 days county jail, 30 month program), as is common in most third-time DUI's, but not all. This was especially true in the client's case, as he had a total of five DUI convictions, three of which were within the ten-year period.
Nevertheless, Greg promised he would negotiate with the Long Beach City Prosecutor assigned to the case to see if he would stipulate to a modification of probation to the "30-30" terms and thereafter agree to a small punishment for the six year bench warrant because, after all, once the terms of probation were modified, the client would have in fact fulfilled the terms of probation.
On the day the bench warrant was to be addressed, Greg and the client were quite nervous. The client faced a possible 180 days in county jail and the bailiff might remand him immediately. The client had notified his friends and employer of the situation in advance, instructing them to get his mail and tend to his car and apartment.
Quite luckily, the Long Beach City Prosecutor agreed to modify the terms of probation so as to "fit" what the client had already completed, if the judge were to also so agree. The prosecutor also proposed 45 days of county jail for the six-year bench warrant.
The Long Beach Superior Court judge was in a good mood and, while surprised by the client's audacity to independently modify his probation and then ask permission later, also agreed to modify the terms of probation to the "30-30" to "fit" what the client had already completed. She then made such a "fit" contingent upon the client serving 30 days in county jail. Our client agreed.
Our client then chose the St. Patrick's Day weekend to begin his county jail term. He served three days to fulfill his thirty days of county jail. Upon serving his three days, his probation ended.
For more information about the issues in this case summary, click on the following articles:
Contact us.