Long Beach, Reclassification of PC 261.5(d) As Misdemeanor
In 2007, our client, then age 23, was dating a girl, age 15. He met her at a famous ice cream and candy store in Belmont Shore, where he worked. While they were dating, he was not aware that she was under the age of 18. She was even introduced to his family and there were no questions or concerns raised by his parents of their age difference or her age in particular.
One day, however, the mother of the girl called the police and reported our client for having a sexual relationship with a minor, her daughter. The mother then made a pretext call to our client while he was at Cal State Long Beach, where he admitted to a sexual relationship with her daughter. Our client was then charged with violating Penal Code §§ 261.5(d), 288(a) and 289(a), all felonies, in the Westminster Courthouse.
In 2008, our client, using the public defender, entered into a plea bargain to resolve the case by pleading guilty to a violation of Penal Code § 261.5(d). The other two counts were dismissed.
Our client was sentenced to thirty-six months of formal probation, conditioned upon his completion of eighty hours of community service, completion of an AIDS Prevention and Education Program, surrender of a DNA sample, payment of restitution (paid through the probation department) and adherence to a stay away order from "Jane Doe," his former girlfriend.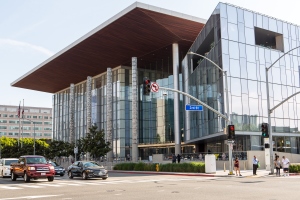 Probation was then transferred from Orange County to Los Angeles County through the Long Beach Courthouse. Our client fully complied with all terms of probation in 2011.
Back in 2008, however, due to this felony conviction on his record, he was unable to complete the requirements of the college degree in teaching and teach at a local high school. He was disqualified from the program after a background check revealed his felony conviction. This humiliating and devastating experience led to him to leave college in disgrace.
At this point, he began applying for full-time jobs, however once each employer completed background checks, he withdrew his applications. He did not want to go through another demeaning experience due to his felony conviction. He was feeling helpless, lost and scared that he would never be able to rebuild his life after this mistake.
Right before the devastation of 9-11, our client enlisted in the United States Air Force so he could serve his country. He served in the military for two years before being honorably discharged in 2003. He was diagnosed on base with major depression and was offered the opportunity to end his four-year contract in the Air Force early, which he accepted.
He then returned to California after his service. He has always been a driven, hardworking person, so he did not want to give up on being a contributing member of society. He eventually applied to a private dispatch company that places teachers in Japanese schools. Soon thereafter, he left to Japan to work as an Assistant Language Teacher for a public junior high school in Japan. From 2003 until 2018, he then taught English and supported the Japanese teachers with grading, grammar and scheduling.
While he was very grateful he was able to find a teaching position in Japan, his ultimate goal is to attain a position as a teacher through the JET Program, a program sponsored by the Japanese government. This program trains and financially supports teachers offering a much higher income than the non-government companies such as the company that currently employed our client.
However, his prior felony conviction again prevented his from being accepted into the JET program. This was devastating because he met and married his wife in Japan. Recently, he became a father for the first time to his infant daughter.
His wife was home on maternity leave for the next year, at a reduced pay rate. He was struggling to financially support his family with his income. Moreover, he was living in Japan on a visa. The visa renewal date was quickly approaching in a few months. He cannot renew it with a felony on his history.
He then contacted Greg Hill & Associates to inquire about reducing his felony to a misdemeanor. He explained his predicament and life story to Greg. Greg looked into Penal Code § 261.5(d) and explained that it was a "wobbler," meaning it can be prosecuted as a felony or a misdemeanor and now, even 12 years after the conviction, he could request reduction of the felony under Penal Code § 17(b)(3). Once the conviction was reduced to a misdemeanor, our client could request expungement of the conviction.
Greg Hill & Associates then filed the motion for reclassification of the felony to a misdemeanor, which was granted. Our office then filed a petition for dismissal of the complaint under Penal Code § 1203.4, which was also granted.
The client was extremely happy with this, as it seemed to make it more certain he be able to renew his visa and be accepted to the JET program to stay in Japan with his wife and their daughter.