Long Beach, Hit and Run with Pedestrian Death, No Jail
Our client, age 23, was returning home from shopping. Our client worked at a security company that provided security services for the City of Long Beach. He had not gone to college at all and had been homeschooled entirely. His mom worked and his disabled father remained at home.

It was about 8:00 p.m. at night in February, so it was completely dark. Our client was driving southbound on Magnolia Avenue, the same street as the eastern border of the Long Beach Superior Court.
Our client was about ten blocks north of the Long Beach Superior Court and was crossing through an intersection with a green light for his direction of travel. Suddenly, he felt a heavy thump to the side of his car and knew something was wrong. He had apparently hit something quite large, so he pulled over immediately.

As he pulled over, he heard homeless people in the area yelling at him, but he could not tell what they were saying. They seemed angry. He feared they would fight him, so he got back in his car and called him mom on his cell phone.

His mom instructed our client to continue home, which was just about five blocks. Our client parked him car in the open and went upstairs to the family apartment. Our client was crying, as he was confused about what happened, but sensed he may have hit a shopping cart of a homeless person, a big dog or a homeless person.
Police knocked on his door a few minutes later, apparently tracing the license plate number to the address of the registered owner of the car.
Our client was crying and very nervous. Police advised him that he had collided with a homeless person and that the homeless person was taken by ambulance to a local hospital. Our client asked if he was in trouble and police explained that his leaving the scene without giving his identification was considered hit and run, a Vehicle Code violation. Almost apologetically, they handcuffed him and took him to the Long Beach Police Station just a few blocks away.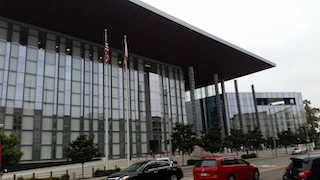 Long Beach Courthouse
Our client was booked and released a few hours later after posting bail. He did not want to leave the police station without making it clear that he apologized profusely, but never saw the homeless man, who want dressed in all black clothing and was African American as well. Before he left the police station, he was told that the man had died due to his injuries.
Our client then called Greg Hill & Associates and asked to meet with Greg immediately. Greg agreed and the client came to our office, still in shock over the experience. He explained what had happened and asked what punishment he would face. Greg explained that the crime was not so much the collision, at that may be more negligent and not criminal at all, if the street was poorly lit and the homeless man was jaywalking against a "Don't Cross" warning.
However, the client committed a crime by leaving the scene without identifying himself and providing his contact information. However, he did not flee to Mexico or Canada, or even California. He drove about a half-mile home. He did not try to conceal his license plate or hide the car. He parked it in the open. He also had no criminal history.
Greg then appeared with the client in the Long Beach Superior Court for his arraignment on one felony charge of violating Vehicle Code § 20001(b)(2). This charge is a "wobbler," meaning it can be filed as a misdemeanor or a felony, depending upon the facts of the case and defendant's prior criminal history.
The prosecutor did not have an offer, but commented that it may be possible to keep the terms low since our client was cooperative and really did not try to evade authorities at all.

Greg then prepared a Defense Position Letter, explaining our client's upbringing as a home-schooled person from kindergarten, working to help his mom and disabled father and showing that he took an online safe driving course immediately after the incident. Greg also had photographs of the accident scene at night, showing how dark the intersection was and how difficult it would be to see a homeless person jaywalking.
Weeks went by before the prosecutor responded, but one day, she called Greg Hill and explained that she had discussed the case extensively with her supervisor and she agreed to resolve the case for three years of formal probation with 90 days of county jail (the minimum statutorily mandated by the Vehicle Code for felony hit and run), suspended due to Covid-19 (so our client would not go to jail for one day unless he violated the terms of probation) and 150 hours of community service. He would also have to pay restitution, if any, for burial expenses and any medical expenses incurred by the family of the homeless person.
Curiously, four family members of the homeless person showed up for sentencing and gave victim impact statements about how much they cared for their family member and what a kind person he was to everyone. The family members were each angry that our client, who was white, was able to avoid jail or prison and one openly asked rhetorically if a black person would get such a deal. It was sad to see such anger and yet interesting to observe that the decedent was homeless despite four family members living nearby and aware of his passing.

For more information about hit and run, please click on the following articles: