Long Beach, Felony Conviction Down to Misdemeanor, Expunged
Our client, age 28 in 2007, was convicted of felony grand theft after his boss discovered and reported to the Long Beach Police Department that he believed our client had stolen about $8,000 worth of inventory. Our client worked for an athletic clothing manufacturer in Wilmington and was a warehouse supervisor.
What to Take Away: Client pleads no contest to grand theft, a violation of Penal Code § 487(a), in Long Beach Superior Court, in 2007. As 487(a) is a "wobbler," it is eligible for filing as a felony or a misdemeanor, and likewise, reduction from a felony to a misdemeanor. Greg Hill & Associates then filed a motion to reduce the conviction to a misdemeanor, easing the client's immigration concerns.

As the investigation clarified, our client actually only stole about a dozen shirts, but his subordinates who he was responsible for supervising, had stolen about 300 shirts. Our client gave the shirts away as gifts, but it was suspected that his subordinates had sold the shirts for profit at swap meets and on E-bay. When our client found out about workers taking the shirts, he accepted responsibility for their thefts, even agreeing to pay restitution himself for their thefts. He thought this was the honorable thing to do, as he was their supervisor.
He also thought this act of accountability would help him avoid prison or jail time.
In a way, our client's sense of responsibility was rewarded. The plea bargain negotiated by our client's public defender was that the client accepted a plea to a violation of Penal Code § 487(a) with four years of formal probation, payment of nearly $8,000 in restitution and performance of ten days of Cal-Trans. He served no jail or prison time.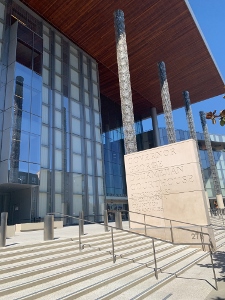 In contrast to most folks who agree to such terms of paying restitution, our client paid the full restitution as ordered within the probation period. He also performed the ten days of Cal-Trans.
When our client's boss discovered the loss, he fired our client. This was devastating for our client, as he had three young children and was working on becoming a U.S. citizen. The conviction for felony grand theft was clearly a crime of moral turpitude, but the client never received notice from U.S. Immigration and Customs Enforcement to self-deport or any other type of notice.
Instead, he found a job as a valet parking cars near LAX at night and worked as a dispatcher at an import / export company in Wilmington during the day. However, as a convicted felon, both of these jobs were classified as part-time by the employer because neither could hire him as a full-time worker.
More than ten years passed wherein our client was employed in a limited way. Then in 2017, one of our client's co-workers at the import / export company, who had retained Greg Hill & Associates in the past, mentioned reducing the felony to a misdemeanor (Penal Code § 487(a) is a wobbler) and having the conviction expunged. The co-worker suggested that the client call Greg Hill to discuss his options, so he did so, speaking with Greg and explaining the underlying offense and his immigration status, as well as his family's financial situation.
Greg confirmed that he could indeed file such a motion and the client retained Greg Hill & Associates. Greg Hill & Associates quickly prepared, filed and served the petition for dismissal, which included a request for reduction of the felony to a misdemeanor.
The judge in Long Beach Superior Court assigned to this case took over six weeks to rule, but did reduce the felony to a misdemeanor and did allow dismissal of the case (expungement). The client was overjoyed at this development, as he had just received notice from the federal government that his citizenship status was being reviewed. As it luckily turned out, the Long Beach Superior Court judge's ruling came just days before our client's response was due to U.S. Immigration and Customs Enforcement.
For more information about reducing a felony to a misdemeanor and other expungement issues, please click on the following articles:
Contact us.