Long Beach DUI Arrest, 85 MPH on 710 Freeway, Wet Reckless
In a Nutshell: Speeding is not one of typical behaviors of a driver impaired by alcohol, and therefore should never be a cue for an officer to suspect DUI, according to a study of the top 30 cues for DUI. This information was important in resolving the following Long Beach DUI case for a wet reckless.

Our client, age 28, was a financial analyst for a start up pharmaceutical company. He was ambitious and articulate.

One evening, he went out for drinks with friends in Santa Monica. He left the group early, around 11:00 p.m. because he just normally went to bed around 10:00 p.m. due to work.

As he was driving down the 710 Freeway toward downtown Long Beach in his 2011 Lexus, he allegedly passed a CHP officer while traveling approximately 85 miles per hour in a 65 mile per hour zone. Our client passed the officer at the Anaheim Street offramp and then the officer allegedly had enough roadway to pace match our client's speed to pace him and then effect a traffic stop about a mile later, which strains credibility because proper pacing requires at least 15 seconds of matching the speed of a another vehicle.
The astute reader of this DUI summary will recognize that Vehicle Code § 23582 if a potential problem with the alleged speed of our client. 20 miles per hour is just under the 30 mile per hour sentencing enhancement of 60 days minimum in county jail if one is convicted of DUI. Our client avoided this enhancement, but it was almost an issue that would have dramatically changed everything for him.
Upon stopping our client, the CHP officer first asked our client if he had been drinking that evening. This was an odd question to ask because speeding is not one of the top 20 cues that the National Highway Safety Administration has identified as driving behavior suggesting DUI, as the link to the article below explains. Nonetheless, our client was honest and stated he had three drinks earlier in the evening.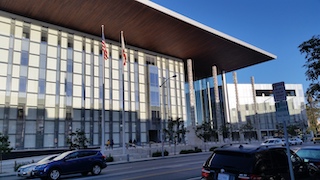 Long Beach Courthouse
The officer then had our client perform certain field sobriety tests along the 710 freeway (which is an absurd place to conduct such tests with constant semitrailer / 18 wheelers going in and out of the Port of Los Angeles) and submit to a roadside Preliminary Alcohol Screening (PAS) test, in which our client provided a breath sample measuring 0.10% and 0.09% blood alcohol content (BAC).

The client was then arrested and taken to the Long Beach Police Department station, where he was booked and given a second breath test. In this second test, his BAC was the exact same as when he was tested on the roadside, which was surprising and suggested that his BAC may have been rising when stopped, but then his BAC peaked and then was descending when the second test was administered.
The client was released from the station after about four hours on a written promise to appear in the Long Beach courthouse in about two months.
Once released, he called Greg Hill & Associates and spoke with Greg Hill. He described the facts of the case and a little bit about himself and his work. He explained that he was not a licensed financial planner or someone with a Series 7 license, although he was a financial analyst, so that was good in terms of how a conviction might affect such license.

Greg then explained how the observation of speeding is not a recognized cue for DUI, at least according to the National Highway Safety Administration, so if the officer suspected the client of DUI just based on his speeding, that officer would be ignoring his training. Likewise, Greg explained what a rising BAC was, which the client's BAC measurements suggested.
Lastly, Greg explained that based on the client's low BAC, a wet reckless was certainly something to negotiate for. Greg explained how a wet reckless was less punishing than a DUI.
Greg then appeared on the client's behalf in the Long Beach Superior Court. He was surprised that at the arraignment, the Long Beach City Prosecutor assigned to the case was adamant not to offer a wet reckless because of the speeding.
Over time, however, Greg was able to discuss how the case facts suggested a rising BAC defense and speeding really was not a symptom of DUI, at least according to the National Highway Traffic Safety Administration.
The young Long Beach City Prosecutor eventually agreed to resolve the case for a wet reckless (Vehicle Code § 23103 pursuant to Vehicle Code § 23103.5) and dismissal of the DUI. However, the terms of the plea bargain were a "heavy wet" with 36 months of summary, or informal probation, a $390 fine (less credit for two days actual in custody, so a base fine of only $140), plus penalties and assessments (total of about $860), attendance at and completion of the three-months AB 541 program, plus attendance at 20 AA meetings.
The client was very happy with this resolution.

For more information about DUI issues, please click on the following articles: