Lomita, Facial Injuries to Client's Mom, Case Dismissed
Our client, age 54 and with a criminal history causing a Lomita Sheriff to comment, "He's no choir boy," was arrested for violation of Penal Code § 368(b)(1), elder abuse.
This is a crime that may be charged as a felony or misdemeanor. If charged as a misdemeanor, elder abuse carries with it a maximum sentence of one year in county jail and/or a fine up to $6,000. If charged as a felony, elder abuse carries with it a penalty up to four years in state prison. The court usually orders counseling as a condition of any plea or sentence, especially if probation is granted.
What One Should Learn from This Summary: When an attorney for an arrestee comes to the Lomita Sheriffs station forty-five minutes after the client calls him on a Sunday, it is unusual. Greg Hill then made three more visits to the Lomita Sheriffs station over the next 48 hours. No charges were filed. While such efforts in fact may have had no effect on the decision not to prosecute our client, our client was appreciative nonetheless.

Our client's arrest followed a fall from bed by our client's 76 year old mom, who was bedridden with multiple health problems. Our client was the primary and designated health care provider for her mom.
Our client's mom had rolled over and misjudged the side of her bed, falling out in such a manner that her face hit a hard floor about eighteen inches below without carpet. The injuries truly looked similar to injuries one would receive from punches to the face – both eyes were blackened, a bloody nose, swollen forehead and swollen, bloody lips.
One of the medical problems of our client's mom was poor blood clotting, which caused her injuries from the fall to keep bleeding well after clotting should have taken place. This caused the Lomita Sheriffs to believe that the injuries were not caused by a fall of eighteen inches from a bed, but a series of punches.
Lomita Sheriff officers arrested our client after his mother was taken to the hospital, despite his mother's insistence that she had fallen.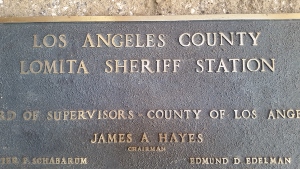 Greg Hill was called on a Sunday afternoon shortly after our client was arrested. He made it to the Lomita Sheriff's station in about forty-five minutes and spoke with the client, and after waiting over two hours, the arresting officers as well. He explained that our client's mom had fallen out of bed earlier in the week and consequently, our client had ordered a hospital bed with bed rails to prevent future falls.
As our client chose not to post bail, his arraignment was the following Tuesday morning, so the Lomita Sheriffs had to decide whether or not to recommend prosecution to the DA. While is it not known whether they recommended prosecution, the relentless efforts by Greg Hill to inform the Lomita Sheriffs of the full picture must have had an effect, as Greg Hill made three personal visits to the Lomita Sheriffs station to speak with the arresting officers and the detective assigned to the case.
At our client's arraignment, the charges were dismissed and our client was released from custody. The prior 48 hours had been a non-stop campaign by our office to have our client released and charges dropped. We were successful.
The client's mom has since returned home from the hospital. Now her bed has bed rails to prevent such a fall.
If you or a family member have been charged with a violation of Penal Code § 368(b)(1), call our office today. One of our attorneys will speak with you immediately and will fight vigorously for you. No detail is too small. We will be aggressive from the start, which sometimes leads to a District Attorney shying away from a filing.
Don't risk losing your employment or your reputation.
Call us today at (310) 782-2500
for your free consultation. We are available 24 hours a day, 7 days a week to help you.
When payment is an issue, we have very competitive flat fee rates to represent you or your family member. In special circumstances, we will also consider payment plans where payments are spread out over time. We also accept all major credit cards.
For more information about the issues in this case summary, click on the following articles:
Fingerprint Records Must Be Destroyed If the Court Grants a Petition for Factual Innocence (Penal Code § 851.8)
Contact us.