Lancaster DUI, Felony, 2 Dead, 4 Injured, Client's BAC 0.27%
Brief Synopsis: Felony DUI with two fatalities and four more people with injuries in Lancaster; our client's BAC 0.27%, client enters a no contest plea to two counts of Penal Code § 191.5 (gross vehicular manslaughter while intoxicated) for twelve years in state prison at 50% (post-script: our client was assigned to fire camp and was released after two years).

Our client, age 34, was returning home after work. It was a weekday well before sunset and he was heading southbound on 60th Street West, nearing the intersection with Highway 138, also known as Avenue D. He was driving a 2007 Ford Focus. To drive from his work to this location took our client approximately an hour.

Ahead of him was a small sedan, a 2006 Scion, with four occupants, a husband, a wife and two of their children, ages five and thirteen. The Scion had come to a stop or was in the process of yielding to crossing traffic on Highway 138. Our client's car then rear-ended the Scion, pushing it into the path of a 2018 Ford F-250 with two female occupants. The F-250 then collided with the Scion as well as our client's car.
The collision left the female driver of the Scion dead at the scene. Her husband suffered a broken femur and other less severe injuries. One child in the back seat suffered facial fractures; the other suffered, miraculously, just bruises.

The seventy-nine-year old passenger in the pick-up truck suffered significant spinal and neck fractures, succumbing to the injuries about a month later. The driver of the truck, age 57, suffered a broken sternum.
Our client's car came to rest on its top in a ditch nearby. Our client climbed out of the car, uninjured and called his wife.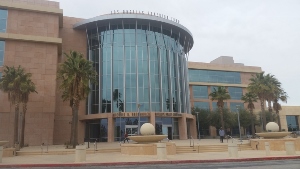 Lancaster Superior Court
Police and ambulances arrived shortly thereafter. Our client had no criminal history, so when police arrived and spoke with him, he began to understand the gravity of what had taken place. He wisely then asserted his right to remain silent without his attorney present. He was then arrested for felony DUI. His blood alcohol content, or BAC at the scene, taken approximately fifty-five minutes after he last drove, was 0.167% and 0.209%. He was taken to a local hospital, where two hours and forty-two minutes after he last drove, his blood was drawn for further analysis. Its BAC was measured at 0.271% and 0.273%.

Our client was then taken to the police station, where bail was set at $100,000, which his family posted a bail bond for and he was permitted to return home with a promise to appear in court about two months later. The observant reader of this summary will note that bail actually should have been $600,000, based on six victims of the same accident, which some may characterize as "bail stacking," but it is nonetheless exactly what happens, especially when at least one person has passed away.
Two days later, the client called Greg Hill & Associates and spoke with Greg on a Saturday afternoon. He explained what had happened and asked many questions about the consequences he faced. Greg answered that he anticipated the charges to be a violation of Penal Code § 191.5(a) (Gross Vehicular Manslaughter While Intoxicated, a felony) (at the time, there was just one decedent) and five charges for a violation of Vehicle Code §§ 23153(a) and 23153(b) (Felony DUI, causing injury, with a BAC at or above 0.08% by weight). Greg explained the sentencing enhancements for great bodily injury of three years per 23153 count would also apply and this would require prison time of at least 85% of the sentence.
However, Greg also explained that such cases often take an extremely long time to resolve due to the time necessary to produce not only the police report, but the traffic collision report and many supplemental reports that are produced. There would also be a Major Accident Investigation Team (MAIT) report. Our office would also seek to have the client's blood retested for its blood alcohol level.
The client then retained Greg Hill & Associates and Greg traveled up to Lancaster the following day to visit the accident scene with the client and his wife. It was noteworthy that the intersection was marked by other handmade crosses from earlier fatal accidents taking place at the same intersection. At the time, our client had already enrolled in a SB38 program as Greg suggested, was attending Alcoholics Anonymous (AA) meetings every day and had entered a separate substance abuse program in town.
At the arraignment, the District Attorney from the Lancaster Superior Court advised Greg that a second victim had passed away and he was seeking an increase in the bail amount to $1.6 million. The judge listened to the prosecutor explain the change in circumstances and that the earlier bail level was mistakenly set too low. The judge agreed that bail was erroneously set at $100,000, but refused to increase bail to the prosecutor's requested level. Nonetheless, he did raise bail to $630,000 and our client was remanded.
Greg then requested a hearing for a motion to reduce bail and the judge set a hearing date about three weeks later. Greg then prepared a Motion to Reduce Bail under Penal Code § 1275 and In re: Kenneth Humphrey.

The client's wife collected almost three dozen letters of support for her husband, attesting to his peaceful, loving and patient nature. The letters were then assembled in support of the motion to demonstrate the low possibility that our client would leave the jurisdiction and the low public safety risk our client was if he was allowed to post bail and be released from custody. The motion also suggested that, if bail were lowered to $250,000, the client could be fitted with a SCRAM alcohol monitoring device and a GPS monitor.
Greg then personally delivered the motion to the District Attorney's office and filed the motion in court.
The following day in court, before the motion could be heard, Greg asked the prosecutor if he had a plea bargain to propose to resolve the case. The prosecutor commented that he had read our motion to reduce bail and was very impressed with it, saying it was the best motion to reduce bail he had ever read.
The prosecutor then proposed that he would agree to dismiss the four counts of Vehicle Code § 23153(a) and (b) and that the client would have to agree to plea to the two counts of Penal Code § 191.5(a), with ten years for the first count, plus one-third the mid-term (6 years) on the second count, for a total of twelve years in state prison, to be served with 50% maximum time (four days credit for each two served).
This was an amazing deal, as our client would be released no later than six years and most likely in three or four years, especially if he were allowed to serve time on fire camp duty. The client wisely accepted the deal, extremely appreciative that he had avoided the thirty-one years and eight months he otherwise faced at 85% minimum time to serve. He may only serve ten percent of this maximum exposure.
We offer this summary to exemplify a real-life case where our client and our office had significant defenses (not to be shared here in light of the still-pending civil case against our client), yet we had to seize a plea deal that was just too good to pass up. While most cases follow a lengthy period of plea negotiations, wherein the facts and the legal defenses are thoroughly discussed, involving expert opinions and scientific re-testing, counsel must be able to recognize indulging in such academic discussions can cost the client decades in confinement.
Our office realized such debates were not practical when the plea deal proposed was so good that it could not be rejected. The client and his family were extremely happy with the resolution.
For more information about felony DUI and the issues in this case, please click on the following articles:
Contact us.