What is Vehicular Manslaughter (PC 192(c))?
The Gist of this Article: Vehicular manslaughter is considered a crime under Penal Code § 192(c) if defendant operated a vehicle with negligence or gross negligence. It is distinguishable from felony DUI resulting in death or any other crime involving driving and death (i.e. carjacking). It can be charged as a misdemeanor or a felony and if a felony, can be punished by up to six years in prison.

Vehicular manslaughter, often also called "gross vehicular manslaughter" in reference to gross negligence being alleged, involves a traffic accident where someone dies as a result. The conduct of the defendant is alleged to be either negligence or gross negligence.
In other words, a civil case for personal injuries is not the exclusive remedy for the decedent's heirs, or anyone else injured in the crash. However, in a criminal case, the decedent's heirs, or anyone else injured in the crash, any monetary recovery comes in the form of restitution.
Since there is a great deal of confusion in this area of the law, it is worth clarifying further what conduct is not vehicular manslaughter. Vehicular manslaughter is not the charge if one is killed as a result of someone carjacking, escaping from a robbery, evading arrest, a kidnapping, or any other felony conduct. When such facts are at play, the prosecution will simply allege murder, Penal Code § 187. If someone passes away from someone driving while drunk due to alcohol or drugs, the charge against the driver would be Penal Code § 191.5.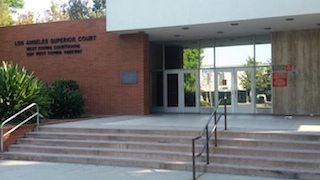 West Covina Courthouse
Vehicular manslaughter charges can arise from someone falling asleep at the wheel, speeding, running into a bicyclist by accidentally (negligently) veering into a bike lane, backing up over a neighborhood child riding on a skateboard or anything else that involves negligence or gross negligence. Quite commonly, the decedent is a passenger in the defendant's car, not another person such as a pedestrian or another driver.
Gross negligence is distinguishable from simple negligence by the degree of carelessness. Gross negligence involves more than just carelessness or inattentiveness, or an error in judgement. It requires that the driver violate an infraction or misdemeanor, or drove in a lawful way, but in by doing so involved great risk to another, i.e. driving in poor weather conditions when any driving should not have been attempted. This can be characterized as reckless because it involved a great risk of injury to another person.
When the conduct is simple negligence, but nevertheless criminal in nature and a misdemeanor, the maximum sentence possible is one year in county jail and up to a $1,000 fine. Summary probation can also be granted.
When the conduct is considered gross negligence and therefore a felony in nature, the maximum sentence can be six years in state prison, as well as a fine of up to $10,000. Formal probation can also be granted.
In other words, gross vehicular manslaughter is a "wobbler," meaning it can be charged as a felony or misdemeanor. Your attorney must consider whether the conduct is such that a motion under Penal Code § 17(b) to reclassify the case as a misdemeanor is viable.
There are defenses that can apply. The most common defense is that you were not negligent at all (you were not acting in a dangerous manner) and that you were proceeding reasonably, but were faced with a sudden emergency from which no one could avoid a collision. You must prove that in response to the emergency, you responded reasonably. An accident reconstruction expert may be needed to give an opinion about this, usually by analyzing all the skid marks and measurements from the accident scene, including crush analysis of the vehicle or vehicles.
Another defense is causation – that you did not cause the death of another because the passing actually was proximately, naturally and directly caused by something else. It should be noted that there can be several causes of death, but the key defense to the criminal charge must be that your conduct was not a substantial factor in the passing. Penal Code § 192(c)(2). A medical expert witness and maybe an accident reconstructionist may be necessary to offer testimony to support this defense.
For more information about the manslaughter, please click on the following articles:
In DUI Vehicular Manslaughter Case (Penal Code § 191.5), Police Can Download Car's Computer to Show Speed at Impact
Contact us.