Gross Vehicular Manslaughter While Intoxicated, PC 191.5(a)?
If you or a loved one is charged with gross vehicular manslaughter while intoxicated, it is likely that you have many questions about the defenses, the punishment, the collateral consequences to your driver's license and alternative ways to resolve the case that are less punishing. This short article will seek to address each of these serious concerns.
The Gist of this Article: A violation of Penal Code § 191.5, gross vehicular manslaughter, can be charged on a first-time DUI because such a killing is "without malice aforethought." On a second-time DUI, malice is implied and 191.5 would not be charged. Punishment is four, six or ten years in state prison per death. Probation is generally not available. It is a serious crime and a strike, but one will only serve a maximum of 50% of the sentence as long as defendant has no other prior convictions that would bar this.

To be convicted of violating Penal Code § 191.5(a), the prosecutor must prove beyond a reasonable doubt that defendant "unlawfully killed another person without malice aforethought while driving in violation of Vehicle Code §§ 23140, 23152 or 23153 and the killing was either the proximate result of the commission of a lawful act that might produce death, in an unlawful manner, and with gross negligence."

Breaking this down, "unlawful" in this context means without legal consent or being outside the scope of one's lawful duties.

"Without malice aforethought" means without planning, deliberation or intention.
Vehicle Code § 23140 is DUI for someone under 21, meaning driving while under the influence of drugs or alcohol with a blood alcohol content (BAC) of 0.05% or more by weight. Vehicle Code 23152 and 23153 is "adult DUI" meaning operating a motor vehicle while under the influence of drugs or alcohol with a blood alcohol content of 0.08% or higher by weight.

"Proximate result" means a direct, natural and probable consequence of the driving and the collision.

"In an unlawful manner" means the driver violated a further law, either an infraction or misdemeanor, that caused the death, i.e. the driver failed to stop at a stop sign, traffic light, was using a cell phone while driving, drove too fast for conditions, etc.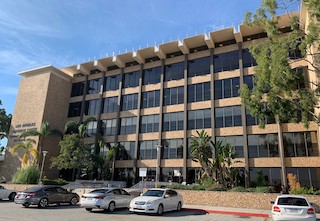 Torrance Courthouse
Lastly, gross negligence means acting in a reckless way that creates a high degree of risk of great bodily injury or death and that a reasonable person would know that acting in such a way would create such a risk.
The defenses to violating Penal Code § 191.5(a) are rather straightforward and intuitive. First, one may not be intoxicated when the accident took place, i.e. their blood alcohol content was below 0.08%. Second, one can argue that what took place was not gross negligence and that what happened was not foreseeable. Third, one may have been involved in the collision or accident due to a sudden emergency, i.e. one's brakes failed or the driver swerved to avoid another collision.
A violation of Penal Code § 191.5(a) is punishable by a minimum of four years in state prison, a mid-term of six years and a maximum of ten years. A conviction for violating 191.5(a) is a serious crime as listed under Penal Code § 1192.7(a) and a strike under California's Three Strikes Law, but one only serves a maximum of 50% for the crime. Curiously, although there is a loss of life, usually due to a collision, 191.5(a) is not listed as a violent crime.
The Department of Motor Vehicles will suspend one's driver's license for three years upon a conviction for violating 191.5(a).
Alternate ways, depending on the facts and the defendant's criminal history, to charge the same conduct or resolve a 191.5(a) is as a violation of Penal Code § 192(c)(1) – (c)(3), vehicular manslaughter with gross negligence. This offense is a wobbler, meaning it can be charged as a felony or a misdemeanor (192(c)(2)), meaning the maximum punishment is one year in county jail. A charge under Penal Code § 192(c)(3) is rather uncommon, as it requires that the prosecution prove beyond a reasonable doubt that defendant's conduct was for financial gain.
Penal Code § 191.5(b) may also be an option. It, too, is gross vehicular manslaughter and a wobbler. If charged as a felony, the minimum punishment is sixteen months in state prison. The mid-term is two years in state prison and the maximum is three years in state prison.

Lastly, the same conduct can be charged as Penal Code § 187, second-degree murder. Such a taking of another's life is not deliberate or intentional, in contrast to first-degree murder which is. If one is convicted of second-degree murder, the maximum sentence is an indeterminate term of fifteen years to life in prison. In such a case, the facts must show that defendant acted with "implied malice," which could mean that the driver had a prior conviction for DUI and thus the offense is known as "Watson murder" under People v. Watson (1981) 30 Cal.3d 290.
For more information about felony DUI, please click on the following articles:
Contact us.