What Is Fire Camp? Who's Eligible? What Are the Benefits?
Clients sentenced to jail or prison often ask about fire camp. The family of the client may also seek information on this program because they know or have been told that a person in custody assigned to fire camp earns extra custody credits. But who cannot go to fire camp? How much extra custody credit does the person earn?
The Point of This Article: To be eligible for fire camp, one must be physically and medically qualified and have no prior serious or violent felonies or any gang affiliation. The person's sentence remaining must be at least ten months.
A person sentenced to prison, but eligible for AB109, or to county jail for a minimum of ten months is a candidate for this program. It is most commonly populated by inmates with convictions for drug offenses, DUI and theft offenses.
To qualify, more than the nature of the conviction is required. The applicant must be medically and physically qualified. He or she (females are eligible and have a camp out of Malibu) cannot have any gang affiliation or any history of a serious or a violent felony. In other words, a judge really cannot state on the record that someone is recommended for fire camp because the judge cannot know if the person will be medically qualified.
If one is selected for this program, a minimum sentence of ten months is required because of the training required and the need for the state to actually receive minimal service from the inmate. If one is in Los Angeles County, the training camp for male custodies is at the Wayside or Pitchess Detention Center, East Facility, where the AB109 custodies are held (just down the hill from NCCF). Training takes two weeks, split between classroom training and application lessons. Training also includes learning how to help with floods and earthquakes.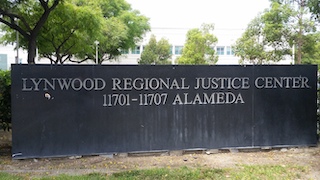 Lynnwood
There are four main benefits of fire camp. First, one is relocated to one of 43 fire camps state wide, at which both adult males and females are allowed to have conjugal visits, and, as a side benefit, one is moved from the local jail (i.e. Pitchess). There are three "conservation (fire) camps" just for females. The 40 remaining camps are for adult male prisoners and one is for juvenile offenders.
Each camp has at least 85 firefighters ready to fight fires. They are most commonly housed in five cabins with 17 people per cabin. The juvenile camp usually has 80 firefighters. Each camp also has support personnel to assist in the logistics and supplies for the firefighters.
Second, the inmate does earn a small amount of money, which is minimal (about $10 per day), but it can add up. The inmate also does earn a minimum of two-for-one custody credits.
However, the work is tough. It includes clearing fire breaks, loading sandbags for future uses, restoring historical areas, maintaining parks and clearing dead, dry brush that is a fire hazard.
Third, since Prop 57 came into effect on May 1, 2017, a person serving time for a violent offense assigned to fire camp can earn up to 50% credit. This means for each two days served at fire camp, once one completes fire fighting school, the person receives credit for three days. So, for each two months at fire camp, the person receives an extra month of credit. This can add up fast and help reduce the total time in custody by quite a lot.
If a person is in prison serving time for a non-violent offense, that person can earn up to 66% credit, which means for each three days served in fire camp, that person gets credit for five days in custody. After three months, the person would have credit for five months.

Fourth, and perhaps most importantly, upon completion of one's term, one receives a fireman certification that can help the individual find a job. In fact, the State of California, in limited areas, will hire a fireman with a felony record.
Lastly, clients and families of clients often ask, "what is to prevent someone from just walking away?" The answer is that, if caught, the person will certainly face evasion charges and never be eligible for any similar program. At Wayside, in my interview of a deputy in charge of training there, she said she answers the question by even offering the inmate a ten minute "head start." In other words, it is unwise.
For more information about serving time and custody credits, please click on the following articles:
Juvenile's Conviction for Disturbing the Peace under Penal Code § 415(2) While Stealing a Cell Phone Not a First Amendment Violation
Contact us.