Laguna Beach, H & S 11350(a) and 11364, Prop 47 Reduction
In June of 2007, our client, then age 39, was arrested by the Laguna Beach Police Department on suspicion of possessing a controlled substance (heroin) and having drug paraphernalia. He was at a friend's house when she suddenly became angry and started throwing plates, which made a lot of noise. Neighbors heard the commotion and called the police, who arrived and found our client with heroin and drug paraphernalia.
Our client was arrested immediately and taken to jail. At his arraignment at the Harbor Justice Center (also called the Newport Beach Superior Court), he used a public defendant and quickly agreed to a plea to violation of Health & Safety Code § 11350(a), possession of a controlled substance, and a violation of Health & Safety Code § 11364, possession of drug paraphernalia. Both counts were felonies.
Our client was released and placed on thirty-six months of formal probation with an obligation to complete a drug treatment program and attend one Alcoholics Anonymous (AA) meeting per day for 30 consecutive days. The drug treatment program was intended to be part of his sentence in a parallel, concurrent case also out of the Newport Beach courthouse.
Approximately a year later, our client successfully completed the drug treatment program and had successfully completed the conditions of his probation. His case was dismissed pursuant to Penal Code § 1210, but it remained a felony record on his criminal history.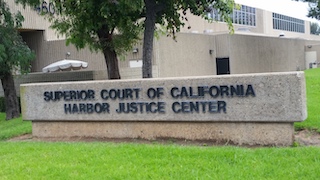 Newport Beach Courthouse
Twelve years later, our client was leading a sober life and living in Eugene, Oregon, where he owned and operated a used car dealership specializing in the sale of exotic cars, many of which were imports. Our client employed many recovering alcoholics and drug addicts as his way of helping those in need like he once was. His business has a family atmosphere because everyone supports each other on a personal level.
Our client, while doing well, knew he could do even better. He wanted to secure his finance license so he could complete customer finance transactions. He also wanted to travel outside the United States to buy cars to bring back to Eugene to sell. He was barred from each of these abilities by having a felony conviction on his record, despite it being dismissed over ten years earlier. This was having a crippling effect on his relationship with banks, other creditors and those in the automobile sales industry.
The client was constantly monitoring changes in the law in California for any hope that his conviction could be changed to a misdemeanor.

On November 14, 2014, California voters approved Proposition 47 and the law went into effect he next day. The law permitted a judge to reclassify some of more minor drug offenses and minor theft offenses that had historically been felonies as misdemeanor through a provision available at Penal Code § 1170.18(f).

The law did exclude certain felons from Prop 47 relief – those who had suffered a conviction requiring registration as a sex offender under Penal Code § 290, those who had suffered a conviction for a "Super Strike," as listed under Penal Code § 667(e)(2)(c)(iv) (i.e. murder, attempted murder, mayhem, firing a machine gun at a police officer, having a weapon of mass destruction, etc.) or when the reclassification would pose a significant risk to public safety.

The client called several lawyers in California after Prop 47 was passed, but each told him that nothing could be done because the client's case was dismissed.
The client kept calling lawyers, however, and spoke with Greg Hill in 2019. The client explained his case history and his business situation.

Greg listened and said he thought a judge could reclassify the felony as a misdemeanor, just as a judge is permitted under Penal Code § 17(b) to do so with an expunged felony conviction. Greg admitted that he had never requested this from a judge and had not heard of anyone doing it, but this is the way the law is often defined, by creativity and using analogous provisions in applications that no one probably foresaw when the law was passed.
The client agreed enthusiastically to retain Greg to make the argument and seek reduction of his felony conviction to a misdemeanor.
Greg Hill & Associates then prepared the petition for resentencing under Penal Code § 1170.18(f) and filed it with the Newport Beach Superior Court. Greg had warned the client that he expected the Orange County District Attorney's Office to oppose the petition vigorously and aggressively, but strangely, they did not even file an opposition to the petition.
The judge handling the petition granted the petition in chambers, reducing the felony to a misdemeanor. The client was extremely happy.

For more information about Prop 47, please click on the following articles: