Prop 47 Relief on Prior Drug Convictions – Where to File?
Under Proposition 47, one convicted of certain minor drug and theft felonies may file an application before the trial court that the entered the judgment of conviction to have the felony conviction designated a misdemeanor. This is provided for at Penal Code § 1170.18(f).

Why This Article Matters: A Petition for Resentencing under Prop 47 must be filed in the court where the original sentence was ordered so the same judge can resentence defendant. It cannot and should not be filed in a court like took place in the case summarized below, although we understand what petitioner therein (Mr. Marks) intended.
There are three eligible drug offense felonies under Prop 47. Each is related to possession only. They are felony violations of Health and Safety Code §§ 11350, 11357 and 11377. Health and Safety Code § 11350 covers possession of a controlled substance such as cocaine, heroin, GHB (the "date rape drug"), PCP, ecstasy ("Molly"), codeine, ketamine ("K" and "Special K") and any other substance except marijuana or methamphetamine. Health and Safety Code § 11357 prohibits the possession of marijuana for personal use (after Prop 47 was passed, Prop 64 was passed that legalized adult use and possession of 8 ounces or less of marijuana). Health and Safety Code § 11377 prohibits the possession of methamphetamine.
Christopher Marks had served six prior prison terms, three of which were for violations of Health and Safety Code § 11350(a), simple possession. In August, 2012 in Riverside County, he entered a plea of guilty to violating Penal Code § 273.5(a), causing corporal injury on a spouse or cohabitant, and violating Penal Code § 422, making criminal threats, as a misdemeanor. Due to his six prior prison terms, he was sentenced to eight years in state prison, the low term of two years, plus one year for each prior prison term.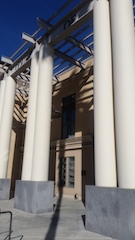 4th Appellate District Division 2 Riverside
On November 4, 2014, California voters passed Proposition 47 and it became law the next day.

Therefore, on December 29, 2014, Marks filed a petition for resentencing in his domestic violence case under Penal Code § 1170.18.
Marks' goal in filing such petitions was to have each of his three 11350(a) felonies resentenced as a misdemeanor, which would have the effect of removing three years (one year for each prison term he served for each 11350(a) as a felony) from his eight-year sentence on the domestic violence case.
Curiously, he filed the petition for resentencing in the case handling his domestic violence case, but none of his prior 11350(a) convictions were entered in the court handling his domestic violence case.
The prosecutor in the domestic violence case opposed the petition, arguing quite simply that Penal Code § 273.5 was not one of the felonies eligible for resentencing under Prop 47. This was certainly true and the trial court denied Marks' petition on that basis.
However, there was something more that was fundamentally wrong and Marks exposed this in appealing the decision to the Fourth Appellate District in Riverside. In People v. Christopher Marks (2015 DJDAR 13678), the court affirmed the trial court's ruling, but for this other reason.
The Fourth Appellate District explained that the petition for resentencing was filed in the wrong trial court. It noted that one trial court that did not sentence defendant could not, under Penal Code § 1170.18(f), resentence defendant. In fact, Marks did not even identify the case numbers for his prior convictions in his petition.

Moreover, Marks was not legally seeking resentencing, but reclassification of his prior convictions as misdemeanors. Section 1170.18 does not allow reclassifying a prior offense on a current conviction. Instead, Marks should have filed three separate petitions, one in each court where each 11350(a) conviction was suffered. Each conviction was suffered in Los Angeles County, each in a different court. Marks should have filed his petition in Los Angeles County as three separate petitions, each filed in the specific court where the conviction took place.
Consequently, the Fourth Appellate District affirmed the trial court's ruling, but for a completely different reason. We hope this article helps the reader avoid the error that Marks committed and instead guides the reader in filing the petition(s) in the correct court, saving time and effort.
The citation for the Fourth Appellate District Court ruling discussed above is People v. Christopher Marks (4th App. Dist., 2015) 243 Cal.App.4th 331.

For more information about the issues in this Prop 47 case, please click on the following articles:
Does Proposition 47 (Prop 47) Apply Automatically or Must One Affirmatively Request Reduction of an Offense?
Contact us.