Inglewood DUI Check Point Stop, 0.14% BAC, AB541, Motion
In a Nutshell: Ingersoll v. Palmer is the case a defendant should review prior to fighting any case involving a DUI checkpoint, as this summary explains.

Our client, age 27, had been out drinking with friends in Hawthorne and was driving home. For some reason he was driving southbound on Crenshaw Boulevard, which was not his intended route. He knew he had probably drank too much, so he was trying to drive the legal speed limit and obey all laws so as to not draw attention to himself. It was about ten minutes before midnight.
As he approached the 11600 block of Crenshaw, he saw ahead what he thought was a car accident, as there were some police officers on foot in the traffic lanes.

As he got closer, he realized it was a DUI sobriety check point that he was driving up to. He did not want to enter such a check point, so he came to a stop and put his car in reverse to go back to the next street and turn away.
This reversing on Crenshaw caught the eye of an Inglewood police officer designated as the "chase officer" to stop such drivers trying to avoid the checkpoint. He immediately drove off after our client.
The officer eventually did stop our client, who he described as driving quite fast and recklessly, apparently in hopes of evading the officer.
At the scene of his being stopped, our client refused to submit to a preliminary alcohol screening (PAS) test, which is his right to refuse under Vehicle Code § 23612(i). He was then arrested and take to the police station in Inglewood, where he submitted to a breath test and his blood alcohol content (BAC) was measured at 0.14%.

After a few hours of staying at the police station, he was released on his own recognizance with a promise to appear in the Inglewood Courthouse for his arraignment about three months later.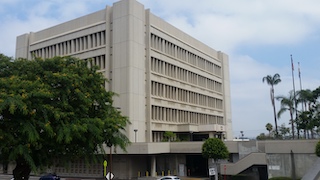 Inglewood Superior Court
Before the three months could pass, however, he picked up a second DUI with a car accident involving three other cars, all parked, but nonetheless not good. That case was to be heard in the Inglewood Courthouse, too, but with an arraignment date before our client's first DUI involving his almost entering a DUI checkpoint.
The client called up Greg Hill & Associates and described his two pending DUI's. Greg listened to the client explain each and, as to the check point stop, Greg explained how DUI checkpoints have certain requirements that the police often violate.
Greg explained how he would investigate into whether the Inglewood Police Department published advance notice of the checkpoint in a newspaper of general circulation so as to warn residents of the search and seizure that may take place to drivers entering such a checkpoint. This was a requirement, among many, that the case of Ingersoll v. Palmer (1987) 43 Cal.3d 1321, 743 P.2d 1299; 241 Cal. Rptr. 42 required. While the client and Greg spoke on the phone, Greg did a cursory check using Google and found no such notice in the Daily Breeze, the newspaper that would have or should have been used.
After going to court on both cases, it became apparent that the prosecutors were not aware that our client had two pending DUI's at the same time.
Greg first resolved the client's second-time DUI as a first-time DUI and thereby helped the client avoid any mandatory jail time that is required with a second-time DUI.
On the first DUI, Greg filed a motion to suppress evidence based on what was indeed an illegal search and seizure through the checkpoint stop. The motion argued that the checkpoint was illegal because the Inglewood Police Department did not give the required advanced notice of the checkpoint under Ingersoll.
Cases after Ingersoll, such as People v. Banks (1993) 6 Cal.4th 926, 949, have distanced themselves from strictly requiring advance publication, but still require that the checkpoint be "conspicuously lighted" so as to look "like a movie set" with abundant flares, orange cones, large illuminated signs and tapered cones in lanes to decrease surprise to an approaching motorist. Here, neither advance publicity was given nor was conspicuous lighting used. Instead, the DUI check point was more akin to a trap that Ingersoll, Banks and the Fourth Amendment are meant to prevent.
Moreover, Banks specifically addressed the use of a "chase driver" and stated that police should not pursue any motorist who sought to avoid the DUI checkpoint, as the Inglewood police used here.
Before the hearing on the motion, however, the judge suggested to the parties that he did not think Ingersoll applied at all since our client was not arrested at the checkpoint, but was instead arrested for being seen driving in reverse in a traffic lane.
This was not good, so our client and Greg decided to resolve the case with a standard first-time DUI of 36 months of informal probation, a $390 fine (plus penalties and assessments) and the AB541 program, still without the prosecutor realizing our client had picked up a second DUI just a month later. Had the prosecutor realized the client's subsequent history, she would certainly have required jail time, especially since we avoided this on his second DUI resolved in the same courthouse.
We present this summary to the reader to exemplify how important it is to take advantage of a prosecutor's lack of knowledge, but be ready to forego a motion seeking dismissal, if one can still preserve a resolution on less-harsh terms based on the prosecution's ignorance of the overall facts.

For more information about DUI checkpoints and DUI in general, please click on the following articles: