How to Fight a DUI from a DUI Checkpoint Stop
If you or someone you know recently got arrested after driving into a DUI checkpoint stop, it is worth a closer look to see if police set up and administered the search and seizure within legal limits.
Indeed, the Fourth Amendment to the United States Constitution still exists. Made applicable to the states through the Fourteenth Amendment, the Fourth Amendment protects against unreasonable search and seizure by the government. Any search without a warrant is presumed to be unreasonable. A DUI checkpoint is certainly a warrantless government search.
The Gist of this Article: Fighting a DUI from a DUI "sobriety checkpoint" stop often involves seeking to show the stop was unlawful based on Ingersoll v. Palmer, and knowing People v. Banks as well, which our office has done several times. The following article describes these two cases and how one can use these to seek to suppress the blood alcohol content of one's breath or blood.

After DUI checkpoints were first organized and used to combat DUI, civil rights attorneys recognized such searches as akin to a random search and seizure like an unconstitutional roving police officer knocking on the doors of homes and searching homes without a warrant. While this analogy is not a perfect fit, the comparison and the analysis that followed helped regulate DUI checkpoint stops. Indeed, in a way, while a DUI checkpoint is not a roving police officer, the driver coming upon such a stop is similar, except the driver is roving to the officer, creating a similarly random meeting and warrantless search.
The California Supreme Court, in Ingersoll v. Palmer (1987) 43 Cal.3d 1321, 743 P.2d 1299; 241 Cal. Rptr. 42, addressed the legal limits of a DUI checkpoint stop. It identified eight factors that a proper DUI checkpoint must have to pass constitutional muster.

The fundamental issue, it recognized, was how police make the warrantless search as reasonable as possible. Toward making the search reasonable, police must attempt to make it as unintrusive as possible.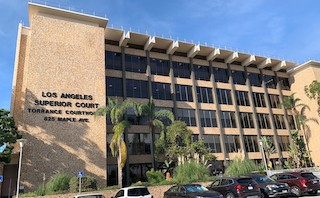 Torrance Courthouse
First and foremost, in making the stop as unintrusive as possible, Ingersoll states, is providing advance publicity of the stop. Ingersoll at 1346. We find this most important indicia of reasonableness is often overlooked by police. If you were arrested after a DUI checkpoint stop, grab the local newspaper for that day and look through it. Was there a short article announcing that the local police would be conducting such a stop? Look on the Internet for the local paper and search it. If necessary, as we have done, go to the local newspaper's office and speak with the editor and ask if such an article was published.
Second, as Ingersoll and other cases after it have agreed, was an approaching motorist given warning that he or she was approaching a DUI checkpoint? Could motorists turn away to avoid the checkpoint? If a motorist turned away to avoid the checkpoint, did police then pursue that person and arrest him or her for DUI? If so, such police practices may be considered a violation of the Fourth Amendment as well. People v. Banks (1993) 6 Cal.4th 926, 949.
Banks is a favorite case of the prosecution in efforts to preserve a DUI arrest at a DUI checkpoint when police fail to give advance publicity of the checkpoint. Therefore, it is prudent for one challenging a DUI checkpoint arrest to understand what Banks otherwise requires of a checkpoint for it to pass Constitutional muster.

In Banks, police failed to provide advance notice of the checkpoint, but the checkpoint was so well lit to warn approaching drivers that its light "looked like a movie set." Banks, at 950.

The California Supreme Court further described the checkpoint as:
The officers used highway flares, cones, stop signs, overhead white lights, traffic barricades mounted with flashing lights, and a truck marked with arrows to identify the checkpoint and to divert motor vehicles safely away from the flow of traffic. Drivers approaching the checkpoint were confronted with a sign that read "Sobriety Checkpoint Ahead." Officers were instructed not to pursue motorists who turned their vehicles away before reaching the checkpoint. Numerous uniformed officers and marked police vehicles were visible at the checkpoint.
In other words, the checkpoint was as unintrusive as possible because the approaching driver was visually warned of the nature of the checkpoint ahead. The driver was mentally prepared for being checked and, most importantly, was given the alternative to turn his or her vehicle away as an option without being chased down by suspicious officers.
What we find is that DUI checkpoints often neglect to have advance publicity of the checkpoint and then the checkpoint is conducted without adequate warning to approaching motorists. Surprisingly, police often station motorcycle officers at turn out points prior to the checkpoint to stop vehicles that do turn away from the checkpoint to avoid it. Such stops often lead to more DUI arrests than the actual DUI checkpoint.

In short, if arrested for DUI at a DUI checkpoint stop, it is worth a review by an experienced DUI attorney to evaluate if the checkpoint was proper. The ends should never justify the means. If the checkpoint was not properly conducted, defense counsel should seek a judge's order that the evidence of one's blood alcohol content be excluded from evidence because it was obtained by police in violation of the Fourth Amendment.
For more information about DUI issues, please click on the following articles:
Contact us.