Motion to Suppress After Police Detention for DUI?
When a client asks us if his case can be dismissed because the police officer involved "never read me my rights," we often respond that this may not matter because, typically, such a right to remain silent only applies after a prolonged detention.
However, that does not mean that the discussion ends with our really quite dismissive response.
Brief Synopsis: Depending on the case facts, a motion to suppress a statement by a DUI suspect about his or her drinking should be considered if such a statement was elicited after a custodial detention and before any Miranda warning is provided, which arguably takes place in every traffic stop because the officer does not usually tell the suspect upon stopping him that he or she is free to leave.

Michael J. Kennedy, or "Captain Motion" as he is known by many, has suggested a much more aggressive response than our lukewarm response. Since we greatly respect his knowledge and experience on all things DUI (this is not hyperbole), we believe a motion to suppress, if not also a motion in limine at time of trial, is how best to raise the issue.
It should be noted that this article applies to any traffic stop, indeed not just for DUI, wherein the police officer elicits admissions from the driver that is used to charge him or her of DUI or possession of a controlled substance, possession of stolen property, etc.
We agree, therefore, that counsel should object to the admission into trial of any and all evidence related to a suspect's admission(s) made after they were seized but prior to being advised of their
Miranda
rights.
Miranda v. Arizona
(1966) 384 U.S. 436. "Seized" means a traffic stop in the context for this article and the objection can be in the form of a motion to suppress under Penal Code § 1538.5 and / or a motion in limine at time of trial.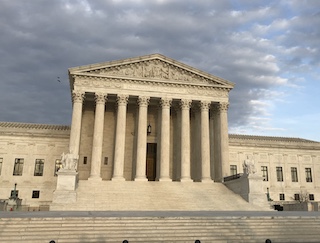 U.S. Supreme Court
Indeed, "[t]he prosecution may not use statements, whether exculpatory or inculpatory, stemming from custodial interrogation of a defendant unless it demonstrates the use of procedural safeguards effective to secure the privilege against self-incrimination. By custodial interrogation, we mean questioning initiated by law enforcement officers after a person has been taken into custody or otherwise deprived of his freedom of action in any significant way."
Miranda
,
supra
at 444 (emphasis added).
That holding is now a constitutional decision,
Dickerson v. United States
(2000) 530 U.S. 428, 432, 438, which is a change we must emphasize. Prior to
Dickerson
,
Miranda
was thought to have presented merely a prophylactic rule that was not decreed by the Constitution.
Davis v. United States
(1994) 512 U.S. 452, 458.
Consequently, in any traffic stop leading to a DUI or other arrest, a defendant is seized when merely stopped on the street for a custodial traffic offense. All traffic offenses are now custodial offenses.
Atwater v. City of Lago Vista
(2001) 532 U.S. 318, at 354, holds that custody and formal arrest are not unreasonable for a non-custodial traffic offense. When this happens, the driver is not free to leave, and the police never tell the defendant he is free to leave. After all, police do not want an unsafe driver, i.e. one who was just observed weaving on the road, leaving.
After the stop, the defendant is almost always then grilled about his drinking, what he had been doing, where he had been, where he was going, etc., and then is tested. This is most commonly when a police officer will explain in his report that he or she developed probable cause to investigate for DUI.
Prior to field sobriety tests and the arrest, questions are generally asked off a pre-printed form presenting many detailed (not general) inquires amounting to upwards of a dozen or more questions relating to drinking, eating, sleeping, etc.
This is an "interrogation" as defined in
Rhode Island v. Innis
(1980) 446 U.S. 291, 301. An interrogation is either express questioning or its functional equivalent because it is reasonably likely to elicit an incriminating response.
A person is in custody when, as a suspect, he is "deprived of his freedom of action in any significant way, or is led to believe, as a reasonable person, that he is so deprived."
People v. Arnold
(1967) 66 Cal. 2d 438, 448. That is, "the initial determination of custody depends on the objective circumstances of the interrogation, not on the subject views harbored by either the interrogating officers or the person being questioned."
Stansbury v. California
(1994) 511 U.S. 318, 323.
When the police physically stop a person for the observed commission of a custodial crime, that person is thereby "arrested."
Henry v. United States
(1959) 361 U.S. 98, 103 "The prosecution conceded below, and adheres to the concession here . . . that the arrest took place when the federal agents stopped the car for a federal custodial offense, whisky theft. That is our view on the facts of this particular case. When the officers interrupted the two men and restricted their liberty of movement for a custodial offense, the arrest, for purposes of this case, was complete."
Peters v. New York
(1968) 392 U.S. 40, 67 (the often-overlooked companion case to
Sibron v. New York
(1968) (same cite), both of which were handed down the same day as
Terry v. Ohio
(1968) 392 U.S. 1).
"The ultimate 'in custody' determination for
Miranda
purposes involves two discrete inquires including: 1) would a reasonable person have felt he or she was not at liberty to terminate the interrogation and; 2) would a reasonable person (with a police car's lights flashing) have felt he or she was at liberty to leave."
Thompson v. Keohane
(1995) 516 U.S. 99, 112. No one, under such circumstances, believes that any DUI "detainee" reasonably feels that he is free to cut off questioning and leave the officer from the point at which he is stopped and then is being grilled about drunk driving.
At this point, the prosecution often responds with a cite to
Berkemer v. McCarty
(1984) 468 U.S. 420, a
pre
-
Dickerson/pre-Lago Vista
case for the proposition that disputed questioning of DUI suspects at the scene of the stop is allowable.
However, this is a big mistake bordering on attempting to mislead a judge.
Berkemer
does not support the view that the type of detailed questions asked of these defendants are admissible. In
Berkemer
, only one question was asked after an officer had stopped a vehicle for weaving—have you taken any intoxicants? Respondent admitted to consuming two beers and smoking pot and was then arrested. The court in
Berkemer
held that police may ask a "moderate" number of questions to obtain identity information and to try to obtain information confirming or dispelling the officer's suspicions. That "moderate number of questions" point is dictum; the facts giving rise to the opinion actually involved only one question!
Thus, the presumptively limited nature of the traffic stop, which animates the
Berkemer
exception to
Miranda
(
Berkemer
at 439-440) has evaporated.
Thanks to Dickerson and Lago Vista, things are drastically different from when Berkemer was handed down. Miranda clearly applies here. Any and all evidence related to a suspect's admission(s) made after they were seized, but prior to being advised of their Miranda rights, should be suppressed with an order to suppress after a motion to suppress and should be ordered excluded at trial after a motion in limine requesting this.

This article would never have been possible without the great contribution of fellow attorney Michael J. Kennedy and his excellent article, "Trial Tip Treasure," published in the Summer, 2019 National College of DUI Defense (NCDD) newsletter.
For more information about motions to suppress evidence, please click on the following articles:
Contact us.