Six Little-Known Facts About Motions to Suppress Evidence
In the course of winning and losing motions to suppress evidence under Penal Code § 1538.5, our office has learned many little-known facts and nuances about evidence that is the subject of such a winning and losing such motions. Sharing this information with others here can prevent a great deal of anxiety and give one a better approach to this type of motion.
Why This Article Matters: Motions to Suppress Evidence are often misunderstood. It is helpful for one to appreciate certain nuances of this common motion to better present it and anticipate how a judge or DA will oppose it.
In an effort to help our clients better understand this often-misunderstood motion, we present six following facts:
1. A motion to suppress evidence does not address only a confession obtained in violation of the Fifth Amendment's Right Against Self-Incrimination or the identification of a witness in a lineup under the Sixth Amendment Right to Confront Witnesses Being Offered Against Oneself. A motion to suppress is really only to exclude tangible evidence obtained as a result of an unlawful search or seizure.
Consequently, it is not the proper motion to suppress an admission obtained in violation of
Miranda v. Arizona
(1966) 384 U.S. 436, 16 L.Ed. 694, 86 S. Ct. 1602 as countless clients have suggested to us, perhaps from seeing this take place on television or in movies. A noncoercive violation of
Miranda
may not be considered an actual infringement of constitutional rights.
Oregon v. Elstad
(1985) 470 U.S. 298, 84 L.Ed. 2d 222, 105 S. Ct. 1285. A motion to suppress is also not how to challenge an unfairly suggestive lineup or show up as can be challenged instead under
People v. Galan
(1985) 163 Cal.App.3d 786, 796, 209 Cal.Rptr. 837. Neither of these problems — statements without warnings or suggestive lineups — involve warrantless searches and seizures to implicate the Fourth Amendment. Nonetheless, we do often ask the judge to suppress first some piece of evidence, i.e. drugs found in a parked car, and all statements from defendant elicited by police thereafter and in reliance on such illegally obtained evidence.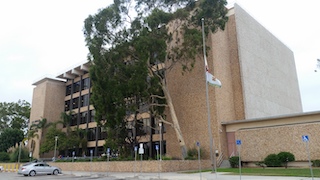 Torrance Courthouse
2. The distinction that must be drawn from point # 1 above is that observations of an officer, statements, testimony or evidence (i.e. fingerprints) that are obtained after an unlawful detention, arrest or search are subject to suppression under Penal Code § 1538.5;
People v. Massey
(1976) 59 Cal.App.3d 777, 130 Cal.Rptr. 581;
U.S. v. Garcia-Beltran
(9th Cir. 2004) 389 F.3d 864, 866 (fingerprints). The key on this point is that tangible evidence must first be ordered excluded.
3. Evidence that had been previously suppressed can be used later in a parole revocation hearing (
Pennsylvania Bd. of Probation & Parole v. Scott
(1998) 524 U.S. 357, 141 L.Ed. 2d 344, 118 S. Ct. 2014), but the same evidence cannot be used to revoke probation.
People v. Zimmerman
(1979) 100 Cal.App.3d 673, 161 Cal.Rptr. 188.
4. Illegally seized evidence that was ordered suppressed by a judge can be used to impeach defendant (
People v. Moore
(1988) 201 Cal.App.3d 877, 247 Cal.Rptr. 353), but the same evidence cannot be used to impeach a defense witness.
James v. Illinois
(1990) 493 U.S. 307, 107 L.Ed. 2d 676, 110 S.Ct. 648.
5. Evidence that was ordered suppressed in a motion to suppress may be considered by a judge at time of sentencing.
People v. Brewster
(1986) 184 Cal.App.3d 921, 229 Cal.Rptr. 352. This is a quite common and has led to our clients feeling as if their rights have been violated, but it is the law.
6. Evidence previously suppressed may be used by the prosecution in a new and different case (
People v. Coe
(1991) 228 Cal.App.3d 526, 279 Cal.Rptr. 362) and can even be used against the same defendant if the case is dismissed against the defendant and refiled. Penal Code § 1538.5(j). The same motion to suppress may need to be filed in the refiled case, in other words. Also, a ruling in federal court suppressing evidence is not binding on a state court dealing with the same evidence.
People v. Meredith
(1992) 11 Cal.App.4th 1548, 15 Cal.Rptr.2d 285.
For more information about motions to suppress evidence, please click on the following articles:

Man Discards Handgun While Walking Away from Police After Orders to Show His Hands; Motion to Suppress Evidence of Gun Denied
Contact us.