What Is a Motion to Suppress Evidence? How Is It Done?
If one has been to court on a criminal case or spent much time reading about cases online, a motion to suppress evidence brought under Penal Code § 1538.5 is often discussed. When such a motion is granted, it has the potential for causing the prosecutor to dismiss the case, or part of the case at least.
The Gist of this Article: A motion to suppress evidence is a request for the judge to consider the legal standards for lawful search and seizure, compare those to how evidence was obtained in your case and then decide whether to order such evidence excluded from being admitted. If such an order is granted, the prosecution may have no evidence to prove a crime took place and the case will be dismissed.

Perhaps you or a loved one was stopped while driving or arrested on foot, and then searched. The officer may have found something on one's person or in one's car. Maybe one's home was searched, with or without a warrant. The evidence found is evidence of a crime and perhaps it was obtained illegally.
However, a motion to suppress can be based on a wide range of scenarios. This article is intended to address not only examples of when such a motion generally may be made, but a few of the general procedural guidelines that control how the motion is handled.
A motion to suppress evidence be based on an unduly prolonged detention without a reasonable suspicion defendant was engaged in criminal activity or armed (see
Rodriguez v. U.S. Supreme Court
(No. 13-9972, April 21, 2015, 2015 DJDAR 4311), a pat-down or frisk of a person when officer safety was not at risk (see
Terry v. Ohio
(1968) 392 U.S. 1), a search of a home (
Payton v. New York
(1980) 445 U.S. 573, 576, 100 S. Ct. 1371), residence or a building with or, without a warrant; boxes or packages opened by police; or a vehicle search.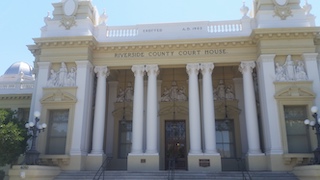 Riverside Original Courthouse
The motion could also be based on the police exceeding the scope of consent of the home owner or vehicle owner, or in exceeding the scope of a warrant.
The underlying grounds for such a motion is the unlawful invasion of a person's reasonable expectation of privacy in his or her property without a warrant or without an applicable exception to the warrant requirement (see the Fourth, Fifth and Fourteenth Amendments to the U.S. Constitution).
People v. Johnson
(2006) 38 Cal.4th 717, 723;
People v. Williams
(1999) 20 Cal.4th 119, 136. For an exception to the warrant requirement to apply, the police officer must have a reasonable belief that there was reasonable cause for a warrantless arrest.
U.S. v. Watson
(1975) 423 U.S. 411, 417, 96 S. Ct. 820. This is often not apparent from even a thorough reading of the police report.
The motion then challenges the admissibility of all other evidence allegedly recovered as a result of the alleged Constitutional violation.
If no warrant was used by police, the motion itself should state that the search was conducted without a warrant and thus, is presumptively unconstitutional. The motion should not then discuss why any one or many of the multiple exceptions to the warrant requirement do not apply.
If a warrant was relied upon by police, the motion should attach the warrant to the motion, but argue that police exceeded the scope of the warrant or that the warrant relied upon hearsay information from other police sources and thus, defendant requests that the sources be produced in court (
People v. Harvey
(1958) 156 Cal.App.2d 516;
People v. Madden
(1970) 2 Cal.3d 1017).
When filing such a motion in a misdemeanor case, it is smart to check the court's local rules (i.e. in Los Angeles County) concerning filing the motion with proper notice given to the prosecutor and filing it far enough in advance of the hearing date. On a felony case, ten days of notice is required to provide the prosecutor time to assemble witnesses for the hearing. In both felony and misdemeanor cases, written notice of filing such a motion is required.
People v. Lewis
(1977) 71 Cal.App.3d 817. If the motion is to be heard at the preliminary hearing, however, just five days written notice is required. Penal Code § 1538.5(f).
The notice of the motion should state in detain what evidence defendant asks the judge to order suppressed.
People v. Manning
(1973) 33 Cal.App.3d 586. Many attorneys simply state "all evidence seized or collected, including statements, following . . ." This is fine for most courts, but such a general phrase is not good enough in Orange County (Orange Superior Court Rule 800(E)(1)(b)), so it is best in Orange County to be far more specific.
As one can see from the discussion above, preparing and filing a motion to suppress evidence must be done carefully. It is not a do-it-yourself (DIY) project for a non-attorney and even for licensed attorneys, it requires precise language and strict adherence to procedural rules.
For more information about suppression of evidence in general, please click on the following articles:
Traffic Stop Ruled Improper and Evidence Seized by Police Suppressed When Officer Lacked Reasonable Suspicion to Stop Driver
Contact us.