Motion to Suppress Evidence of Discarded Gun Denied
It is quite common for clients to comment that they think a conviction is unlikely because there is no physical evidence of any crime. The belief seems to be based on the "corpus delicti" principle that, in general, to prove a crime occurred, there must be evidence of a crime. It is an important concept in murder cases, as it is difficult to prove such a crime beyond a reasonable doubt based on circumstantial evidence without a dead body.
Without All the Details, What Happened?: Man discards handgun while walking away from police after orders to show his hands; motion to suppress evidence of gun denied.

"Corpus delicti," in Latin, is translated to mean body of the crime. In its most dramatic, perhaps television or movie-inspired context, someone is convicted of murder only to have the supposed decedent walk into the courtroom very much alive and well. It is even worse if the convicted defendant is put to death for murder before the supported decedent is revealed as alive and well.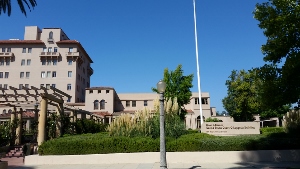 U.S. Ninth Circuit Court of Appeals Pasadena
With this understanding, perhaps, Eddie McClendon tossed a loaded handgun onto grass just moments before being arrested. He was then arrested as a felon in possession of a handgun and ammunition in violation of 18 U.S.C. §§ 922(g)(1) and 924(a)(2). McClendon was then indicted in U.S. District Court and filed a motion to suppress the evidence of the handgun, arguing that the handgun was obtained by police as a result of an illegal search and seizure.
Given just these facts the reader may ask if McClendon was searched or if a seizure took place because, after all, McClendon tossed the handgun away from himself before being arrested.
McClendon argued he was both seized and searched.
A brief review of the facts suggests how he came to this seemingly clever or counterintuitive argument. An elderly, disabled homeowner called 911 at 2:20 a.m. after hearing a knock on his door and then, looking outside his front window, seeing a person sitting in a parked car in his driveway talking on a cell phone. The elderly gentleman feared a possible invader.
When police arrived, they found a nervous woman in the parked car, who they suspected was under the influence of methamphetamines. The women said she was driving with McClendon when their car ran out of gas. McClendon, she said, had left to get gas. Police then asked the women to turn on the car and they saw the car's gas tank had plenty of gas.
Police then asked to search the car and the woman consented.
Police found a machete and several types of illegal narcotics including one-inch by-one-inch baggies filled with what they believed was meth. Police also found a backpack in the car. The women claimed it was McClendon's. Without consent from McClendon, the officers searched the backpack and found a sawed-off shotgun with a filed-off serial number, ammunition for the gun, a black wig, two walkie-talkies and binoculars. There was also a receipt with McClendon's name on it.
Police then combed the area to look for McClendon. They found him. They asked him if he was Eddie McClendon and he said yes.
Officers then drew their guns and said he was under arrest, and to show his hands. But McClendon refused, walking away. He then reached into his pants and pulled out a pistol, which he tossed onto the grass nearby. Police then tackled him and recovered the gun. It was still warm. It was also loaded.
McClendon had a rolled up ski mask with holes for his eyes and mouth in his pocket. There was no snow nearby. McClendon carried no skis.
He was indicted on two counts of being a felon in possession of a firearm. The court did grant the motion to suppress the evidence of the shotgun from the backpack, but denied the suppression of the handgun. McClendon then entered a plea and was sentenced to seventy-two months in prison.
McClendon appealed the denial of his motion to suppress to the United States Court of Appeal for the Ninth Circuit. The court of appeals, in
United States v. Eddie Ray McClendon
(2013 DJDAR 5115), affirmed the trial court, reasoning that McClendon was not seized when he discarded the handgun.
However, the Ninth Circuit did acknowledge that the officers clearly searched McClendon based on the fruits of the illegal search of the backpack. Yet McClendon abandoned the handgun, so it really was not a product of their search of his person. He was not physically touched by the officers. He was not physically subdued either, so he wasn't seized within the meaning of the Fourth Amendment.
As such, the trial court's ruling was affirmed.
The citation for the U.S. Ninth Circuit Court of Appeals ruling discussed above is United States v. Eddie Ray McClendon (9th Cir. 2013) 713 F.3d 1211.
For more information about motions to suppress evidence, click on the following articles:
Traffic Stop Ruled Improper and Evidence Seized by Police Suppressed When Officer Lacked Reasonable Suspicion to Stop Driver
Contact
Greg Hill & Associates