Motion to Suppress Granted When No Articulable Suspicion
We have heard many clients say, "Man, that officer searched me for no good reason. I was just minding my own business and for no reason he decides to frisk me. Then they searched my car and found my stash. Is that illegal?" The answer is that this certainly can be, as the following case summary explains.
The Gist of This Article: It is illegal for police to detain someone for an unduly prolonged period of time, after which a search of someone's car takes place without a warrant. The following case summary raises many issues, but the appellate court only agreed that the detention of Gutierrez was unduly prolonged, so the drug evidence and illegal ammunition seized after was illegally obtained.

Mapp v. Ohio (1961) 367 U.S. 643 allows the exclusion of evidence that is seized as a result of an unreasonable search (see also Wong Sun v. United States (1963) 371 U.S. 471, 484-485).
For purposes of the Fourth Amendment to the United States Constitution, "police contacts" or interactions include consensual encounters, detentions and arrests that lead to searches and the seizure of evidence. Detentions are "seizures of an individual which are strictly limited in duration, scope and purpose, and which may be undertaken by police if there is an articulable suspicion that a person has committed a crime or is about to commit a crime." Wilson v. Superior Court (1983) 34 Cal.3d 777, 784.
In June of 2015, Kern County sheriff's deputies arrived at the residence of Timothy Beltran in Shafter at 7:16 p.m. The deputies came to conduct a "routine," but random probation search of Beltran based on his probation terms. Police found no evidence to recommend a violation of probation, but they encountered Mr. Reynaldo Gutierrez at Beltran's home. Gutierrez was visiting Beltran at the time.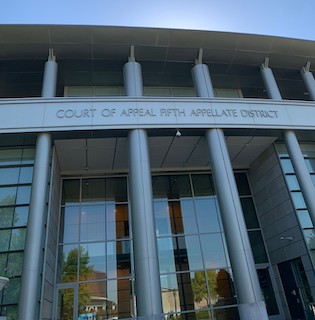 Court of Appeal Fifth Appellate District Fresno
Police then detained Gutierrez and conducted a pat-down search of him, purportedly for purposes of officer safety. Officers later admitted under oath that they had no suspicion or information to believe that Gutierrez was involved in illegal activity.

Nonetheless, police then conducted a more thorough search of Gutierrez and found a wad of cash in his front pocket. Police then searched Gutierrez's car nearby (without a warrant). Police then found methamphetamine and one 20-gauge shotgun round.
After finding this, police gathered Gutierrez's identification and ran a warrant and probation check on him via radio at about 7:48 p.m. Dispatch advised the officers at the scene that Gutierrez was on PRCS (Post-Release Community Supervision), which is a form of parole on the county level. The officers at the scene did not know that Gutierrez finished PRCS in 2013, or two years earlier.

Gutierrez was then charged with violations of possession of methamphetamine for sale (Health & Safety Code § 11378) and possession of ammunition by a prohibited person (Penal Code § 30305(a)(1)). He immediately filed a motion to suppress because his detention was unreasonable under the Fourth Amendment and the subsequent searches of his person and his vehicle were, in turn, illegal. The trial court denied his motion to suppress and then Gutierrez appealed to the Fifth Appellate District.
The Fifth Appellate District, in People v. Reynaldo Gonzalez Gutierrez (2018 DJDAR 2959) reversed the trial court, finding that Gutierrez was no doubt detained by police, as he was forced to sit on a curb for at least 30 minutes while police searched him and his car. The court found that the detention was unduly prolonged by an independent investigatory purpose: "an officer obtained his identifying information . . . and after the probation search. . . then asked dispatch to check if he was subject to search terms."
Moreover, the Fifth Circuit noted that after officers patted him down and found nothing to be concerned with for officer safety, his detention continued for no reason. He was not suspected of any wrongdoing.
We appreciated this ruling, as we understand another appellate court may find the 30-minute detention insignificant, but this court decided it was unduly prolonged.
We note that the appellate court did not reach a decision on whether the search itself was illegal based on false information of Gutierrez still being on PRCS. Instead, the search was ruled illegal based only on an unduly prolonged detention.
The citation for the Fifth Appellate District Court ruling discussed above is People v. Reynaldo Gonzalez Gutierrez (5th App. Dist., 2018) 21 Cal.App.5th 1146, 230 Cal. Rptr. 3d 915.

Contact us.