Civil Case Versus Cops for Unreasonable Detention and Search
Our office is frequently asked about suing the police for violating their civil rights. What is the legal standard for doing this and how does one do this?
In a Nutshell: In order for a civil case for violation of one's civil rights against police to survive a demurrer and a motion for summary judgment, plaintiff must allege under 28 U.S.C. § 1983 that his arrest was not based upon any Vehicle Code violation, but was based upon his being a member of a protected class. In this case, plaintiff also alleged excessive force.

In the following summary of a CHP Officer's stop of Jonte B. King, one can better evaluate if one's own case meets the threshold to do so.
On May 4, 2011, CHP Officer Ryan Knauss was undergoing his third phase of post-academy training. He was supposed to "make up his own stops" in Beat 2, an area in South Los Angeles. The area was east of the Harbor Freeway (I-110) between Compton and South Central. He was assigned to work with CHP Officer Benjamin Tawney.
That evening, there were community concerns about the operation of premises called a "clubhouse" or "nightclub" by Rare Breed, a predominantly African-American group that Tawney described at trial as a motorcycle club or motorcycle gang. The nightclub was located near the intersection of South San Pedro Street and 154th Street.
CHP Officers were told to patrol in the vicinity of the club and "aggressively enforce all Vehicle Code violations" to attempt to curtail problems such as public intoxication, excessive traffic, racing and loud noise late at night.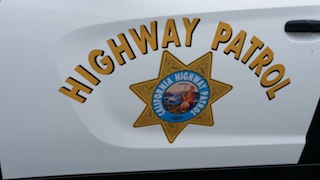 CHP Emblem On Car Door
As Knauss was driving the streets of Beat 2 with Tawney as his passenger, he noticed other officers impounding a car near the intersection of Redondo Beach Boulevard and South San Pedro Street. Knauss pulled over to help the officers inventory the car's contents.
At that point, Jonte King drove by. King later testified at trial that he was driving home from a Fresh and Easy in his Infiniti SUV. His daughters, age four and six, were in the backseat, watching a movie. His SUV had a "stock" sound system.
Knauss testified that as he was helping inventory the car, he heard loud music, turned and saw a car coming from a vehicle 80 or 90 feet away. Tawney testified that he also saw the car coming and it was playing loud music. Tawney said the car's music was not turned down as Mr. King drove by. King testified that the music was at a level of six or seven out of 20.
Tawny testified that King passed by him at about 30 miles per hour, whereas King testified it was at five or six miles per hour. Knauss then told Tawney that he intended to stop King for loud music. Tawney responded, "Let's go. Get in the car."
Knauss and Tawney then pulled over King. The two officers did not activate their car's overhead lights until King was just about ten feet from his home's driveway. Tawney got out first and told Knauss to cover him from the passenger window of King's car.
King testified at trial that he stopped his car and saw Tawney approaching his car from his rear-view mirror. King could see Tawney had his gun drawn and pointed down. King put both his hands out his driver's side window and said, "Please don't scare my kids." Tawney ordered King to stay in the car, although he was in his own driveway.
Tawney asked King for his license and registration. King explained that they were in his wallet and asked permission to reach into his shorts' pocket to get his wallet. Tawney gave him permission and King did get his license and registration, which he handed to Tawney.
King asked why he was stopped. It was unclear what Tawney said in response, but Knauss testified at trial that he heard King twice say that his music was not loud. Knauss said King was yelling at Tawney. King told Tawney that he was scaring his two daughters. King then honked his horn to alert his father inside the house to come out to monitor the situation.
Tawney then ordered King to get out of the car. Tawney testified that he thought he needed to frisk him because King was "argumentative, hostile in nature." Second, he honked the horn, which Tawney feared was a call for help to oppose the police. When King exited the vehicle, Tawney walked him to the rear of the SUV. He then used a "control hold" on King's hands, squeezing them and twisted his wrists back, causing him pain.
King complained of the pain and Tawney whispered back at him, "Do something." King testified that he thought Tawney was trying to provoke him to respond, but he was scared and "just didn't move."
At this point, King's father emerged from the house. Knauss told King's father to go back inside, which the father did. Tawney also told the father "get your ass back in the house" or he would be arrested or jailed.
Tawney then asked King about the motorcycle club. King testified he told Tawney that he did not know anything about a motorcycle club or even own a motorcycle. Tawney then told King he would ticket King for loud music. King told the officer he was racially profiling him. Tawney responded, "Oh, you want to throw out your Black card?" Knauss then cited King for violating Vehicle Code § 27007, improper use of a vehicle's sound system.
The next day, King filed a complaint with the CHP, alleging he had been racially profiled and that the officers had been verbally abusive and used excessive force. King also saw his doctor about his wrist. The doctor diagnosed him as having a sprained wrist. The doctor's bill was $138.03.
King then sued the State of California and Tawney, alleging violations of Title 42 U.S. Code § 1983 and Civil Code § 52.1, also known at the Tom Ban Civil Rights Act by Tawney making threats of violence. At trial, the jury found Tawny liable for both violations and awarded King the $138.03 in medical expenses, as well as $10,000 in past pain and suffering as well as $5,000 in future pain and suffering. The court also awarded $350,000 in attorney fees.
On appeal, in
Jonte B. King v. State of California
(2015 DJDAR 12426), the Second Appellate District affirmed the 1983 violation, finding that the horn honking was not sufficient to show King was armed and dangerous, as Tawney argued.
The citation for the Second Appellate District Court ruling discussed above is Jonte B. King v. State of California (2d App. Dist., 2015) 242 Cal.App.4th 265.
For more information about the issues in this case, please click on the following articles:
Contact us.