If Judgement Isn't Final Is Mental Health Diversion OK?
As the title to this article suggests, eligibility for mental health diversion is not entirely retroactive. For example, one who was sentenced twenty years ago to a sentence of thirty years in state prison for a crime that is now eligible for mental health diversion, cannot now go back to court, ask the judge to have his conviction vacated and seek mental health diversion, which might allow him to leave prison.
However, can one seek mental health diversion after a conviction, but before the judgment is final, i.e. before all appellate remedies are exhausted or time has expired to appeal? The answer is yes, as the following summary of a recent reported decision explains.
Brief Synopsis: After a conviction, while the period for appealing it has not yet expired, one can seek resentencing for referral of defendant to mental health diversion, as the following First Appellate Court case summary explains.

In June of 2011, in Solano County, Fairfield police were dispatched to an apartment where a woman and her boyfriend had been involved in a domestic dispute. The man, Jordan Hughes, had a gun and was suicidal.
The woman had left, only to return with her father for assistance in moving out. Before she went inside, she called the police because she was concerned for her safety because Hughes had a gun.
Officers entered the apartment and smelled the odor of marijuana. They "cleared" the apartment except for a bathroom, which was locked shut. Officers asked the woman about the locked bathroom door and the marijuana smell. The woman explained that Hughes often smoked marijuana, but she did not. She also told police that when she left, the bathroom door was open and if it was now locked, it was likely that Hughes had gone inside and committed suicide inside.
Officers yelled outside the bathroom door to get Hughes to open the door, but there was no response. Finally, officers decided to kick in the door and when they did so, Hughes fired five shots at the officers. None of the three officers were injured or hit.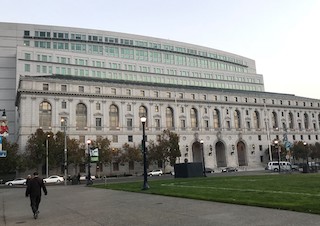 Court of Appeal First Appellate District San Francisco
Hughes was then arrested and later charged with three counts of attempted murder (Penal Code §§ 664, 187(a)). It was alleged that the crimes were premeditated and committed against police officers engaged in the performance of their duties (Penal Code § 664(e), (f)). He was also charged with four counts of assault with a firearm on a peace officer (Penal Code § 245(d)(1)). As to all seven counts, it was alleged that Hughes had personally and intentionally discharged a firearm under Penal Code § 12022.53(c).
The jury acquitted Hughes of two of the attempted murder counts, but convicted him of one of the counts and found true the allegation that it was committed against a police officer in the performance of his duties. The jury also convicted Hughes of three counts of assault with a firearm on a police officer. Firearm enhancements were found true as to all counts.
Hughes, age 21, was sentenced to life in prison with the possibility of parole, plus a 20-year term for the 12022.53(d) enhancement and a six-year term for the assault count, plus a two-year consecutive term for the second assault.

Hughes appealed on many grounds. While the appeal was pending, the Legislature enacted Penal Code §§ 1001.35 and 1001.36 ("Mental Health Diversion") and Hughes requested resentencing in light of this new statute.
In support of his request, defense counsel submitted reports from Dr. Friedman, who diagnosed Hughes as suffering from major depressive disorder and posttraumatic stress disorder.

The First Appellate District heard the appeal and ruled thereupon in People v. Jordan Christopher Hughes (2019 DJDAR 8845).

The appellate court set forth two discussions that are worthy of mention here. It explained that whether a statute operates retroactively or prospectively is a question of legislative intent. People v. Superior Court (Lara) (2018) 4 Cal.5th 299, 307. The default rule is provided by section 3: "no part of [the Penal Code] is retroactive, unless expressly so declared." There is a qualification to this default rule, however: absent contrary indications, a law that potentially ameliorates punishment for a particular crime or class of defendants will apply retroactively to all case not final on appeal. Lara, supra, at pp. 303-304, 307, citing In re Estrada (1965) 63 Cal.2d 740; see also People v. Frahs (2018) 27 Cal.App.5th 784.
Here, Hughes' case had not reached a final judgment, so a remand to consider mental health diversion for Hughes was ordered.
Second, the People argued that the trial court judge would surely deny the request because a requirement for application of mental health diversion is that the judge must be "satisfied that the defendant will not pose an unreasonable risk of danger to public safety." The First Appellate District clarified that such a danger is defined at 1170.18, which includes an "unreasonable risk that the petitioner will commit a new violent felony" as described in section 667(e)(2)(C)(iv), which is a "super strike" crime such as murder, attempted murder, solicitation to commit murder, assault with a machine gun on a police officer, possession of a weapon of mass destruction, and any serious or violent felony punishable by death or life imprisonment. People v. Jefferson (2016) 1 Cal.App.5th 235, 242.
The citation for the First Appellate District Court ruling discussed above is People v. Jordan Christopher Hughes (1st App. Dist., 2019) 39 Cal.App.5th 886.

For more information about mental health diversion, please click on the following articles:
Contact us.