Is PC 1001.36 (Mental Disorder Diversion) Retroactive?
Mental Disorder Diversion, provided for a Penal Code § 1001.36, is a new program that became effective on June 27, 2018. It allows a judge to grant an eligible defendant a period up to two years to received mental health treatment and if the defendant's performance on diversion is satisfactory, the judge can then dismiss the case. There are strict requirements to be eligible for the program, as well as exceptions (which one can read about in one of the links below), but the scope of this article is to answer whether the program is retroactive.
Summary in 50 Words or Less: Mental Health Diversion, also called Mental Disorder Diversion, is available retroactively to cases that are not final on appeal, i.e. there is no final judgment that is unappealable. In the following case, mental health was found retroactive to a person whose case was still on appeal.

To a casual observer somewhat familiar with California law, the answer may be "of course it does because it decreases punishment." This answer is based on an understanding that statutes are usually only applied prospectively. However, unless the statute says otherwise, when a statute reduces punishment, it is retroactive. This follows the California Supreme Court's reasoning in In re Estrada (1965) 63 Cal.2d 740, which stated that "when a statute reduces of ameliorates the punishment, it is presumed that the Legislature has determined the offense no longer merits the greater punishment, and this rationale applies even if the defendant was convicted and sentenced before the statute became effective. Estrada, at pp. 744-745, 748.
The problem with this approach toward Mental Disorder Diversion is that it is not a statute that specifically involves punishment.

So whether it can be applied retroactively is unclear because it is such a new statute. However, the applicability of In re Estrada was recently analyzed in the context of Proposition 57 and its provisions about the mandatory initial filing of all juvenile cases in juvenile court. In People v. Superior Court (Lara) (2018) 4 Cal.5th 299, the prosecutor first filed sex offense charges again Lara, age 14 and 15 at the time of the offenses, in adult court. Proposition 57, like Mental Disorder Diversion, did not specifically involve punishment of juveniles. It only involved where such charges should first be filed.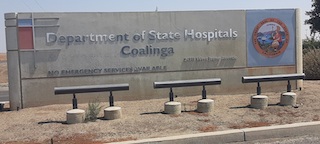 Coalinga State Hospital
However, the California Supreme Court in Lara acknowledged that Prop 57 did confer "potential benefits" to juveniles accused of crimes and constituted an "ameliorative change to the criminal law that . . . the legislative body intended 'to extend as broadly as possible.'" Lara, supra, at 303-304, 308-309. Thus, the California Supreme Court held that Prop 57 would apply retroactively "to all juveniles charged directly in adult court" such as Lara, "whose judgement was not final at the time it was enacted."
Applying this to Mental Disorder Diversion, in the case of California v. Eric Frahs, the Fourth Appellate District held that like Prop 57, Mental Disorder Diversion could be applied retroactively.

In 2016, Frahs went into a small market in Santa Ana. Mr. J. Kim was the store owner. It was about 8:00 a.m. Frahs grabbed a can of beer and a can of Red Bull. He tried to walk out of the store without paying for it and in doing so, got in a fight with Mr. Kim. Frahs hit Mr. Kim on the head and he fell down. Kim and his son then detained Frahs in the parking lot and the police came.

Frahs was charged with second degree robbery (Penal Code § 211) and throwing rocks at a motor vehicle (Vehicle Code § 23110(b)), arising out of his throwing rocks at Kim's car before he entered the store.
The case went to trial and Frahs testified in his own defense. He talked extensively about his mental illness and how he had been hospitalized about eight times for mental illness. He also said that before entering the market, an angel had flown by on a horse and talked to him.
The jury found Frahs guilty of second-degree felony robbery. As Frahs had a prior strike conviction, the judge sentenced him to nine years in state prison. This was before Mental Disorder Diversion became law in late June, 2018.
Frahs then appealed his sentence, arguing several things, among which was that he was entitled to Mental Disorder Diversion because his sentence was not yet final. The Fourth Appellate District agreed and remanded the case with instructions for the trial court in Santa Ana to evaluate if Frahs met the criteria for mental disorder diversion under Penal Code § 1001.36.
We ask the reader to note that the Frahs decision involves a case that was not final on appeal, so it cannot apply to any case that is final on appeal.
The citation for the Fourth Appellate District Court ruling discussed above is California v. Eric Jason Frahs (4th App. Dist., 2018) 27 Cal.App.5th 784 (overruled in part later by other cases, so best not to cite to this case!).
For more information about retroactivity issues (including an earlier article wherein Prop 57 was ruled not retroactive for juveniles – Pre-
Lara
), please click on the following articles:
Contact us.