A Lenient View of Mental Health Diversion
The appellate courts within California seem to be setting up the California Supreme Court for the need to resolve a split within the appellate court districts on whether Mental Health Diversion (Penal Code § 1001.36) is retroactive, or at least can be sought and ordered for someone whose conviction is not yet final.
In a Nutshell: The following summary of People v. Burns is a 2018 Fourth Appellate District Court case that allowed mental health diversion to be requested after a conviction, but before the judgement was final. In June 2020, the California Supreme Court upheld the appellate court ruling in Frahs. Thus, this summary (Burns) remains good law, as Frahs said mental health diversion is available post-conviction but before the judgment is final.

The Fourth Appellate District, in
People v. Frahs
(2018) 27 Cal.App.5th 784, has ruled that a defendant may seek resentencing to impose mental health diversion even after a conviction in the trial court. In
Frahs
, it is worth mentioning that defendant's mental health issues were repeatedly exemplified in defendant's testimony about the robbery of a liquor store owner, so the mental health diversion option was not a surprise request.
The Fifth Appellate District Court, however, in
People v. Timothy Craine
(2019 DJDAR 4475), seemed to contradict the ruling in
Frahs
, holding that mental health diversion is a pre-trial program to be sought at the early stages of a case, not after a conviction and sentence is imposed, even if later appealed. In
Craine
, defendant represented himself at trial, making motions in limine, an opening statement, cross-examining witnesses and making a closing argument. His crime was a repeat indecent exposure case, committed at Atascadero state hospital no less.
The Fourth Appellate District Court seems to now (August 14, 2019) offer a further, more lenient view on mental health diversion in its recent opinion in
People v. Derrick Lyle Burns
(2019 DJDAR 7753).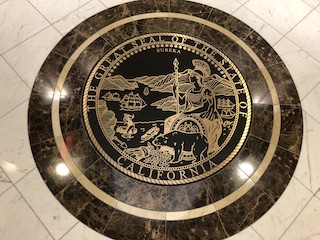 Fourth Appellate District Court of Appeal Division 1 San Diego
In September, 2017, Burns repeatedly struck his girlfriend in hotel parking lot while fighting over a set of car keys. Bystanders called 911. Burns' girlfriend tried to get away, but Burns jumped in and then had her switch seats so he could drive.
San Diego Police Department officers responded to the call and found Burns parked along the road, again fighting with his girlfriend. In response, Burns drove away, leading officers on a high-speed chase toward the Point Loma naval base. Just before entering the base, Burns jumped out of the moving car and a second or two later, his girlfriend did, too. The car then crashed into a wall. An off-duty Border Patrol agent who saw Burns jump out of the car then chased Burns and detained him for the police.
The San Diego County District Attorney's Office charged Burns with kidnapping (Penal Code § 207(a)), evading a police officer (Vehicle Code § 2800.2(a)), infliction of corporal injury on a spouse or cohabitant (Penal Code § 273.5(a)) and two counts of assault with a deadly weapon (Penal Code § 245(a)(1)). The complaint also alleged Burns had two prior "Strike" convictions (Penal Code § 667(b)-(j), 668, 1170.12), so Burns faced a minimum sentence of 25 years to life in prison if convicted of a third strike. Kidnapping is a strike.
In May, 2018, a jury convicted Burns of the lesser-included offense of false imprisonment (Penal Code § 236). The judge struck one of Burns prior Strike convictions under
Romero
, denying the second by commenting that Burns remained a significant threat to public safety. The judge then sentenced Burns to nineteen years and eight months in state prison.
Burns then appealed on multiple issues. While his appeal was pending, on June 27, 2018, mental health diversion became effective.
Burns then argued that his case should be conditionally reversed for the trial court to determine if he was eligible for mental health diversion because the judgment in his case was not final, relying upon the rule of retroactivity in
In re Estrada
(1965) 63 Cal.2d 740.
Attached to Burns' sentencing brief was a postconviction psychological evaluation by Dr. Cynthia Boyd, who diagnosed Burns with a qualifying disorder under Penal Code § 1001.36(b)(1)(A). She further noted that Burns "unfortunately" did not seek psychiatric treatment and "hence, his symptoms remained," suggesting his symptoms might respond to treatment. At sentencing, Burns' counsel requested that Burns be screened for mental health treatment in prison.
The Fourth Appellate Court then did remand the case back to trial court for evaluation for mental health diversion, commenting (we think very importantly for all other cases), that Burns did not pose an unreasonable risk of danger to public safety.
The court evaluated such a danger under the criteria of Penal Code § 1170.18, which defines "unreasonable risk of danger to public safety" as the likelihood a defendant will commit a new violent felony within the meaning of Penal Code § 667(e)(2)(c)(iv), which are "super-strike" offenses such as murder, rape and child molestation (People v. Huffman (2015) 241 Cal.App.4th 1304, 1310). Burns' prior convictions were not super-strikes.
The citation for the Fourth Appellate District Court ruling discussed above is People v. Derrick Lyle Burns (4th App. Dist.) 38 Cal.App.5th 776.

For more information about issues, please click on the following articles:
Contact us.