Hollywood, 0.09% BAC, Pot Smell, Plea to Speeding
Our client was returning from a night of drinking in Hollywood at a few bars with his friends. As he was driving home, he and his friends smoked marijuana in his car. Approaching the 10 Freeway southbound near U.S.C., he accelerated to get up to speed for the freeway on-ramp.
Without All the Details, What Happened?: Client speeding in Los Angeles, BAC of 0.09% and smoking marijuana, case resolved for excessive speed (Vehicle Code § 23109) only, DUI charges dismissed, Metro Courthouse.
An officer traveling the opposite direction noticed the client, made a U-turn and allegedly paced our client before making a traffic stop 0.4 miles after he first noticed our client. The police officer alleged he paced our client and measured his speed at 50 miles per hour.
The reader of this summary may recognize that someone traveling 50 miles per hour covers 0.4 miles in about 27 seconds. In addition, when someone notices the flashing lights of a police officer in one's rear view mirror, one usually takes 0.1 miles or more to pull over. This meant that the police officer claimed he observed our client, turned around, went from a dead stop to accelerate enough to 50 miles to pace the client and turned on his lights within just 0.3 miles, or in about 20 seconds. The police officer's claims defied the basic laws of physics.
We all know from car commercials that the fastest cars can accelerate from 0 to 50 miles per hour in about 7 seconds, or in about a quarter mile.
The math means the cop made a U-turn and also paced our client in 13 second or so. We all know a U-turn can take ten seconds, even if done quickly. That meant the cop paced our client for three seconds.
After the traffic stop, the police officer allegedly smelled marijuana and the odor of alcohol. Our client indeed had consumed alcohol and his blood alcohol content, or BAC, was 0.09%.
He was then promptly arrested and taken to the police station. The police officer curiously asked our client to perform not a single field sobriety test. He just had him take a breath test and arrested him, which was quite unusual.
After the client was released from the police station, he called Greg Hill & Associates and met with Greg Hill. He described what had happened and asked many questions about how the case may resolve. Greg answered each question.
Greg Hill then appeared in the Metropolitan Courthouse (1845 South Hill Street) and explained to the Los Angeles City Attorney assigned to the case the improbable pacing claimed in the police report. Greg showed the prosecutor a map of the location and showed where the officer claimed to have first seen our client and where the traffic stop took place, according to the police report. It certainly defied the police officer's description of events.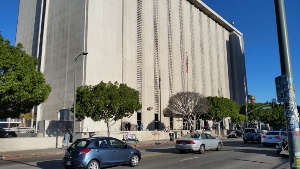 Metropolitan Courthouse in Los Angeles
Greg explained that were the case to proceed to trial, it would be likely that the jury would find the officer's claims of pacing our client to be untrue and therefore, his reason for making the traffic stop was false. The judge also may find that the detention of our client was illegal, based on an illegal traffic stop. The City Attorney agreed and offered to settle the matter for a violation of Vehicle Code § 23109, an exhibition of speed, and dismiss the DUI.
According to the terms of the plea bargain, our client would pay a $240 fine, plus penalties and assessments, and be placed on twenty-four months of summary probation. He would not have to attend a DUI program for the court. The conviction would not "count" as a DUI like a wet reckless does.
Our client gladly accepted, as he was relieved to avoid the ignition interlock requirement associated with a DUI. He was also very happy with the result because he would have lost his job as a truck driver (not with a Class A license, however) if he were convicted of DUI.
For more information about what punishment is involved in a first-time DUI, as well as a wet reckless, click on the following articles:
Watch our video about DUI by clicking here.
Contact us.