Hermosa Beach Public Urination to 415 Infraction Expunged
Our client, age 35, was an engineer with a prominent defense contractor in El Segundo. He was a proud USC graduate as well.
That pride and job security was seriously jeopardized by a citation for misdemeanor public nuisance one early morning after he had spent several hours in Tower 12, a new bar and restaurant on the north side of Pier Plaza in downtown Hermosa Beach. As is not uncommon in such events, our client could not recall what had happened that evening when he first called us because, as he conceded, he had drunk quite a lot at the new bar.
However (and to some this may be even scarier), he did remember that the bar had closed and he was walking back to his car to drive home.

As he was walking toward the newer four-story concrete parking structure about 100 yards to the north of Pier Plaza, he felt the need to urinate. According to the police report, he then just stopped along an open stretch of an alley wall and began urinating. A police officer could tell by his stance what was happening.

As he was zipping up his pants, a police officer approached our client and asked him if he had just urinated on the wall, which apparently showed a wet area. Our client admitted he had just urinated there and the officer then asked our client for his driver's license, which our client provided.

Our client watched as the police officer copied down his information on a ticket and then handed it to him. The officer then had our client sign a promise to appear in the Torrance Courthouse in about two months. The client signed the promise to appear and was handed the ticket. The police officer then walked away.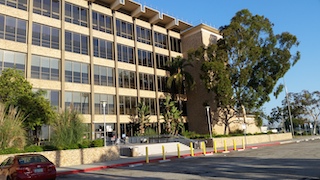 Torrance Courthouse
Our client drove home and looked at the ticket a bit closer the following day. He was able to understand that he had received the ticket for violating Penal Code § 372, public nuisance. He looked it up on the Internet and found out that it was a misdemeanor punishable by up to six months in county jail and a $500 fine.
He then realized he would have to report this ticket to his employer, as it was a misdemeanor like DUI. This caused him great anxiety because he had seen so many of his co-workers lose their jobs over rather minor crimes.
He called Greg Hill & Associates and spoke to Greg. He explained what had happened and his concerns with a misdemeanor conviction for the consequences to his job. Greg explained what kind of results he had had with similar cases arising out of Hermosa Beach over the years and what recommended that the client attend ten Alcoholics Anonymous (AA) meetings before the arraignment so Greg could bring the AA sign-in sheet to court at the arraignment to show the prosecutor.
Greg explained that in the past, if history served as any guide, his showing that the client had attended ten AA meetings often helped with getting the case resolved for an infraction as a disturbing the peace (Penal Code § 415(2), "making a loud noise"). Greg added that the client is often then asked to make a $550 "nuisance abatement fund donation" to a nuisance abatement fund. The client agreed to attend ten AA meetings and said he understood about the $550 donation.
Prior to the arraignment, the client did attend ten AA meetings and gave Greg proof of this in the AA sign-in sheet. Greg then took this to court and, as Greg hoped, the prosecutor agreed to amend the complaint to allege an infraction-level violation of Penal Code § 415(2), disturbing the peace.
The prosecutor explained that she would allow a plea to 415(2) as an infraction at the next court appearance if the client made a $550 donation to the Hermosa Beach nuisance abatement fund, which is supposed to be used to pay for better lighting in downtown Hermosa, better signage to public restrooms and to build a new public restroom so public urination is not so common.
The client then made the $550 contribution and the case was indeed resolved as an infraction, which greatly eased our client's concerns about his continued employment.
A year later, Greg asked the client if he wished to have the conviction for the infraction expunged, as it possible under Penal Code § 1203.4a. The client indicated he very much would like this, so Greg Hill & Associates prepared, filed and served a petition for dismissal of the infraction.

The judge granted the petition, which changed the client's criminal history on the case to show his last plea on the infraction was not guilty and the judge then dismissed the case.

The client was very happy with this result.

For more information about expungement, please click on the following articles: