Hermosa Beach Public Urination, Plea to Infraction, Expunged
Our client, age 22, was observed at about 11:25 p.m. on a Friday night urinating in the kitchen of Rebel Republic in Hermosa Beach. A waiter saw our client doing this and called the Hermosa Beach Police, who were inside the popular Pier Plaza bar almost instantly, as many patrol the Pier Plaza area.

When asked by police why he did this, our client allegedly told police, apologizing, "I'm sorry, I'm sorry, I just couldn't hold it any longer." It was unclear why the client did not simply use the restrooms in the bar / restaurant that were for customers.
Our client was then ticketed for violating Penal Code § 372 ("Public Nuisance"), a misdemeanor, and signed a promise to appear in the Torrance Superior Court about two months later.

A few days later, the client called Greg Hill & Associates and discussed the case with Greg Hill. Greg listened to the client explain what had happened and his concerns, as he was about to graduate with a bachelor's degree from Loyola Marymount University in Los Angeles and was concerned about having a misdemeanor conviction insofar as it could affect his admission to several graduate study programs for a Master's degree that he planned on considering.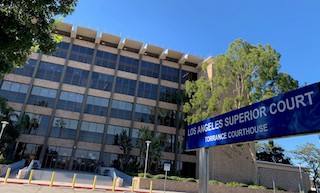 Torrance Court
Greg explained that he resolved cases on better terms, assuming the client had no criminal history (as was the case with this client), when the client attended ten or more Alcoholics Anonymous (AA) meetings prior to the arraignment and Greg took the AA sign-in sheet with him to the arraignment to show the prosecutor.

The client then indeed attended ten AA meetings as Greg suggested and the Redondo Beach City Prosecutor (Redondo Beach City Prosecutors handle most misdemeanor cases arising in Hermosa Beach), upon seeing that the client had no prior record and that he had attended ten AA meetings, agreed to amend the complaint to allege an infraction for disturbing the peace (Penal Code § 415(2)) if the client made a $550 contribution to the Hermosa Beach Nuisance Abatement Fund.
The client then made the $550 contribution and the case indeed was "dropped to an infraction," meaning the complaint was amended to allege a second count, violation of Penal Code § 415(2) as an infraction and the misdemeanor was dismissed. The client was very happy this resolution.
A year later, Greg contacted the client and asked him if he was interested in having his conviction for the infraction expunged. Greg explained that after a conviction for an infraction, one must wait one year under Penal Code § 1203.4a and one must not only stay out of all trouble with the law, but one must show the court that one has led "an honest and upright life" since the conviction. Greg explained that this means more than just obeying all laws. It meant one was taking steps to make oneself more useful to society, either through volunteering, getting married, or pursuing higher education.
Greg also explained what expungement was and how it did not actually delete or remove a criminal history for a case, but that once a judge signed the order for relief under Penal Code § 1203.4 or 1203.4a, the client was legally permitted to state on any employment application that he or she was never convicted of the crime involved in the case. Greg also explained some of the exceptions to this legal fiction, such as in professional licensing applications and renewals and in applying for a government job.
In our client's case, in terms of living an "honest and upright life," he was now a graduate student at Loyola Marymount University and volunteered with "Bullies and Buddies," a non-profit organization that placed abandoned pit bulls in loving homes.
Greg Hill & Associates then prepared the FL-180 form ("Petition for Dismissal") and supplemented it with a declaration from our client stating how he had lived an "honest and upright life" through continuing his education and volunteering with Bullies and Buddies.
Greg Hill then filed and served the petition for dismissal in the Torrance Superior Court and paid the $60 filing fee for the expungement of an infraction.
About two weeks later, after the expungement clerk in the Torrance Superior Court looked over the paperwork and verified that our client was not on probation, on parole, on post-release community supervision, or in jail – and not facing an open, pending case, a hearing date was set.
Greg Hill then notified the client of the hearing date, which was about three weeks later, and then attended the hearing on the client's behalf.

The judge at the Torrance Superior Court granted the petition, much to the client's satisfaction.
For more information about expungement, please click on the following articles: