Hermosa Beach, PC 415, Probation Ended Early & Expungement
Our client, age 33 in 2006, was arrested for fighting in a bar in Hermosa Beach. At the time, it was seen as a serious offense, as the arrest was for a felony, so the expectation would be that he would face a felony case, a felony conviction and a life as a felon. Luckily, no one was injured too badly, except for some bruises. There was no bloody noses or bloody lips and no broken bones.
In a Nutshell: Expungement of infraction for fighting in public (Penal Code § 415(2)) in Hermosa Beach.

The fracas erupted, as do so many in bars in general, over a perception that our client was a little too friendly with a woman that another man considered his girlfriend. The self-appointed boyfriend of the woman gave a verbal warning to our client, who was surprised at the admonition. A "what are you talking about" and "cool down" exchange followed, escalating rather quickly into a physical fight, as each man's ego was quickly aroused. Our client quickly put down the other man to the deck with one punch and police awarded him with an arrest and a free night's stay at the Hermosa Beach jail, as well as a future court date.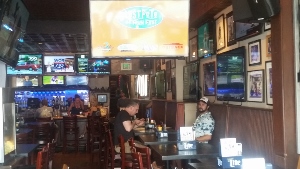 Inside a Hermosa Beach Bar
There were issues of self-defense and mutual combat, so the District Attorney passed on filing the case as a felony, leaving the matter to be filed as a misdemeanor by the Hermosa Beach City Prosecutor (now, in 2019, there is no Hermosa Beach City Prosecutor; misdemeanor cases in Hermosa Beach are prosecuted by the Redondo Beach City Prosecutor's office). The complaint was then filed for violation of Penal Code § 242, simple battery, as a misdemeanor.
The client, who had a public defender at the time, resolved the case for an infraction after he paid restitution to the bar for some broken glasses and furniture (about $400) and after completing 26 anger management classes. The infraction was for a violation of Penal Code § 415(2), "Fighting in Public." This seemed like a rather good resolution to all involved (except perhaps the victim of our client's punch).
The client was indeed pleased with this lower charge, but with his job on a cruise ship, a consequence of this conviction was that he was assigned limited job duties and then limits on his pay. He wanted this infraction off his record so he could be eligible for better work on the ship, more pay and perhaps, a promotion to more of a supervisory role. After all, he had worked for the cruise ship company for ten years.
In January, 2011, the State of California put into effect a new law at Penal Code § 1203.4a(a) that permitted one to expunge a conviction for an infraction.
The client then contacted Greg Hill & Associates in February of 2011. Greg was aware of this new law and discussed the legal standard that he needed to meet. Greg explained that unlike expungement of a misdemeanor, to have an infraction "expunged," the petitioner (our client) needed to show that he had led "an honest and upright life," which generally meant that he had avoided any further convictions and, otherwise, perhaps showed steady employment and/or community involvement. In our client's case, he had been steadily employed and married. Greg then filed the petition for expungement of the infraction in the Torrance Superior Court.
The young District Attorney who was assigned to respond to the petition (not the Hermosa Beach City Prosecutor), opposed the motion by incorrectly stating in writing that expungement of an infraction is not possible.
The Torrance Superior Court judge hearing the matter granted the motion, as he was well aware of the new law, which made our client very happy because the modification of his record to "dismissed" for this charge allowed him to immediately accept more work and higher pay. It was as if his supervisor on the ship and the human resources department were as eager for the result as our client.
For more information about the issues in this case summary, click on the following articles:
Watch our video about expungement by clicking
here
.
Contact us.