Hermosa Beach, 0.16% BAC, Plea Bargain to Wet Reckless
Our client, age 35, had been out to dinner and for drinks with a few friends in Hermosa Beach.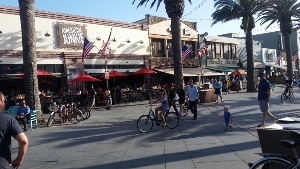 Hermosa Beach Plaza
He had a job which required him to frequently travel to Canada. Canada has a policy of not allowing Americans to rent cars if they have a conviction for DUI, so our client was especially keen to have his case resolved as anything other than a DUI.
Our client had a friend who had a DUI and had to obtain a Temporary Residence Permit to travel about in Canada. He heard about all the paperwork his friend had to go through, even though it can be done once one gets to Canada. However, if one is going to Canada for work, it would be tremendously preferable to have it all arranged prior to arriving in Canada and hoping to secure such a permit then (imagine if it was denied!). Our client thus looked hopefully to Greg Hill & Associates to help him avoid such a nightmare.
Without All the Details, What Happened?: Hermosa Beach, speeding past police station with a 0.16% BAC, resolved as a wet reckless.

This was a tall order with our client having a BAC of 0.16%. However, there were certain facts in the police report that apparently caused concern with the prosecution taking the case before a jury.
The police officers who made the traffic stop claimed our client was speeding along a section of Valley Avenue that has stop signs about every fifty yards, making it very difficult to speed as officers claimed. For example, the officer claimed our client was going 50 miles per hour, but to do so, one would have to have a high performance car capable of rapid acceleration. Our client was driving a 1992 Volkwagen Jetta that had seen better days. The pavement was also wet from heavy fog, meaning even if his Jetta could have accelerated as fast as it would have had to match the officer's report, the Jetta would have probably screeched its tires in such a display of acceleration.
The officers then administered a Preliminary Alcohol Screening Test at the scene, but failed to fill out the Officer's Certification attesting under oath to administering the test in compliance with California law. The first test, in fact, was fourteen minutes after officers first observed our client driving. He was stopped two minutes later. Fifteen minutes of continuous observation is required under Title 17, section 1219.3, of the California Code of Regulations. This requirement was violated.
The blood test that followed was marred by absolutely no documentation showing a chain of custody, no test tube labels showing the vial belonged to our client, no envelope notation indicating the vial within contained blood from our client and there was no Evidence Code § 712 declaration from the plebologist.
The Hermosa Beach City Prosecutor reluctantly agreed to allow our client to plea to a violation of Vehicle Code § 23103, pursuant to 23103.5 (a "wet reckless"). Our client had to attend 52 AA classes and otherwise fulfill all requirements normally associated with a DUI, but the charges related to DUI were dismissed.
This was very satisfactory to our client, as he was able to preserve his ability to travel in Canada for work.
For more information about a wet reckless, traveling to Canada after a DUI conviction and evidence issues in DUI cases, click on the following articles:
Watch our video about DUI by clicking
here
.
Contact us
.