Harbor City DUI, 0.13 / 0.14% BAC, GERD, Wet Reckless
Brief Synopsis: Client runs into a parked car after leaving a party near U.S.C. and drives back to Harbor City before passing out in her car while waiting at a stop light. Client suffered from GERD, which Greg explained to the Los Angeles City Attorney, who agreed to resolve the case for a wet reckless despite our client's 0.13% / 0.14% BAC.

Our client, age 23, was returning to her home in Harbor City from a party in the U.S.C. area. It was about 2:15 a.m. on a Sunday morning. She had consumed a bit too much spicy food and alcohol in the prior hours and, not feeling too good, ran into a parked car on her way to the freeway. However, she left the scene (hit and run) with her side mirror damaged and dangling off the side of the car. The side of her car also sustained scratches and a dent. She continued towards home.

Making matters worse, our client suffered from gastroesophageal reflux disease (GERD) and her stomach was upset from all the alcohol. While driving home, she had to pull over to the side of the freeway and vomit – in the front seat center console area of her car.

The vomit caused quite a stench, but she kept driving to get home. As she came to Five Points after exiting the Harbor 110 Freeway, she fell asleep while waiting for the traffic light to turn green. Five Points, the intersection of Anaheim Street, Palos Verdes Drive North, Vermont Avenue and North Gaffey Street, is a busy intersection at all hours of the day. A motorist soon noticed the stopped car and its driver, our client, apparently asleep at the wheel.
When offices arrived and knocked on the car window to wake up our client, our client was unresponsive. They continued tapping on the window and eventually, our client awoke.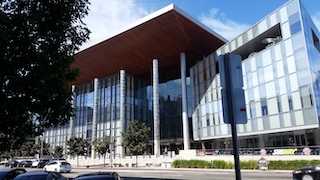 Long Beach Courthouse
When she opened her car door, officers detected the odor of her vomit in the car and suspected she was DUI. They also asked her about the property damage to her car and she responded that she did not know what caused it.

She was then asked to perform certain field sobriety tests at the scene, which officers determined she failed, although she performed remarkably close to passing. She was also requested to take a preliminary alcohol screening test at the scene, which she declined, as is her right under Vehicle Code § 23612(i).

She was then arrested and taken to the LAPD Harbor Division station, where our client then submitted to a breath alcohol test. Her blood alcohol content (BAC), measured through her breath sample, was 0.13% and 0.14%. She was then held for a few hours before being released with a promise to appear in about two months at the Long Beach Courthouse.
Later that week, the client called Greg Hill & Associates and met with Greg at his office. She explained the facts as presented above. As part of Greg's normal approach to any DUI involving a breath or blood sample, Greg asked the client about various medical conditions that might skew the results higher than the actual BAC. Greg asked the client, who was African American, if she suffered from sickle-cell anemia, which is more common with African Americans, and she said she believed she did. As she was mildly obese, Greg asked if she suffered from diabetes or if her family had a history of diabetes. She said no (she was 23 years old). Greg asked her if she suffered from GERD and the client asked what it was. Greg explained what it was and the client said she believed she did.
Greg explained how the BAC in a breath sample from a person suffering from GERD can be up to .05% or 0.06% higher than the person's actual blood alcohol content.

The client then went to a medical doctor who did diagnose our client as suffering from GERD, but who was unwilling to testify in court to this or to quantify how much the effects of our client's GERD, which was severe, would exaggerate her BAC in a breath sample.
The client's father then knew a doctor who was a gastroenterologist and he took the client to her.

The doctor called Greg and asked what the letter needed to state. Greg asked the doctor, if he could honestly say so, how much the client's GERD would elevate the breath-measured BAC. The doctor responded that he could not know exactly how much, but the fact that the client vomited up her spicy food and alcohol meant that it was a maximum amount, which most doctors agreed was 0.06% and in some patients, even 0.07%.
Greg then appeared in the Long Beach Superior Court and over several court appearances, was able to resolve the case as a wet reckless, meaning the client would not have a driver's license suspension caused from the conviction. The DUI was also dismissed.
The client still had to take the three-month alcohol awareness program (AB541) and still had to pay the court fines associated with a DUI ($390 plus penalties and assessments), but she was very happy indeed.

For more information about DUI, GERD and a wet reckless, please click on the following articles: