Felony Evading Arrest (105 mph) & DUI, Manhattan Beach
In a Nutshell: Our client, age 28, blacked out from drinking too much alcohol in Hermosa Beach and drove home at 105 m.p.h., running multiple red lights on northbound Pacific Coast Highway. He has a 0.17% BAC. Client charged with felony evading arrest and DUI. Case resolved for 365 days in county jail and standard DUI terms, including a nine-month (AB 1353) DUI program.

Our client, age 28, had no prior criminal history. He had a solid job of over five years, where he worked in a medical office as an office assistant. He had been out with friends in Hermosa Beach and at about 1:00 a.m. headed home to Downey. After he left Hermosa Beach, he went northbound on Pacific Coast Highway (PCH) toward the 105 Freeway where it intersects with PCH in El Segundo.
As he drove northbound on PCH, he noticed a police car with sirens and lights flashing behind him, but believed it was for someone else. Our client did not know it, but he had blacked out from excessive alcohol and had not stopped at a single traffic light since leaving Hermosa Beach.
Miraculously, he was involved in no collisions as he ran at least five red lights that officers from Manhattan Beach observed as they pursued him northbound. The pursuit tape began recording the pursuit at Marine Avenue, heading northbound. Our client stopped at no lights until stopping in El Segundo about 3 miles later.
Our client was also traveling at 105 miles per hour at times. Again, he had no idea that he was traveling so fast, but the MVARS video (dashcam video) showed him weaving in and out of traffic.
Police officers became understandably concerned for the safety of others and finally caught up to the client as he turned right off PCH just before reaching the onramp to the eastbound 105. As they caught up to him, they executed a pursuit intervention technique (PIT) maneuver to stop our client's car. The MVARS tape shown to us afterwards showed this taking place.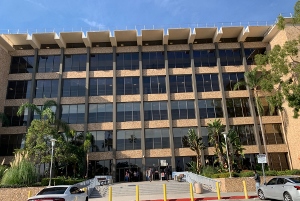 Police then contacted our client, who they described as extremely drunk. Indeed, his blood alcohol content (BAC) was measured at 0.17% at the scene on a hand-held preliminary alcohol screening (PAS) device. On the way to the police station in the Manhattan Beach Police Station vehicle, he passed out. He awoke when he arrived at the police station, but passed out again at the station.
The client was arrested on charges of misdemeanor DUI (a first-time for him) and felony evading arrest under Vehicle Code § 2800.2.
The client posted bond and was released the following morning. He called Greg Hill & Associates and met with Greg Hill the same day. Greg observed immediately that the client weighed nearly 300 pounds and had such weight on a five-foot, eight-inch frame, so our office suspected he may be diabetic or pre-diabetic, meaning the blood alcohol content measured may have been inaccurate.
When the client first came to meet with Greg, the client did not know his BAC or how far police had pursued him before stopping. The client remembered nothing of the pursuit, the stop or anything from the evening until he woke up in the Manhattan Beach jail. He described the evening as having blacked out after about ten p.m.
Greg explained what the possible realm of penalties were for being charged with misdemeanor DUI and felony evading arrest. Greg warned the client that if his BAC was above perhaps 0.12%, jail or even prison time would be likely. Greg also explained that a felony charge of 2800.2 is served in prison, not county jail under AB109.
When the client retained us, our office reserved a DMV hearing immediately and received the police report from the DMV before the arraignment in Torrance Superior Court. Our office was sad to read that his BAC was measured at 0.18% at the Manhattan Beach police station. We then subpoenaed the MVARS video from the Manhattan Beach police department and surprisingly received it in only about two weeks.
In reviewing the tape, we realized a jury would be horrified by the dangerous, high-speed pursuit and explained this to the client. We offered to show the video to the client, but he said he did not want to watch it.
At the arraignment, the first offer to our client was two years in state prison, as the supervising DA had watched the MVARS video and found the conduct "prison worthy."
Over the next few court appearances in Torrance, Greg negotiated on the case, eventually lowering the offer to 365 days in county jail, a nine-month alcohol awareness program (AB 1353 program), three years of formal probation, attendance at the MADD and HAM (hospital and morgue) program and payment of the Manhattan Beach booking fee.
The Torrance District Attorney refused to offer a joint suspended on the case, as the MVARS tape showed such extreme high-speed reckless driving that he was certain a jury would convict him of felony evading arrest. The client accepted the offer involving 365 days in county jail, happy to avoid state prison.
For more information about DUI and evading arrest, please click on the following articles:
Contact us.