Felony DUI Long Beach, Client Age 19, 3 Injured, No Jail
Our client, age 19, was returning home to San Pedro after a party in Long Beach. He had consumed quite a few beers and tequila. As he drove south toward Ocean Avenue, to then proceed over the Vincent Thomas Bridge, he went straight through several red lights, according to a witness identified in the police report. The witness also told police our client was speeding.
After running about four or five red lights, his luck ran out and he t-boned an SUV being driven by a mom with her three-year-old and her seven-year-old onboard. The force of impact spun the SUV into the front yard of a nearby house and the car hit the front wall of the home. Our client's car spun in the opposite direction onto the front lawn of another house.
Summary: Serious felony DUI in Long Beach with three people injured and a car running into another car, injuring three and running into a house. Case resolved with four years state prison, suspended, with five years of formal probation, restitution for medical expenses, the 18-month DUI program (SB38), three AA meetings per week for two years, $390 fine plus penalties and assessments and 30 days of Cal-Trans.
Inside the SUV, airbags inflated. One of the children allegedly suffered a torn liver and a punctured lung. The mom allegedly suffered broken ribs, a concussion and an eye injury. The other child allegedly suffered a ruptured spleen and a broken femur. The use of the word "allegedly" here is not because of a habit adopted by defense attorneys in general, but because the police report stated this, yet the medical records of each individual did not show such injuries at all.
Our client was uninjured. In fact, when police arrived, he was allegedly combative and walking around.
Our client was immediately arrested and taken to the Long Beach Police Department police station, where he gave a breath sample that measured a blood alcohol content (BAC) of 0.20%.
The client was then taken to the hospital for further evaluation and released. He was not taken into custody for DUI or even assigned a court date.
An entire year passed. During that year, our client picked up a second DUI and resolved it.
However, after about 13 months since the car accident, our client was notified via mail that a felony case had been filed against him for DUI. He immediately called Greg Hill & Associates and spoke to Greg Hill.
He explained what had happened and how his job had been going quite well. He had been working on the new Gerald Desmond Bridge replacement and the new Rams stadium in Inglewood and had just been accepted in the United Ironworkers Union. Greg advised the client to post bail to keep working and Greg put the client in contact with several local bail bondsmen.
Greg then appeared with the client in the Long Beach Superior Court. Greg argued for OR release for our client due to his job and local family ties, but the judge set bail and our client immediately posted bail.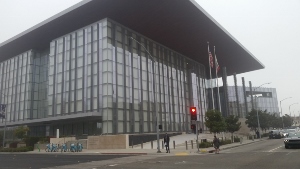 Long Beach Superior Courthouse
The case seemed hopeless due to the severe injuries, our client's high BAC, his subsequent DUI and his combative behavior at the scene, but Greg and the client did not accept any of the early offers, which began at four years in state prison and then dropped to two years in state prison.
The case progressed slowly towards the preliminary hearing as it was difficult to obtain complete medical records for the injured parties.
Finally, on the eve of the preliminary hearing, the DA agreed to a probationary sentence for our client on the following terms: five years of formal probation with a sentence of four years in state prison, suspended, that the client enroll in and complete an approved SB38 program (the client had already completed nine months by the time of the plea), payment of a court fine of $390 plus penalties and assessments (with credit for three days actual time in custody, making the total owed $0), 30 days of Cal-Trans, three Alcoholics Anonymous (AA) meetings per week for two years and restitution for the damaged homes and the medical expenses of the injured folks.
It is significant that the plea did not include an admission of the great bodily injury allegation under Penal Code § 12022.7(a), so the client did not suffer a strike and he kept open his ability to request reduction of the conviction to a misdemeanor and to have it expunged.
The client was very, very happy with the resolution of this case.
For more information about felony DUI issues, please click on the following articles:
In DUI Vehicular Manslaughter Case (Penal Code § 191.5), Police Can Download Car's Computer to Show Speed at Impact
Contact us.