Felony Conviction Vacated under 1437.7, Airport Courthouse
In 1995, our client was 20 years old and lacking good judgment. He had immigrated to the United States from Iran in 1985 and then graduated from high school here in the Los Angeles area in 1992 at age 17. He had a permanent resident card.
After graduating from high school, he worked some odd jobs, but struggled to keep a job for very long. He was not aware how important it was to keep a clean criminal history to one day become a U.S. citizen. He just lived for the present, as most twenty-year-olds do.
He found a way to buy stolen cell phones and cell them for a small profit. He had no real boss or work schedule. The income was always in cash and the work appealed to him because it was a bit risky that police would find him with stolen property.

To buy and cell the phones, he had to hang out in certain areas, which police monitored and soon, he was identified as possibly being involved with some type of illegal activity.
One day, police searched him and found an illegal cell phone (it had the chip from a stolen card swapped in) and several stolen cell phones. Our client was then arrested on suspicion of illegal possession of a stolen cell phone (Penal Code § 502.8(c)), a misdemeanor, and receiving stolen property (Penal Code § 496(a)), a felony.

Our client spent a night in jail and it was scary. He entered a plea of no contest the first day he went to court. He did not realize it at the time, but he had just become a convicted felon. It was 1995. Our client's public defender regarded our client as a petty thief, but young and unsophisticated. The public defender persuaded our client to take the deal, which was three years of formal probation, no jail and thirty days of Cal-Trans labor because taking the deal ended his jail time. Our client did not want to go to jail.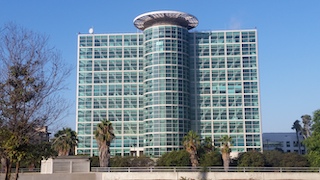 Airport Courthouse
While in court, he heard other prisoners entering plea bargains and warnings about being deported and being refused entry if re-entering the United States, but our client was a permanent resident so he did not think such warnings applied to him. After all, he considered himself basically a U.S. citizen. Moreover, the judge gave this warning to everyone, even those who were obviously U.S. citizens, so our client did not think it applied to him either.
Twenty-five years later, after his permanent residency status expired, this felony was no longer just a crime of youthful indiscretion. It was a crime of moral turpitude and the reason he was being possibly sent back to Iran.
Our client had a family here, with a one-year-old daughter, a wife and a second child on the way. He had a thriving business of over seven years as the president. He had ties to the community and had clearly moved far beyond his felony record from 25 years earlier.
However, the felony record shadowed his ability to get a mortgage at a low rate, secure certain government-issued licenses and significantly hampered his ability to do business in Mexico and Canada. Making matters worse, deportation proceedings were commenced against him.
Our client's immigration attorney referred him to Greg Hill & Associates. The Client called and spoke with Greg about this prior felony and having the conviction vacated under Penal Code § 1473.7. Greg explained the process and how the law had changed dramatically in the prior year, so much so that judges felt uncomfortable hearing such motions because the legal standard was subjective, rather than objective, which made the judges feel powerless to whatever a defendant claimed took place during entry of his plea.
Greg explained that if the client was not made aware that the conviction could have immigration consequences for him personally, not generally, that the plea suffered from a "prejudicial error" that made it void and therefore, the conviction was also void and eligible for being vacated.
The client then hired Greg Hill and Associates and our office prepared, filed and served the motion to vacate the conviction at the Airport Courthouse.
The judge hearing the motion granted the motion with no opposition brought by the District Attorney's office. Our client was extremely happy with this result, as it meant his life would be significantly less difficult.
For more information about Penal Code § 1473.7 motion to vacate issues, please click on the following articles: